Delaware River Basin Commission
---
Delaware • New Jersey • Pennsylvania
---
New York • United States of America
---
Home
>
News Bytes
>
DRBC Provides the Bugs-Clean Water Hook at Trenton Youth Fishing Derby
DRBC Provides the Bugs-Clean Water Hook at Trenton Youth Fishing Derby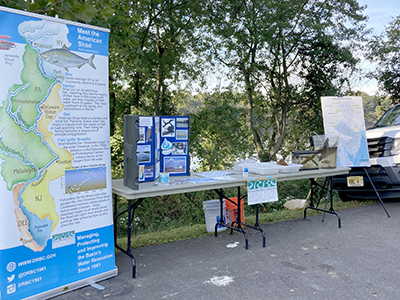 DRBC is ready for the kids at the 2021 Trenton Youth
Fishing Derby. Photo by DRBC.
Hooked on Fishing, Not on Drugs is the theme of the Trenton Youth Fishing Derby, which was held earlier this month at Stacy Park along the banks of the Delaware River.
DRBC was proud to again participate in this great event that gives Trenton's youth an opportunity to experience fishing and learn about clean water, something that fish - and us - need to survive.
DRBC's education station focused on water quality. Staff collected macroinvertebrates (aquatic bugs and crayfish) and fish from a nearby Delaware River tributary and displayed them in trays and tanks of water, giving the kids a closeup look at some of the different aquatic life that is in our waterways. The fish species on display included bluegill, green sunfish, largemouth bass, mosquitofish, banded killifish and margined madtom.
The aquatic bugs, besides being a challenge to find in and amongst the leaves, sticks and other debris in which they live, also tell us something about the water's health. Certain bugs need to live in very clean water, and other bugs can tolerate water that is a little polluted. For example, stoneflies need water with high oxygen levels to survive, while scuds (think freshwater shrimp) can tolerate more moderate oxygen levels. The sample collected at the derby contained many organisms that require high quality water to survive, so their presence in the creek is a good sign!
Partnering together, the New Jersey Department of Environmental Protection and the City of Trenton Department of Recreation, Culture, and Natural Resources holds this annual event for local youth in grades 2-8. Free to participants and their families, the derby features multiple education stations and a 1-hour period where the children fish for multiple prizes, such as first fish caught, most fish caught in the one hour, largest and smallest fish, and "strangest" fish. The event was catch and release; all equipment was provided for the students, and volunteers were on hand to help the kids learn how to fish and identify different species.
DRBC staff enjoy participating in this event and look forward to returning. Helping kids understand the importance of clean water and the aquatic life that depends on it is an important part of what we do.
Commission Member Links:
Delaware
|
New Jersey
|
Pennsylvania
|
New York
|
United States
Copyright © Delaware River Basin Commission,
P.O. Box 7360, West Trenton, NJ 08628-0360
Phone (609)883-9500; Fax (609)883-9522
Thanks to NJ for hosting the DRBC website
Last Modified: 10/11/2021