Delaware River Basin Commission
---
Delaware • New Jersey • Pennsylvania
---
New York • United States of America
---
Home
>
News Bytes
>
Caring for Its Communities: DRBC Targets Two Plastic Pollution Hotspots for Cleanups
Caring for Its Communities: DRBC Targets Two Plastic Pollution Hotspots for Cleanups
Tacony Creek Park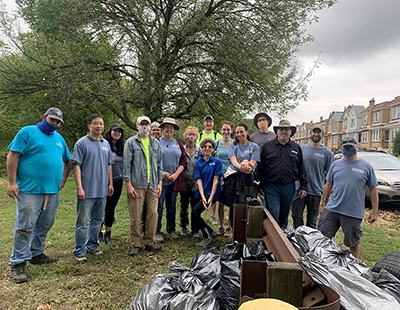 DRBC and TTF staff pose for a photo after a successful
cleanup. Photo courtesy of TTF.
While the main efforts of DRBC staff are focused on managing and protecting the shared interstate waters of the Delaware River Basin, they also care about helping out in our local communities.
Last month, DRBC staff joined the Tookany/Tacony-Frankford Watershed Partnership (TTF) to volunteer their time to clean up a section of Tacony Creek Park. The park features 300 acres of streamside and woodland habitat in lower Northeast Philadelphia. The section we focused on was near the intersection of Roosevelt Blvd. and Rorer Street.
This area is part of our microplastics study and is a known hotspot for plastic trash. Before getting to work, DRBC Aquatic Biologist Jake Bransky showed volunteers some of the equipment used to monitor waterways for microplastics. Staff then got right to it, cleaning up plastic, tires, styrofoam pieces and straws, totaling over a dozen bags of trash in just a few hours.
Trash strewn along roadsides and sidewalks makes its way to our creeks, streams and rivers when it rains or through storm drains. This runoff does not go to treatment plants before entering our waterways, it does so directly, negatively impacting water quality and habitat.
Staff always appreciate being able to get out and help clean up our watershed. Removing trash from our lands helps keep it out of our waters.
Thank you, TTF, for having us! Learn more about them at the above link. You can also learn more about Tacony Creek Park by visiting the Tacony Creek Park Keepers website at https://tcpkeepers.org/.
DRBC's microplastics study is supported by a grant from the Delaware Watershed Conservation Fund, part of the National Fish and Wildlife Foundation and the U.S. Fish and Wildlife Service's Delaware River Program.
Learn more about DRBC's Microplastics Study
Palmyra Cove Nature Park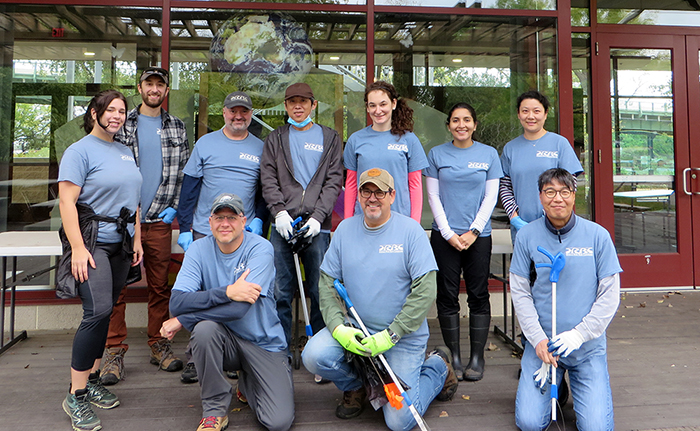 DRBC staff pose for a photo in front of Palmyra Cove's
STEM educational center. Photo by DRBC.
Last month, DRBC staff also volunteered their time to clean up another pollution hotspot as part of DRBC's microplastics grant: the Delaware River shoreline at Palmyra Cove Nature Park.
Palmyra Cove is a 250-acre park located at base of the Tacony-Palmyra Bridge (on the N.J. side). In addition to its tidal river shoreline, Palmyra Cove Nature Park features a freshwater tidal cove, wetlands, woodlands and meadows and is popular for hiking, fishing and wildlife watching. It also features the Institute for Earth Observations, an interactive STEM exhibit that allows for adults and kids alike to explore the Planet Earth.
This is the fourth time that Commission staff volunteered at Palmyra Cove.
Because the park is urban, located just north of Philadelphia and Camden, copious amounts of trash float in with the tide. As such, there was no lack of "bounty," and the DRBC volunteers collected numerous bags of trash and recyclables, as well as a couple of tires.
Besides being an eyesore, removing trash from in and around waterways is important, as it helps improve water quality and habitat.
Participating DRBC staff fully embraced the experience, not minding one bit getting their hands and feet dirty to help improve the Delaware River.
Most importantly, this effort was a stark reminder of the importance of disposing of all trash and recycling properly so we can keep our rivers, streams and shorelines clean.
Commission Member Links:
Delaware
|
New Jersey
|
Pennsylvania
|
New York
|
United States
Copyright © Delaware River Basin Commission,
P.O. Box 7360, West Trenton, NJ 08628-0360
Phone (609)883-9500; Fax (609)883-9522
Thanks to NJ for hosting the DRBC website
Last Modified: 11/08/2021