Delaware River Basin Commission
---
Delaware • New Jersey • Pennsylvania
---
New York • United States of America
---
Home
>
News Bytes
>
DRBC Staff Help Celebrate the Return of Temple EarthFest
DRBC Staff Help Celebrate the Return of Temple EarthFest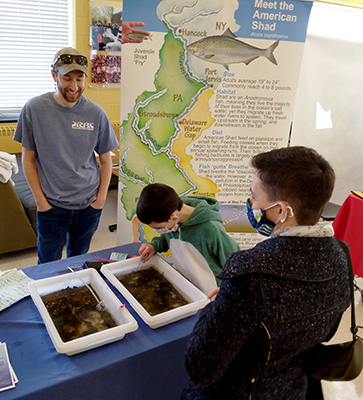 DRBC Aquatic Biologist Jake Bransky talks to
EarthFest attendees about why we study aquatic
bugs. Photo by the DRBC.
EarthFest is back! Hosted by Temple University Ambler, EarthFest is held on Ambler's campus and celebrates Earth Day by promoting environmental awareness and protection using sustainable concepts, methods and practices.
The pandemic forced the college to cancel EarthFest for the past two years. This year's event, held April 2, was titled Temple Ambler EarthFest: Celebrating Water and Earth and hosted by the college and the Academy of Natural Sciences. People of all ages participated, learning about all things water and how this resource is essential for life on Earth.

The DRBC's education station focused on water quality. Staff collected macroinvertebrates (macros; aquatic bugs) from the Sandy Run, a nearby tributary to the Wissahickon Creek, and displayed them in trays of water. This gave kids a closeup look at some of the different aquatic life that is in our waterways.
The aquatic bugs, besides being a challenge to find in and amongst the leaves, sticks and other debris in which they live, also tell us something about the water's health. Certain bugs need to live in very clean water, and other bugs can tolerate water that is a little polluted. For example, stoneflies need water with high oxygen levels to survive, while scuds (think freshwater shrimp) can tolerate more moderate oxygen levels. The sample was mixed, with mostly organisms that can tolerate some pollution; the Sandy Run is impacted by development and stormwater runoff, so these findings were expected.
DRBC staff has participated in EarthFest since it began in the mid-2000s and always enjoys exhibiting at this hands-on learning event. Helping kids - and adults - understand the importance of clean water and the aquatic life that depends on it is an important part of what we do. We look forward to next year!
DRBC's Jake Bransky looks on as kids
check out the macros displays. Even
the adults were interested in what is
living in our local creeks & streams!
Photo by the DRBC.
The DRBC's map is always popular!
DRBC's Elizabeth Brown talks to
EarthFest attendees about where the
Delaware River begins & who depends
on this resource for clean drinking
water. Photo by the DRBC.
These kids were very interested in
checking out the displays of aquatic
insects. I think we definitely have two
future aquatic biologists here! Photo
by the DRBC.
Commission Member Links:
Delaware
|
New Jersey
|
Pennsylvania
|
New York
|
United States
Copyright © Delaware River Basin Commission,
P.O. Box 7360, West Trenton, NJ 08628-0360
Phone (609)883-9500; Fax (609)883-9522
Thanks to NJ for hosting the DRBC website
Last Modified: 04/06/2022