Delaware River Basin Commission
---
Delaware • New Jersey • Pennsylvania
---
New York • United States of America
---
Home
>
News Bytes
>
DRBC Celebrates the Return of ShadFest, Teaches the Bug-Clean Water Connection
DRBC Celebrates the Return of ShadFest, Teaches the Bug-Clean Water Connection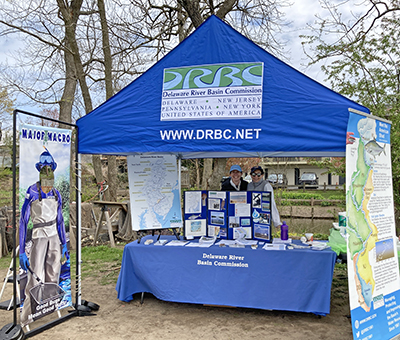 The DRBC setup on Lewis Island at the Lambertville
ShadFest. Photo by the DRBC.
After two long years, the Lambertville ShadFest returned in 2022! And, DRBC staff was happy to get back out in the field and interact with the public, educating about clean water and how we work to manage, protect and improve the Basin's water resources.
The DRBC's exhibit was set up on Lewis Island, along the Delaware River. It's the perfect place to talk about our water quality monitoring programs. One such program looks at the biological health of the river by studying the river's macroinvertebrate - aquatic insect - communities.
Wait, what? Bugs can tell us about clean water? Yes! But, how?
Staff collected insects from the Delaware River and displayed them in trays of water. Using identification keys and with the help of DRBC staff, kids and adults alike were able to identify the bugs found in the water samples. The hands-on lesson explained that the type and amount of bugs found in a waterway can help tell how healthy the river is. Some bugs, for example mayflies and stoneflies, are very sensitive to pollution; others, such as scuds, crayfish and aquatic worms, are more pollution tolerant. Finding more pollution sensitive species in the water samples, as well as a wide variety, which we did at ShadFest, are positive indicators of the health of the Delaware River at this location.
Lewis Island is also home to the Lewis Fishery, the last commercial shad fishery in New Jersey on the Delaware River. The Fishery has been in operation since the late 1800s. During ShadFest, fishery crew members, led by Steve Meserve, offered a demonstration on how they seine (catch with nets) for American shad. American shad are anadromous fish, meaning they return to the waterway in which they were born to spawn, or reproduce. The Lewis Fishery seines for shad throughout the spring spawning run, which is typically from April to May. In addition to selling to the local community, the data they collect on shad and other fish in the river are shared with state fisheries biologists, providing a vital, century-long dataset on overall shad numbers, males vs. females and more.
The Lambertville ShadFest celebrates the region's arts community, the Delaware River, and of course, the annual return of the American shad! The Delaware River is an important waterway for American shad, and their presence is indicative of the water quality improvements that have occurred over time. For decades during the 1900s, pollution robbed the lower Delaware River of the oxygen needed for shad and other fish to breathe. The number of American shad in the Delaware increased dramatically by the late 1980s and early 1990s due in large part to pollution control programs conducted by the Delaware River Basin Commission (DRBC) and other environmental agencies.
We thank Steve Meserve and the Lewis Fishery Crew for allowing us to again display on Lewis Island with them!

Commission Member Links:
Delaware
|
New Jersey
|
Pennsylvania
|
New York
|
United States
Copyright © Delaware River Basin Commission,
P.O. Box 7360, West Trenton, NJ 08628-0360
Phone (609)883-9500; Fax (609)883-9522
Thanks to NJ for hosting the DRBC website
Last Modified: 05/03/2022