Delaware River Basin Commission
---
Delaware • New Jersey • Pennsylvania
---
New York • United States of America
---
Home
>
News Bytes
>
DRBC Cares for Its Communities: Staff Volunteers at Frankford Boat Launch Cleanup
DRBC Cares for Its Communities: Staff Volunteers at Frankford Boat Launch Cleanup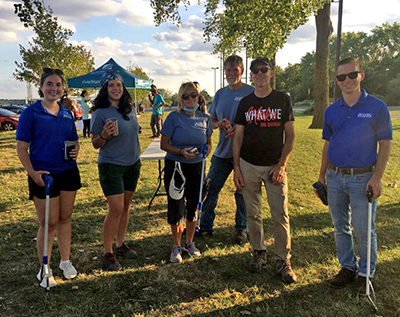 The DRBC volunteer team. Photo by the DRBC.
While the main efforts of DRBC staff are focused on managing and protecting the shared interstate waters of the Delaware River Basin, they also care about helping out in our local communities.
Last week, staff joined other volunteers to help clean up the Delaware River shoreline at the Frankford Boat Launch in Philadelphia, Pa.
Trash negatively impacts water quality and habitat. Litter strewn along roadsides and sidewalks makes its way directly to our creeks, streams and rivers when it rains or through storm drains. The river is also tidal in this section, and trash regularly comes in with each tidal cycle.
Staff always appreciate being able to get out and help support community cleanups. And, being able to meet other like-minded volunteers is rewarding and reinforces that we all have a role to play in helping to keep our lands and our shared waters clean.
The cleanup was hosted by United by Blue, along with the Philadelphia Water Department, Riverfront North and the Academy of Natural Sciences, as part of the Plastic-Free Philly campaign and in support of the Drink Philly Tap program. Both efforts seek to raise awareness about how we can cut down on single-use plastic waste and reduce plastic pollution by drinking tap water instead of buying bottled water. As another way to help cut down on waste, the cleanup hosts provided reusable cleanup supplies, which are industrially cleaned between uses.
The Philadelphia Water Department said that nearly 4,000 pounds of litter was collected as part of this cleanup. Great job to all volunteers!
DRBC Water Resource Scientist
Elaine Panuccio works on the upper
shoreline. Photo by the DRBC.
DRBC Associate Counsel Kevin
Pregent works along the river's
shoreline. Photo by the DRBC.
Water Quality Intern Bailey Adams
cleans up trash along the Delaware
River. Photo by the DRBC.
The cleanup drew a lot of volunteers. Here folks are
getting their instructions for the cleanup and hearing
from the event organizers. Photo by the DRBC.
The Frankford Boat Launch is just downstream of the
Tacony Palmyra Bridge. This section of river trail is
overseen by Riverfront North. Photo by the DRBC.
Commission Member Links:
Delaware
|
New Jersey
|
Pennsylvania
|
New York
|
United States
Copyright © Delaware River Basin Commission,
P.O. Box 7360, West Trenton, NJ 08628-0360
Phone (609)883-9500; Fax (609)883-9522
Thanks to NJ for hosting the DRBC website
Last Modified: 09/01/2022