Delaware River Basin Commission
---
Delaware • New Jersey • Pennsylvania
---
New York • United States of America
---
Home
>
News Bytes
>
Schuylkill River Restoration Fund Announces 2022 Grant Awardees
Schuylkill River Restoration Fund Announces 2022 Grant Awardees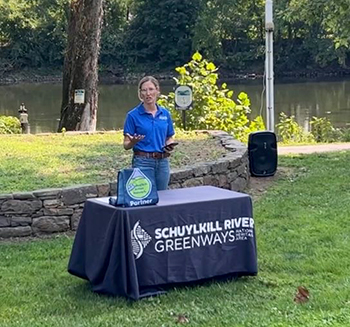 DRBC's Beth Brown giving remarks at the SRRF
grant announcement. Photo courtesy of the
Schuylkill Action Network (SAN).
The Schuylkill River Watershed is getting a little cleaner, thanks to the recent round of grant funding from the Schuylkill River Restoration Fund (SRRF). DRBC Director of External Affairs and Communications Beth Brown participated in the announcement ceremony, held earlier this month at Riverfront Park in Pottstown, Pa.
This year, $362,756 in grant money was awarded to seven projects that will address stormwater runoff and/or agricultural pollution and one land acquisition project for a new urban open space.
• 2022 SRRF Grant Recipients: Project Summaries (docx)
In addition to Ms. Brown, Schuylkill River Greenways (SRG) Deputy Director Tim Fenchel and representatives from Constellation, the Philadelphia Water Department and Aqua PA also gave remarks. The SRG oversees/manages the SRRF.
The day also featured a bus tour to several local project sites that were previous SRRF awardees.
The SRRF is a great example of how partnering works to accomplish great things, bringing together government agencies, private industries, non-profit organizations, local businesses, and local community members to achieve positive environmental results for the Schuylkill River Watershed.
The SRRF resulted from a 2004 DRBC docket approval to Exelon (now Constellation) for its Limerick Generating Station. There was - and still is - a shared desire to assist the restoration of the Schuylkill River Watershed by providing large grants for on-the-ground improvements, focusing on projects that address stormwater runoff, agricultural pollution and drainage from abandoned mines. The DRBC approves the projects that are selected for grants using the Constellation funds and is one of several entities that sits on an advisory committee that chooses which projects get awarded annually.
Since being established in 2006, the fund has collected more than $5 million - and leveraged another $5 million – for more than 130 projects that protect and restore the Schuylkill River.
Learn More:
SRG Deputy Director Tim Fenchel
provides remarks.
Photo by the DRBC.
Placards explaining what's been
completed at the Charlestown
Playhouse in Phoenixville. A rain
garden and other stormwater
drainage projects will improve quality
in Pickering Creek. Photo courtesy of
SAN.
Philadelphia Water Department's Marc
Cammarata provides remarks. Photo
by the DRBC.
Jacob Reiff Park in Lower Salford Twp.
was awarded a SRRF grant for a
streambank restoration/stabilization
project along the West Branch of
Skippack Creek. Photo by the DRBC.
Aqua Pennsylvania & The Essential
Foundation's Krista Seng provides
remarks. Photo by the DRBC.
The Borough of Pottstown received
two SRRF grants to install water
quality inlet filters in their stormwater
system to improve water quality in the
Manatawny Creek. Photo by the DRBC.
Commission Member Links:
Delaware
|
New Jersey
|
Pennsylvania
|
New York
|
United States
Copyright © Delaware River Basin Commission,
P.O. Box 7360, West Trenton, NJ 08628-0360
Phone (609)883-9500; Fax (609)883-9522
Thanks to NJ for hosting the DRBC website
Last Modified: 10/05/2022