Delaware River Basin Commission
---
Delaware • New Jersey • Pennsylvania
---
New York • United States of America
---
Home
>
Newsroom
>
News Releases
>
Water Conservation and Improved Efficiency Focus of DRBC/PADEP Training for Water Suppliers
Water Conservation and Improved Efficiency Focus of DRBC/PADEP Training for Water Suppliers
Pa. Representative Perry Warren Provides Welcoming Remarks
For Immediate Release
October 9, 2018
(West Trenton, N.J.) -- The Delaware River Basin Commission (DRBC) and the Pa. Department of Environmental Protection (PADEP) have partnered to conduct water loss management training for public water suppliers, operators, and engineers. Nationally, an estimated six billion gallons per day of water is taken from water resources but never reaches the consumer. In the Delaware River Basin, this number is estimated at 150 million gallons a day.
Pennsylvania State Representative Perry Warren (D, PA-31) opened the training session, which was held in his district at Newtown's Bucks County Community College, with welcoming remarks that emphasized the need to reduce water loss, which saves water and saves money. "Even though we live in an area with plentiful water resources, water conservation is still important from the source to the tap," said Rep. Warren. "Thank you for participating in this training and for working to keep our faucets running and our water clean."
Water efficiency is a core DRBC resource management initiative. The commission has a robust water conservation program, of which one crucial component is the requirement for public water suppliers to complete an annual water loss audit utilizing the American Water Works Association's (AWWA) Free Water Audit Software© program for data collection and reporting. The software tracks how effectively water is moved from its source to customers' taps, helping suppliers quantify and account for water losses, which may result from: leaking pipes and services, unauthorized uses, and/or inaccuracies with meters that record water delivered from sources and water used by customers.
"As the challenges that face water resource management in the Basin increase, it is essential to ensure that the use of our finite water supplies is efficient and sustainable," said DRBC Executive Director Steve Tambini. "DRBC's water audit program is part of the commission's ongoing water resource management efforts to enhance water conservation in the basin and achieve benefits for both the resource and the users."
The training will teach participants how to use the AWWA Free Water Audit Software© to better understand and mitigate water losses. All sessions are provided to water managers for free, thanks to funding from the PADEP, and are being led by George Kunkel, P.E., Principal of Kunkel Water Efficiency Consulting and co-author of the software program.
The DRBC is a federal/interstate government agency responsible for managing the water resources within the Delaware River Basin without regard to political boundaries. The five commission members are the governors of the basin states (Delaware, New Jersey, New York, and Pennsylvania) and the commander of the U.S. Army Corps of Engineers' North Atlantic Division, who represents the federal government.
To learn more about the commission, please visit www.drbc.gov or follow DRBC on Twitter at @DRBC1961.
# # # #
Contacts: Kate Schmidt, Kate.Schmidt@drbc.gov, (609) 883-9500 ext. 205
Peter Eschbach, Peter.Eschbach@drbc.gov, (609) 883-9500 ext. 208
# # # #
Photo: Pa. Representative Perry Warren (D, PA-31) provides welcoming remarks at the DRBC/PADEP Water Loss Management Training, held at Bucks County Community College, Newtown, Pa. Photo by DRBC.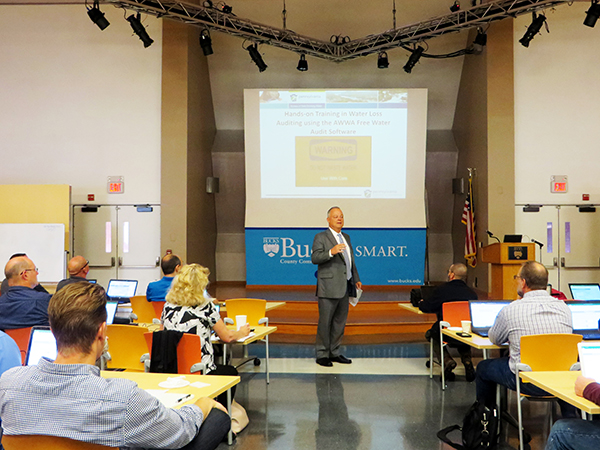 Commission Member Links:
Delaware
|
New Jersey
|
Pennsylvania
|
New York
|
United States
Copyright © Delaware River Basin Commission,
P.O. Box 7360, West Trenton, NJ 08628-0360
Phone (609)883-9500; Fax (609)883-9522
Thanks to NJ for hosting the DRBC website
Last Modified: 10/09/2018