Delaware River Basin Commission
---
Delaware • New Jersey • Pennsylvania
---
New York • United States of America
---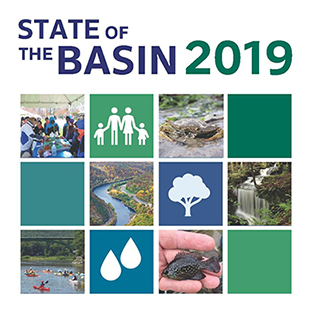 DRBC Releases Report on the State of the Delaware River Basin
Overall, Conditions are Generally Good and Improving
For Immediate Release
July 25, 2019
(West Trenton, N.J.) -- Today, DRBC released its 2019 State of the Basin report, which provides an overview of the health of the water resources and key species of the Delaware River Basin, along with the factors that impact the Basin, primarily: pollution, climate change, and development.
"This is our third such publication since 2004, which benchmarks conditions and tracks progress toward achieving key DRBC water resource management goals for maintaining an adequate supply of suitable quality water to meet the diverse needs of our region," said DRBC Executive Director Steve Tambini. "I am pleased to report that overall, a majority of the indicators received a good or very good rating, while trends are predominantly stable or improving."
The 2019 State of the Basin report provides a technical focused snapshot of 31 indicators for watersheds and landscapes, water quantity, water quality, and living resources, and includes a rating and a directional trend for each. Some parameters, for example, groundwater availability and nutrients, received high ratings and are trending positively, thanks to proactive management strategies. Lower ratings or declining trends for some indicators, for example, impervious cover, salinity, and invasive species, show us where additional focus is needed.
"Since 1961, DRBC has been working to manage, protect, and improve the water resources of the Basin for the over 13.3 million people in four states that depend on them for public water supply, recreation, business, and agriculture, as well as for aquatic life," said Tambini. "While our water resources are greatly improved today, there is more to do, and this work is not possible to do alone. We thank our basin state colleagues, federal agencies, partner organizations, and stakeholders for their collective efforts and commitment to stewardship and sustainability."
In addition to publishing the State of the Basin report, DRBC will be undertaking a larger effort to obtain wider input on the State of Our Basin's water resources. This effort, Our Shared Waters: A Look at the Delaware River Basin, aims to gather diverse perspectives from across the basin on its health, with the goal of increasing public awareness to continue the work needed to maintain and improve this critical resource.
The 2019 State of the Basin Report can be found on the DRBC's website at https://www.nj.gov/drbc/about/public/SOTB2019.html. Information about the Our Shared Waters campaign will be available in the coming weeks.
The DRBC is a federal/interstate government agency responsible for managing the water resources within the Delaware River Basin without regard to political boundaries. The five commission members are the governors of the basin states (Delaware, New Jersey, New York, and Pennsylvania) and the commander of the U.S. Army Corps of Engineers' North Atlantic Division, who represents the federal government.
To learn more about the commission, please visit www.drbc.gov or follow DRBC on Twitter at @DRBC1961.
# # # #
Contacts: Kate Schmidt, Kate.Schmidt@drbc.gov, (609) 883-9500 ext. 205
Peter Eschbach, Peter.Eschbach@drbc.gov, (609) 883-9500 ext. 208
# # # #
Commission Member Links:
Delaware
|
New Jersey
|
Pennsylvania
|
New York
|
United States
Copyright © Delaware River Basin Commission,
P.O. Box 7360, West Trenton, NJ 08628-0360
Phone (609)883-9500; Fax (609)883-9522
Thanks to NJ for hosting the DRBC website
Last Modified: 07/25/2019