Delaware River Basin Commission
---
Delaware • New Jersey • Pennsylvania
---
New York • United States of America
---
Registration is Open for the 2023 Delaware River Sojourn: June 17-23
Volunteer River Cleanup Scheduled for June 16
For Immediate Release
April 10, 2023
(West Trenton, N.J.) -- New and experienced paddlers of all ages are invited to register for the 28th Delaware River Sojourn taking place June 17-23.
The Delaware River Sojourn combines guided paddling excursions, interpretive programs and camping. Participants may sign up for the entire trip or for the day(s) of their choice.
"The Sojourn is a paddling adventure geared for everyone, a wonderful way to learn about and discover the Delaware River," said Mark Zakutansky, Director of Conservation Policy Engagement for the Appalachian Mountain Club and Chair of the Sojourn Steering Committee. "Our theme this year is Running Free, and educational programming will be focused on the history and unique habitat of an undammed, free-flowing Delaware River."
Roughly 65 miles will be paddled in 2023, split into daily trips ranging from five to 13 miles. In brief, the Sojourn will paddle the following stretches:
Saturday, June 17 – Hancock (N.Y.) to Buckingham Access (Pa.)
Sunday, June 18 – Buckingham Access to NEWE Camp (Pa.)
Monday, June 19 – NEWE Camp to Callicoon (Pa.)
Tuesday, June 20 – Dingmans (Pa.) to Bushkill (Pa.)
Wednesday, June 21 – Minisink Park, Brodhead Creek (Pa.) to Driftstone Campground, Delaware River (Pa.)
Thursday, June 22 – Driftstone Campground to Martin's Creek Boat Launch (Pa.)
Friday, June 23 – Martin's Creek Boat Launch to Phillipsburg, N.J.
"By getting people out on the Delaware River and experiencing it first-hand, the Sojourn helps create stewards of this important natural resource," said Delaware River Basin Commission (DRBC) Executive Director Steve Tambini. "The Delaware River Sojourn is one of the longest-running programs of its kind, and the DRBC is proud to have been a part of the steering committee since its early years."
Registration fees in 2023 are $100 per day for adults and $70 per day for children (ages 15 and under). There is an additional one-time insurance fee of $10 per person for this American Canoe Association (ACA)-sanctioned event, except for current ACA members.
Registration fees cover the guided river trip, single or tandem kayak rental (with paddle and life jacket), shuttle transportation, educational programs, most meals and optional overnight camping sites. Participants may bring their own river-worthy boat, but please note that neither aluminum nor wooden canoes are recommended.
Adult paddlers new to the Delaware River Sojourn are invited to take advantage of the First-Time Paddler Program, which offers a discount on registration available on a first-come, first-served basis.
The Delaware River Sojourn appreciates the support of its donors and grantors. The regional supermarket cooperative ShopRite has sponsored the Delaware River Sojourn annually since 2013; individual donors also provide valuable support. The Sojourn receives grant funding from the Pennsylvania Organization for Watersheds and Rivers, the Lower Delaware National Wild and Scenic Rivers Program and PPL. These funds help keep costs as low as possible for participants and support the Sojourn's reduced fees for youth and its educational and First-Time Paddler programs.
On Friday, June 16, the day before the paddle trip begins, the Sojourn and the National Park Service Upper Delaware Scenic and Recreational River are hosting a river cleanup from 1 p.m. to 4 p.m. Volunteers will clean up a section of the Delaware River between Damascus, Pa. and Skinners Falls, N.Y. Pre-registration is required through the Delaware River Sojourn website, and volunteers will be capped at 20 individuals. Canoes and equipment will be provided.
Registration details, itinerary overview and Sojourn safety guidelines are available at https://delawareriversojourn.com/. Sojourners can register online using Paypal. Registration-related questions and first-time paddler discount availability inquiries should be directed to Dejay Branch at info@delawareriversojourn.com.
The non-profit, annual event is planned by a steering committee with representatives from federal, state and local agencies, non-profit organizations and individual volunteers. DRBC Communications Specialist Kate Schmidt has served as the Commission's representative since 2006.
# # # #
Contact:
Kate Schmidt, Kate.Schmidt@drbc.gov
# # # #
Photos: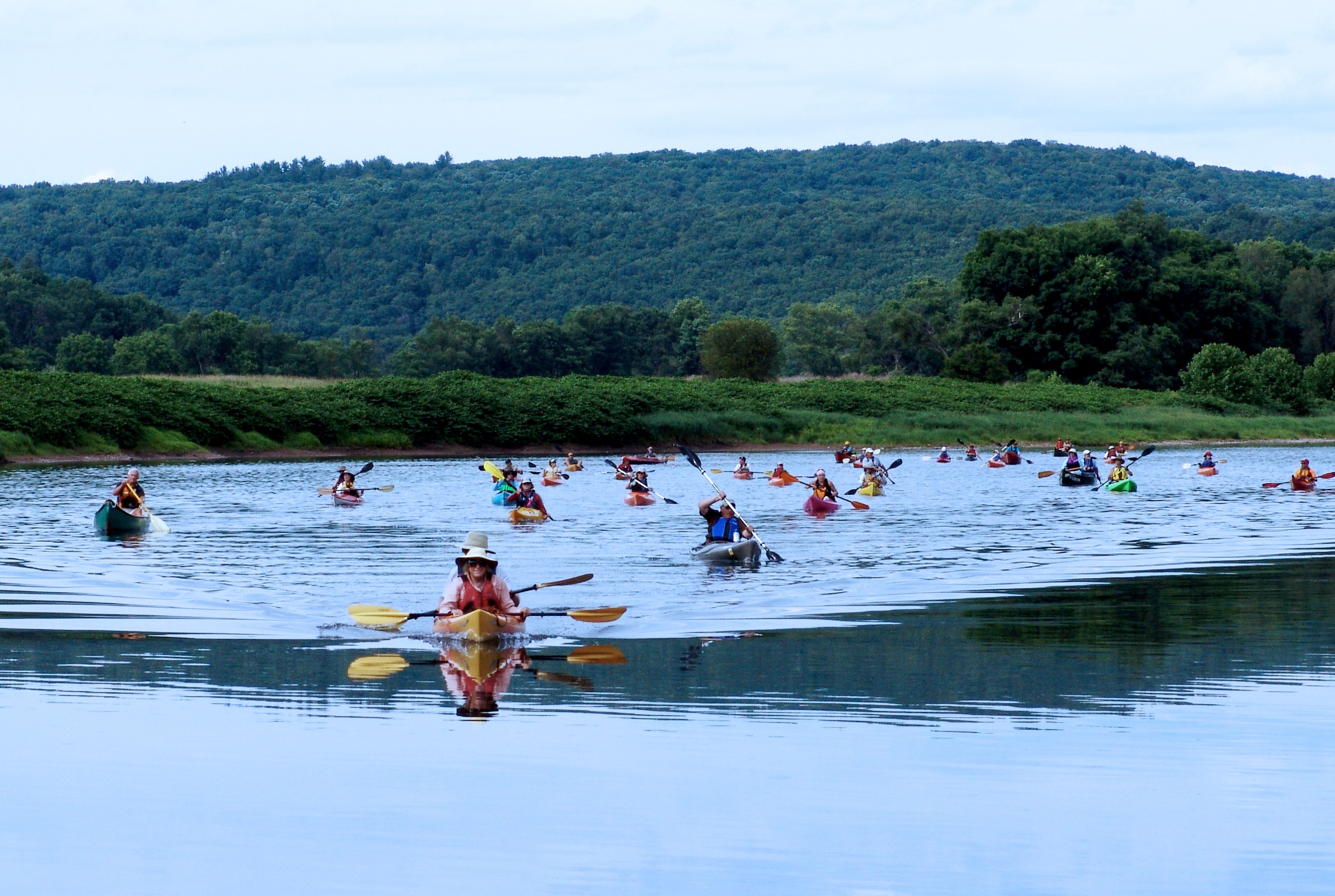 Sojourners paddle the Upper Delaware River.
Photo courtesy of the Delaware River Sojourn.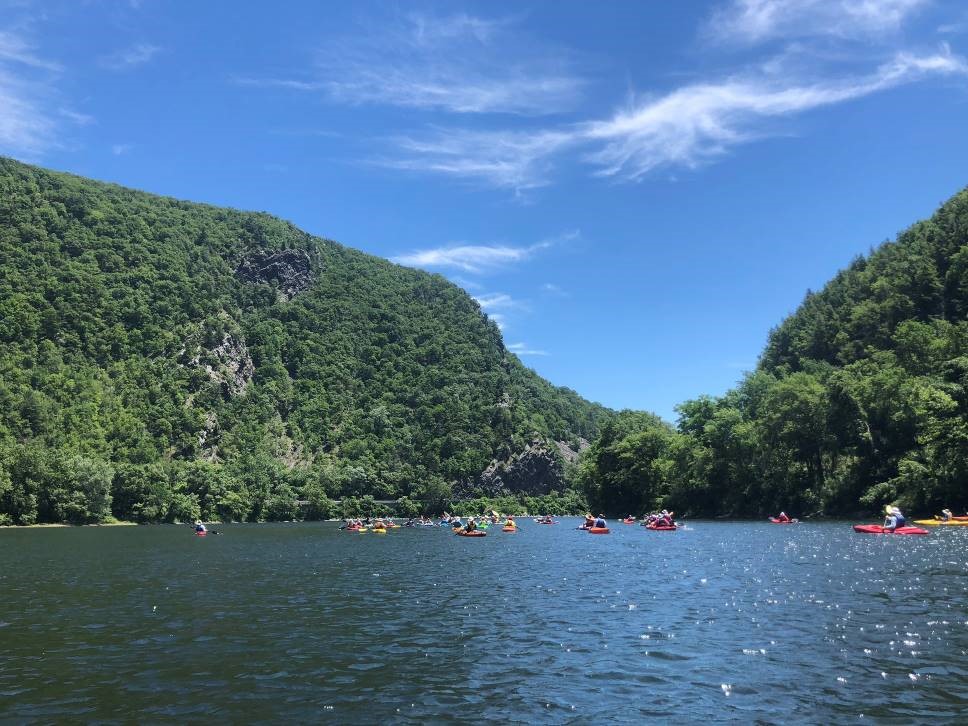 Sojourners paddle through the Delaware Water Gap National Recreation Area.
Photo by the Delaware River Sojourn.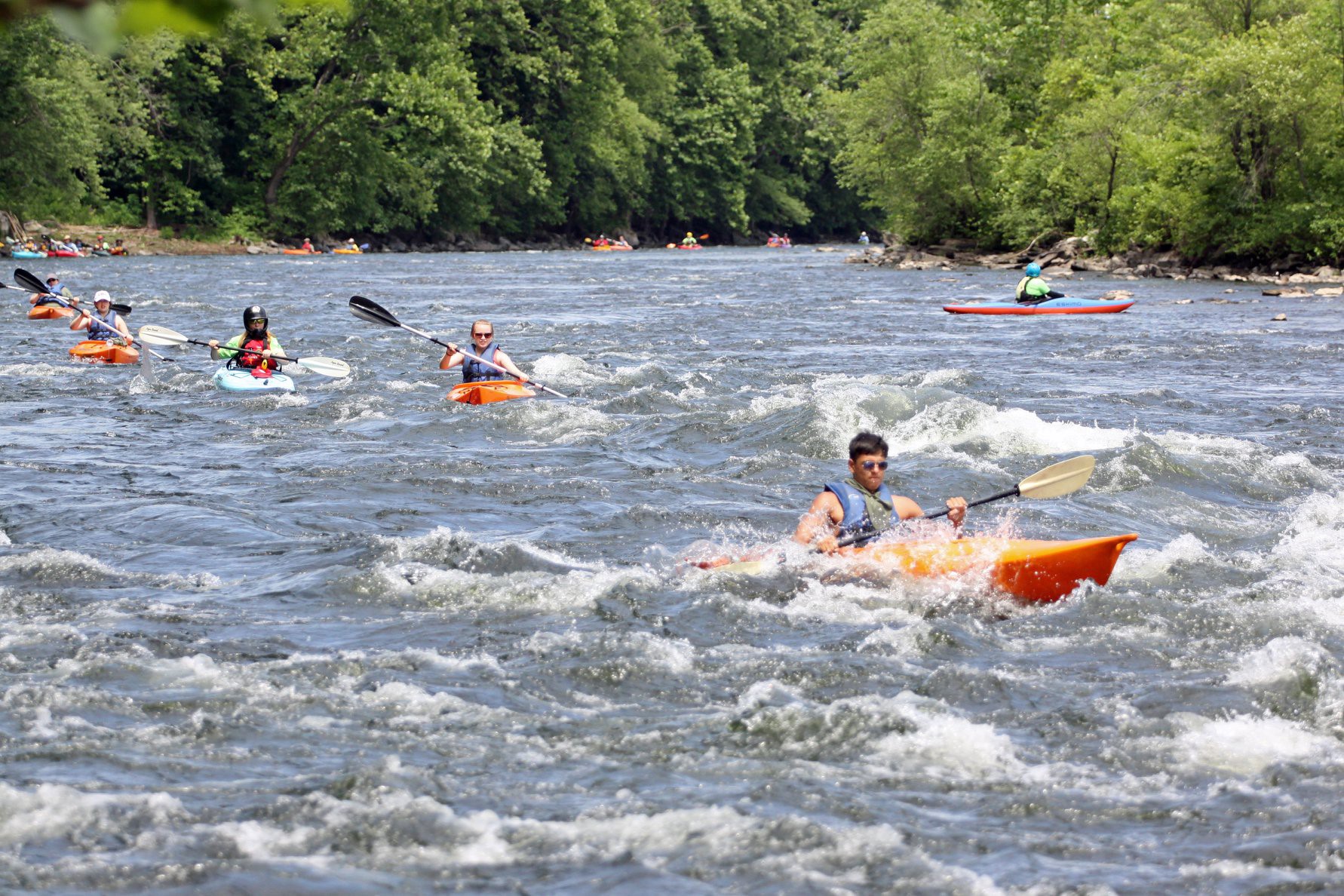 Sojourners paddle the Foul Rift rapid. Photo courtesy of Driftstone.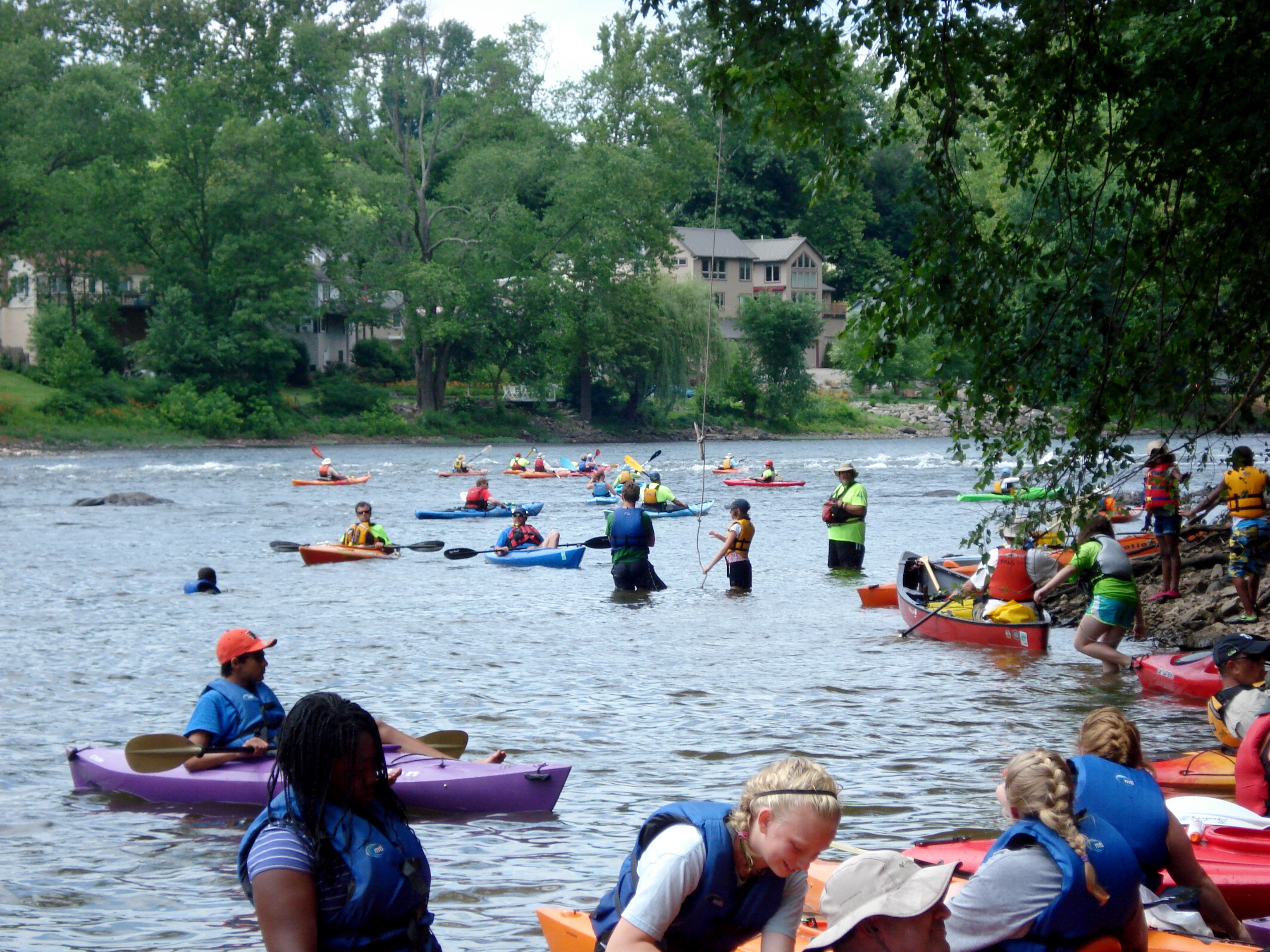 Sojourners stop for a play/swim break on the lower Delaware River.
Photo by the DRBC.
Commission Member Links:
Delaware
|
New Jersey
|
Pennsylvania
|
New York
|
United States
Copyright © Delaware River Basin Commission,
P.O. Box 7360, West Trenton, NJ 08628-0360
Phone (609)883-9500; Fax (609)883-9522
Thanks to NJ for hosting the DRBC website
Last Modified: 04/10/2023