The Amistad Commission
2023 Amistad Commission Summer Curriculum Institute for Teachers
This year, the Amistad Commission proudly invites all New Jersey school teachers and educators to register for its Inaugural Summer Curriculum Institute for Teachers at William Paterson University (WPUNJ) in Wayne, NJ, July 17-July 20, 2023. The Commission's theme is "Moments In African American History."
Summer Institute participants will enjoy:
Whole session lectures by esteemed scholars
Breakout session with colleagues teaching at various grade levels
Networking opportunities with other teachers across New Jersey
Special entertainment
The Summer Institute offers:
Lectures by prominent historians and scholars
33 hours of PD credit and a certificate confirming completion of hours/CEU
Lesson planning led by Highly Qualified Teachers
Amistad classroom resources
Application Instructions
All New Jersey public (district, charter, and renaissance schools) and nonpublic (homeschool, parochial or private school) elementary or secondary teachers and administrators are eligible to participate.
Space is limited. Please follow all instructions to guarantee acceptance.
First preference will be given to applicants who commit to full training.
Approved participants selected agree to participate in all sessions.

Partial attendance or daily visits are not permitted.
Professional development credits (CEU) are awarded only to full-time participants.

Please make sure all contact information is accurate.
The deadline for registration is June 30, 2023.
All selected candidates will be notified no later than Wednesday, July 5, 2023.
Applicants must complete the Curriculum Institute Application and provide all the information requested to be considered eligible.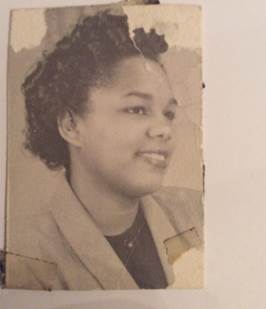 Little Rock, Ark. (KTHV) - By now you may have seen or at least heard of the new movie Hidden Figures. It tells the story of three African American women who helped engineer America's space program despite facing racial and gender biases back in the 60's.
But, did you know that Arkansas has our own version of this story? It belongs to the determined, confident, gifted, effervescent, and irrepressible Raye Montague.
Her story begins with a submarine smaller than the one you see docked in North Little Rock. It was a German submarine that was captured off the Carolina coastline. Soon after it was captured the submarine was put on tour across the country. That's when the seven-year-old Montague saw it in Little Rock with her grandfather.
"And I looked through the periscope and saw all these dials and mechanisms and I said to the guy, 'What do you have to know to do this,'" Montague recalled. "He said, 'Oh, you'd have to be an engineer, but you don't have to worry about that.'"
While that was an insult to her, the man at the submarine didn't know Montague had a strong mother. Montague remembers her mother telling her that she had three strikes against her. She was female, she was black, and she would have a southern segregated school education, but her mother also told her that "you can be anything you want provided you're educated."
Growing up, Montague was constantly ridiculed for saying she wanted to be an engineer. Classmates would laugh and heckle her, but those kids didn't know that 8th grade teacher Mrs. Irma Holiday would become a mentor to young Montague.
"She said, 'Don't let them tease you. Aim for the stars and the very worst you'll land on the moon,'" Montague said.
Initially, Montague wanted to enter the engineering school at the University of Arkansas but at the time they wouldn't allow minority enrollment. Thankfully the ever-determined Montague would parlay an education from Arkansas Agricultural, Mechanical & Normal College, now known as University of Arkansas at Pine Bluff, into a job with the U.S. Navy in Washington D.C.
"I started at the bottom of the ladder even with a college degree," she said of her journey.
While working for the Navy, Montague sat next to a 1950's UNIVAC I computer. Day in and day out, she would watch and learn how Ivy League graduate engineers ran the computer. One day when the engineers all got sick, Montague jumped up and ran the UNIVAC all by herself.
"Because 'we' weren't supposed to touch that computer right? And because I was from Arkansas," said Montague of her detractors.
Over the next 14 years, Montague put on her working boots. She would become so competent with computers she was transferred in 1970 to design and construct ships. It was there she would face racist boss and was given the challenge that would change her life.
"The admirals came to me and said, 'Young lady, we understand you've got a system to design ships,'" she recalled. "And they said, 'The President has given us two months, we can give you a month, can you do it?"
She did it in 18 hours and 26 minutes.
Montague revolutionized the design process for all naval ships and submarines. From there, her career took off. She got award after award from both the Navy and U.S. government. The U.S. flag was even flown in her honor over the nation's capitol.
"Can you imagine that? In my honor," she exclaimed.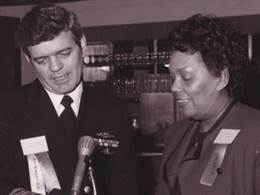 The young woman that was denied entry into the University of Arkansas found herself in places she never dreamed of.
-SOURCE- THV11. Craig O'Neill and Michael Buckner,KTHV
Thursday, 19 Jan 2017.