2003 New Jersey Distinguished Student Teacher Awards
2003 New Jersey Distinguished Student Teacher Awards
Group Photo

Standing, left to right: Danielle Schmidt; Aleta Ott;Tiffany Jacobson; Barbara Brandon; Jeanette Fazzari; Judith Weiss, NJDOE Assistant Commissioner for the Northern Region; Maud Dahme, President, NJ State Board of Education; Michael Chodroff; Daniel Mark. Seated, left to right: Jessica Rhoades; Carmelyn Barbarito; JoAnn Price; Elizabeth Voltman;Kari Fitzgerald. Anna Conchado, Rebekah Golieb, and Marnie Podos were unable to attend.

Individual winners for this year are listed below.
Click on a name to see a short biography and a picture.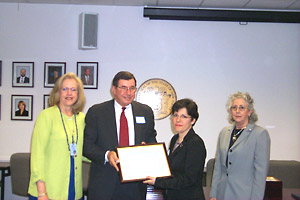 Carmelyn Barbarito graduated from high school in New York City on June of 1974. She enrolled in Caldwell College in August of 1997. This May, she will graduate with a Bachelor of Arts degree in elementary education with a second major in English. Carmelyn is a member of four honor societies at Caldwell College: Alpha Sigma Lambda, Chi Zeta Chapter of Sigma Tau Delta, Kappa Delta Epsilon and Alpha Chi. Over the years, she has been actively involved as a Girl Scout leader for her daughters' troops and has been a teacher's aide for six years. It has always been Carmelyn's belief that teachers are those who possess true caring for mankind. They have the capacity to take a young child and nurture him or her from a small dormant seed into a powerful redwood. She is proud and honored to be able to call herself a teacher.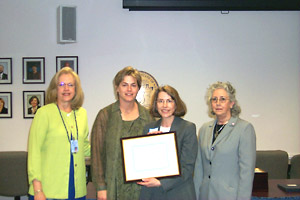 <
Amy Barrett chose teaching as a second career after 15 years managing software products at AT&T and Lucent. She graduated from Cornell University and received a Ph.D. in English from Johns Hopkins University. Ms. Barrett completed the education program at Centenary College and will receive certification in Elementary Education, Special Education, and English. As a student teacher at Clinton Public School, she taught in grades 3 to 8, including a multi-age classroom, a resource room, and in an in-class support setting. She planned many multi-sensory lessons to accommodate diverse learners. Amy has two children. She brings to special education the perspectives of both teacher and parent of a child with special needs.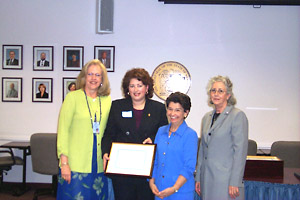 Barbara Brandon graduated Summa Cum Laude from Kean University with a Bachelor of Arts degree in Early Childhood Education. Her student teaching experience was in first grade at Cliffwood School in Matawan-Aberdeen. She was a member of several academic honor societies while at Kean. While pursuing her degree, and raising two daughters, Barbara coordinated many community projects that benefited groups such as Vietnam Veterans of America, The Bridges Program, and Covenant House. Barbara's philosophy on teaching encompasses the fact that a classroom teacher can make a significant difference in the world. She believes that cultural, social, economic and religious differences all come together in the modern classroom, and cultivating these opportunities for understanding and acceptance among students, is vital. She believes that when children value one another not only for their similarities, but for their differences, a better world is on the horizon. Barbara is now "team teaching" in second grade at H.W. Mountz School in Spring Lake. It is a very unique arrangement in which she has gained invaluable insight and knowledge.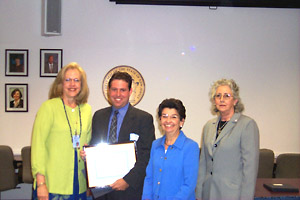 Michael Chodroff an East Brunswick native, graduated from Rutgers College in 1996 with degrees in Journalism and Communication. During school, Michael tasted the importance of education while interning for Richard Heffner and The Open Mind on Channel 13. After graduating, he spent time as a financial planner and as owner of a small publishing company. In 2000, Michael decided to enter the teaching profession. In 2001, he student taught at Edgar Middle School in Metuchen and was Kean University's Post-Baccalaureate Student Teacher of the Year. Presently, Michael teaches 5th grade at Tamaques Elementary School in Westfield. Michael believes that education is the true foundation of a good person and a strong society.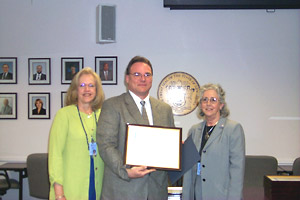 Accepting for Anna Conchado, who was unable to attend the ceremony, was Dr. Mark Meyers, Associate Dean of the College of Education at Rowan University.
Anna Conchado received her bachelor's degree in teacher of the handicapped and certification in reading at Rowan University. She was awarded two bronze medallions from Rowan last spring for the Ernest Maddock Exceptional Children Award and the Evelyn Slobodzian Excellence in Reading Award. She is currently the student representative for the National Council for Accreditation of Teacher Education at Rowan. Anna was an active member in the Students for Literacy Club. She served as the president of the Student Council for Exceptional Children during the 2002-2003 school year and was a presenter at the International Council for Exceptional Children Convention in New York City. Anna is currently teaching at Chestnut Ridge Middle School in Washington Township, New Jersey. Anna's philosophy of teaching is that all students can learn through motivation with the belief that each student can become a self-confident, self-sufficient, and productive adult in a world where the only limitations one encounters are the ones that one imposes on oneself.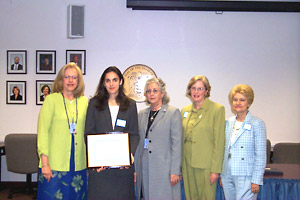 Jeanette Fazzari is double majoring Elementary Education and Psychology at Rider University. Jeanette made the Dean's list every semester and has been awarded the distinguished Andrew J. Rider Scholar each year; given only to the top three students in each of the University's colleges. Jeanette also received the coveted Shirley Johnson Award in Psychology. Jeanette student taught first grade at the Dutch Neck Elementary School in West Windsor. Her most notable accomplishment has been in martial arts. Jeanette is a 3rd degree Black Belt in Isshinryu Karate. At sixteen years old Jeanette was the youngest student to attain a teaching certificate for karate. Although many activities kept Jeanette busy, she also enjoyed student life at Rider, dedicating much of her time to the Inter-Varsity Christian Fellowship. Jeanette was an active member all four years and was treasurer during her junior and senior year. Jeanette is also a member of the Student Education Association and strongly believes that to motivate students, teachers must provide numerous experiences for them so that they might apply and retain their newly acquired knowledge.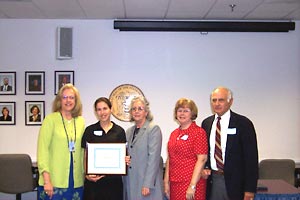 Kari Fitzgerald was co-valedictorian of her graduating class at Burlington County College. She received Burlington County College's award for Outstanding Academic Achievement in Liberal Arts in 2000-2001. She graduated summa cum laude from Rowan University last December and will begin her master's degree work at Rowan this summer. Kari was the recipient of the Dean's Award for achievement in English for 2001-2002, as well as the 2002-2003 winner of Rowan's Medallion Award for Excellence in Undergraduate Student Teaching. After completing her student teaching in December at Palmyra High School, Kari accepted a position as a 7th grade language arts teacher at Lawrence Middle School, in Lawrenceville. NJ. She considers herself incredibly fortunate to have had wonderful pedagogical role models at both Burlington County College and Rowan University.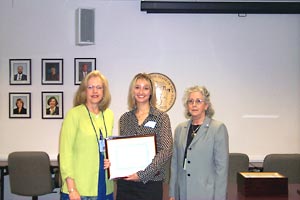 Accepting on behalf of Rebeka Golieb was Molly Dugan, Associate Director of Teacher Education at Rutgers University.
Rebekah Golieb grew up in Parsippany, New Jersey. In 1998, she began her undergraduate work at Rutgers University, where she was later accepted into the graduate program for elementary education. The experiences that influenced her career path included volunteering with underprivileged children, working as a preschool camp counselor, and teaching students with learning disabilities. She believes the purpose of education is to create thoughtful, lifelong learners who will become responsible, productive members of society. Rebekah received her Bachelor of Arts degree in psychology with high honors and will be receiving her Master's degree this May from Rutgers University.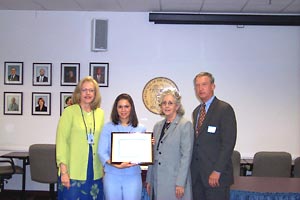 Tiffany Jacobson will graduate this May from Saint Peter's College with degrees in elementary education and American Studies. She made the dean's list every semester of her college career and has earned a 3.8 grade point average. Tiffany was the Treasurer of the Student Education Association and Kappa Delta Pi. She completed her student teaching in the fall 2002 semester at Edison School in Union City teaching 6th grade. Tiffany is a strong proponent of whole school reform and believes that the majority of students will thrive in an environment where they receive support and guidance from all members of their community.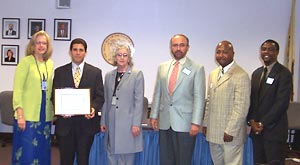 Daniel Mark is a senior at Princeton University and a graduate of the Ramaz Upper School in Manhattan. He is the creator and host of "The Professor Show" on WPRB 103.3 FM, a junior fellow of the James Madison Program in American Ideals and Institutions, a staff writer for The Princeton Story, and a member of the Kukin Society of Fellows. In addition, Daniel is a 1998 presidential scholar and the author of Federalism and Constitutional Integrity in Commerce Clause Jurisprudence. He did his student teaching at Hopewell Valley Central High School under Alan Sattler. He hopes to teach next year in New York City.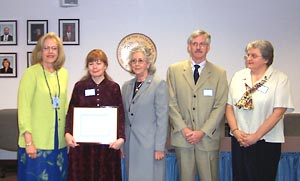 Aleta Ott and her daughter began school at the same time. Melinda, her daughter, went to first grade while Aleta attended Bucks County Community College. Aleta worked in the college printmaking studio and it became a life-changing experience. While helping other students at the studio, Aleta discovered she loved teaching. She transferred to The College of New Jersey to earn her Arts education degree; she was invited to join Kappa Delta Pi and Golden Key, education honor societies. Her student teaching experience helped Aleta to bring ideas to life for her students and develop her teaching philosophy that every child can be given the tools to succeed.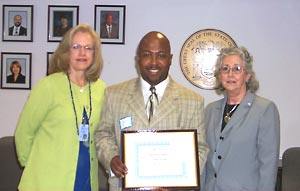 Accepting for Marnie Podos was Mr. Torey Wilson, her supervisor at Princeton University.
Marnie Podos will graduate from Princeton University this June with a degree in English and a certificate in teacher preparation. She completed her student teaching at Hopewell Valley Central High School this past fall, where she was fortunate to have had a wonderful cooperating teacher. At Princeton, she has performed in several theatrical productions, has written editorials for The Daily Princetonian, and has served as an academic advisor to underclassmen. In the fall of 2003, she will head to Oxford for a year long Masters Degree program in 20th Century British Literature. Ultimately, she would like to become a professor of English.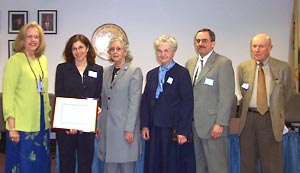 Jo Ann Price, who is a mother of three, earned her Bachelor of Arts degree in English with certification in secondary education and ESL from Georgian Court College. She graduated summa cum laude last December. She received a perfect score on the English Praxis exam and is a member of both Kappa Delta Pi and Sigma Tau Delta honor societies. Jo Ann completed her student teaching experience at Howell High School, where she is now employed as a long-term substitute teacher in the English Department. Jo Ann experienced working with young people in her community as a Girl Scout leader, religious education teacher and a Music Parent Association board member. These experiences have contributed to her desire to return to college in order to become an educator. She wants to teach because she believes that the power of education is to uplift and inspire, to literally transform lives, and to open the eyes of adolescents to the exciting possibilities and formidable challenges that lie just beyond the classroom walls.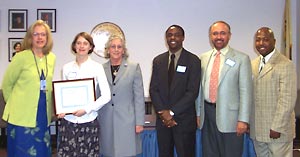 Jessica Rhoades graduated from Princeton University last spring with a bachelor's degree in cultural anthropology. She did her student teaching in English at Princeton High School in the fall semester of 2002. She stayed on through the spring as director of the IDEAS Center, an in-house tutoring resource for Princeton High School students. Her summer as a middle school reading teacher in Newark piqued her interest in urban education, a field in which she plans to continue working. Some of the best advice she has received thus far as a young teacher has been that she has got to be crazier than the kids.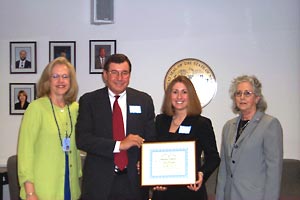 Danielle Schmidt will be graduating with honors from Caldwell College with a bachelors degree in English and secondary education. Danielle has been preparing her entire life to embark on her journey as a teacher. Throughout her college experience Danielle has taken every opportunity to learn more about teaching and to try and become the best teacher possible. She spent her last three years of college tutoring in the writing lab at school and also spent a semester as a supplemental instructor for Western Heritage. For the past two years she has been working at Huntington Learning Center tutoring children of all ages in both verbal and math programs. Each of these experiences only affirmed Danielle's love for teaching. Her hard work and dedication has led Danielle to become part of various honor societies including Kappa Delta Epsilon, an honorary professional education fraternity, in which Danielle spent a year serving as fraternity president. Now that her college career is coming quickly to an end, Danielle hopes to enter the classroom in September and ignite a passion for literary arts in her students.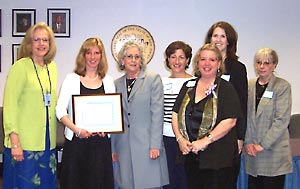 Elizabeth Voltman as a graduate assistant, tutored college writers and taught undergraduate courses in composition and literature. These experiences were very powerful and rewarding for her as it amazed her how active a role she had in opening students' minds to new ways of seeing the world. This is the same spark that Elizabeth is seeking to kindle at the secondary level with her World Literature students. She is currently teaching at Montclair High School where she presents the curriculum in such a way that engages students and encourages them to empower themselves. Elizabeth's passion inspires her to encourage her students to recognize and embrace the inextricable link between wondering, living, and learning.