2004 New Jersey Distinguished Student Teacher Awards
Individual winners for this year are listed below.
Click on a name to see a short biography and a picture.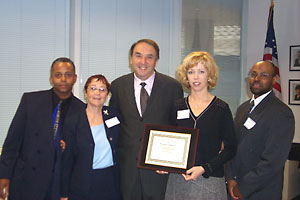 April Bocchino, a New Jersey native, received her first Bachelor of Arts degree in drama from the University of North Carolina at Greensboro. After working in children's theater, she then traveled the world as a flight attendant for United Airlines. September 11, 2001 prompted a refocusing of her life, and soon after, April enrolled in the Richard Stockton College's teacher education program. In December 2003, April earned her second bachelor's degree, this time in teacher education, with elementary certification. She looks forward to a teaching career that encompasses all of her life experiences and allows her to always remain a student.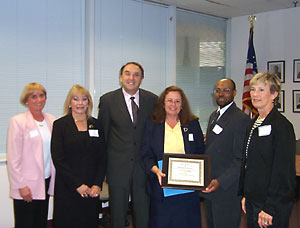 Victoria Burrowes received her Master's degree this past January in teaching from Monmouth University. As a mother of six, she loves and respects all children. After twenty years in insurance, Victoria decided she wanted to utilize her problem solving, management, and people skills in a different way. She now wants to use these business skills to guide children's discovery of learning in a safe and happy classroom. Victoria strongly believes in an individualized learning approach and the importance of cooperation, curiosity and acceptance amongst her students.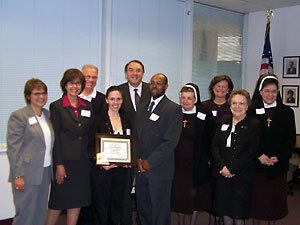 Tara Dempsey graduated summa cum laude this past December with her Bachelor's degree from Felician College. As a college student, she worked at a daycare center. This experience allowed her to nurture her interest in teaching. Her devotion to teaching was very evident during her student teaching. She, therefore, was awarded the Ann Baker Scholarship for her dedication. She is now a first grade teacher at Garfield Catholic Academy. As a a teacher, she firmly believes in a strong relationship between student and teacher and a hands-on learning environment. Her goal is to make a positive impact on her students' lives.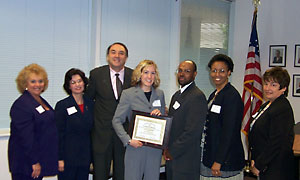 Heather Frank graduated magna cum laude with departmental honors from Gettysburg College in 20001 with a Bachelor of Arts in English. Immediately after graduation, Heather began pursuing a master of arts in teaching in early childhood and elementary education from Montclair State University. Heather received her master's degree this past January and is now teaching first grade in Glen Rock, NJ. She views education as a means of empowering students to become agents of change. Heather is dedicated to the passion and commitment it takes to be a life long learner and educator.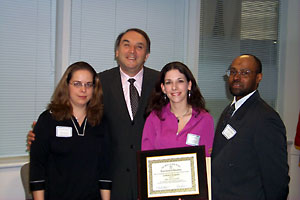 Lisa Greenwald earned a Bachelor of Arts degree last May in English and graduated as one of sixteen valedictorians from Rutgers University. She looks forward to graduating from Rutgers Graduate School of Education at the end of this month with a master's degree in English education. Lisa has a passion for teaching and for the written and spoken word. Her goal is to have this rub off on all her students so that they may be successful in expressing themselves by using carefully constructed prose and poetry. In addition, she would love her students to become as avid a reader as she is, since she feels that you can gain so much from books.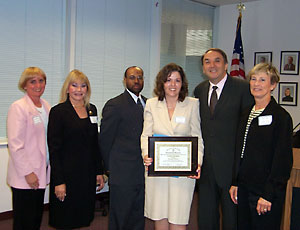 Joanna Kotsis was determined to teach since the first day she dropped off her first child in kindergarten. Excitement overwhelmed her as she walked into the classroom. She knew that she would have to be in a school, in a classroom, and teach. Therefore, Joanna earned her Master of Arts degree in teaching this past December from Monmouth University. During her graduate course of study, she raised two children and was active in education related endeavors. As part of her graduate coursework, she developed a family literacy program for homeless mothers at Spring House in Long Branch. This became a pivotal experience in her education. Joanna credits participating in her children's education as a great benefit in pursuing her teaching degree. She learned from being a parent for ten years that if you show children that you believe in their ability by giving them confidence, guidance and warmth, they will strive to excel and to please you and themselves.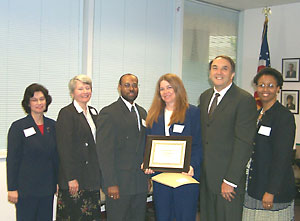 When Nancy Lorenzini's daughter Erika entered kindergarten, Nancy entered Montclair State University to pursue her dream of teaching. She graduated this past December summa cum laude with a Bachelor's degree with certifications in early childhood and elementary education. Nancy did her student teaching at Spring Garden School in Nutley and is now a basic skills teacher in second and sixth grades at Lincoln School in Nutley. She believes that children have a natural desire to learn about the world around them and initiate learning independently. Therefore, her interest is to bring integrated materials from the real world into the classroom and facilitate and foster the different learning styles using various methods and techniques.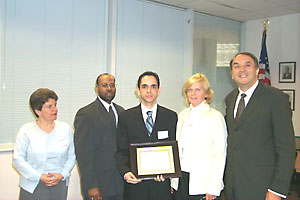 Antonio Matheus is majoring in mathematics and secondary education at Caldwell College. He is actively involved in the college community. As a member of Kappa Delta Epsilon, an education honor society, Antonio participated in activities to help children and students. Antonio received the Peggy Harris Scholarship, an award given every year to one student in the education department. He is presently doing his student teaching at East Side High School in Newark. He is also an ESL teacher and pedagogical coordinator at a private language institute in the ironbound section of Newark. All of these experiences have been very influential in Antonio's life. When he starts teaching, he hopes to foster a sense of academic excellence and citizenship in his students so that they may grow to become well rounded individuals. He wants them not only to learn mathematics but also to be able to apply mathematics and the skills they learn in his classroom to their daily lives.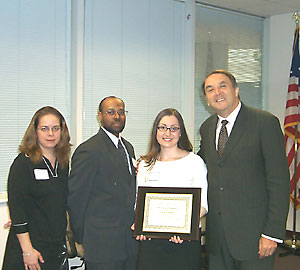 Aliki Nicolaides felt destined to be an English teacher from a young age when she tutored those needing help in literacy. The power of words captivated her when listening to stories on her father's lap and reading books at bedtime with her mother. She will receive her Master in English Education degree later this month from Rutgers Graduate School of Education. Aliki is a member of Phi Beta Kappa and Kappa Delta Pi education honor societies. As a lover of music, art and drama, she used these to encourage and actively engage her students during student teaching. Aliki know of nothing more fulfilling or significant than spending her life encouraging her students to become life-long learners. As a teacher, she will help all of her to succeed in literacy.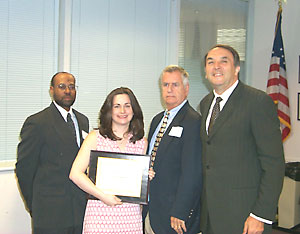 Jacqueline Pomers graduated this past December from Saint Peter's College with a grade point average of 3.85 where she majored in mathematics and minored in English. Prior to college, she started tutoring. She would hear from the students' parents how much better their children were doing in school, that they have become more productive in class and started doing more homework. It was her love for math and the great satisfaction she felt when helping children in school that made her choose teaching as her profession. She is currently teaching mathematics at Bayonne High School.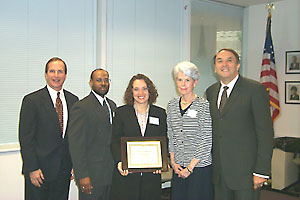 April Rock received her Bachelor of Arts degree in 1999 from Whitworth College in Washington State. She then returned to her hometown of Modesto, California to work in the public school system as a substitute teacher. She knew her future was in education and in the fall of 2001 entered both the theological seminary and the teacher preparation program at Princeton University. She graduated this past June with her masters degree in education with elementary education certification. She now teaches third grade at Amsterdam School in Hillsborough. April believes in the irreplaceable value of every individual. Consequently, she both strives for community in her classroom and aims to teach about character and relationships in addition to the scholastic curriculum.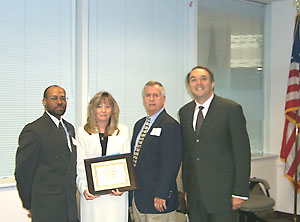 Susan Rusnak began taking evening and weekend classes at Saint Peter's College to pursue her dream of becoming a teacher. She has been inducted into many honor societies including Kappa Delta Pi and Alpha Sigma Nu. Susan will graudate this May with her Bachelor of Arts degree with elementary education certification. Her interest in teaching comes from the joy she experienced when she taught her three children to read. She has remained active in the education of her three children. She believes in educating the whole child, academically, socially and morally. She looks forward to many successful years of teaching.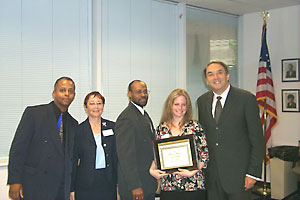 Teena Spinelli graduated this past December from Richard Stockton College of New Jersey with honors receiving a Bachelor of Arts degree in visual arts and teacher education. As a visiting artist at the Noyes Museum in Oceanville, NJ, she realized her love for teaching the visual arts to others. From the classrooms of Stockton to her student teaching experience, Teena knew that she had chosen a profession that would meet her intrinsic need to create as well as to inspire. She feels that each student that she encounters is a new lesson in appreciating life, compassion and learning.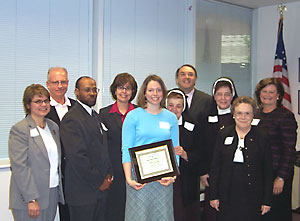 Jennifer Stalb graduated from the University of Rhode Island in 1997 with a Bachelor of Arts in communication studies and Spanish. Upon graduation, she began working for the university as an event planner. While she loved coordinating details and watching everything come together, something was missing. She realized that children were the missing component. In 2003, she married and moved to New Jersey where she enrolled at Felician College to obtain her certificate in elementary education. She will graduate later this month with her degree in education with elementary and early childhood certification. Jennifer would like to create a fun, comfortable and supportive environment where inspired learning takes place. This seems more like a treat rather than a job to her.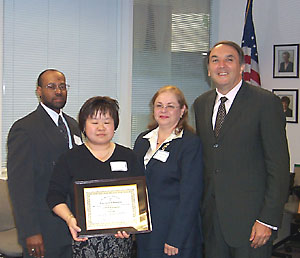 Ivy Yiu will graduate at the end of this month from Centenary College with her Master's degree in education with elementary certification. Thirty-four years ago her family immigrated to America. Her parents believed that America would provide better prospects for a brighter future and a better education. Her passion of teaching came from when she was a student in the ESL classes in Public School #19 in Elizabeth. Ivy spent two years in ESL learning from effective and nurturing teachers. She would then spend many hours teaching English to her parents. It was not enough to only learn, she had to share what she had learned. She firmly believes that the daily "sharings" planted the love of teaching in her. Although the past thirty-four years have taken Ivy along a different career path, her love of teaching has never diminished. She cannot wait to take her first step to embark on yet another journey of a thousand miles into education. She is eagerly looking forward to having the opportunity to share her love of learning with the next generation of leaders.