2005 New Jersey Distinguished Student Teacher Awards
Click on a name to see a short biography and a picture from the awards ceremony.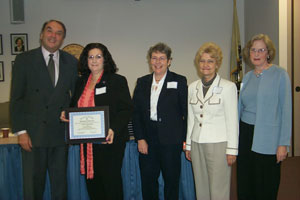 Heidi Berkey graduated from Mercer Community College in 2003 and transferred to Rider University. She graduated in May 2005 with a 4.0 grade point average. As an Andrew J. Rider Scholar, she maintained her place of honor on the dean's list. As a Phi Theta Kappa Honor Society member, Heidi volunteered at a local school offering extra help to struggling students. This was one of her most rewarding college experiences. The joy of student teaching has confirmed her decision to fulfill her lifelong dream of becoming a teacher. As a mother, a grandmother, and future educator, Heidi is determined to improve the world, one child at a time.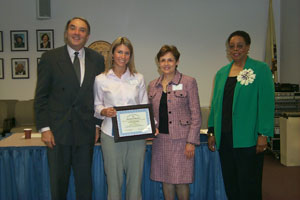 Lauren Connor earned her Bachelor of Arts degree in journalism from the College of New Jersey in May 2001. She graduated summa cum laude and was honored to be inducted into four national honor societies. As an undergraduate, Lauren was fortunate to explore diverse career opportunities while interning at the New York Stock Exchange and working for NBC News during the 2000 Presidential election. Lauren received her Master of Arts degree in teaching at Monmouth University in January 2005. While at Monmouth, she worked as a graduate assistant in the criminal justice department and maintained a 3.975 grade point average. Currently, Lauren teachers at Rumson-Fair Haven High School instructing English and film studies courses. Additionally, she enjoys coaching the junior varsity softball and field hockey teams. Lauren believes her mission as a teacher is to find ways to connect the curriculum to the students' interests and to help them develop a commitment to life-long learning.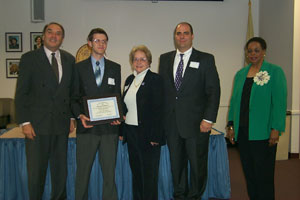 Louis De Angelo graduated from Colonia High School in 2001 as valedictorian. He graduated from the College of New Jersey in May 2005 with a Bachelor of Arts degree in mathematics education and minors in statistics and women and gender studies. He received the Carl Shuster and Robert Duncan Memorial Awards from the College of New Jersey's mathematics department. Louis was president of Students Against Drunk Driving. He believes students learn mathematics best when they actively participate in the classroom and the material is made meaningful with real-world connections.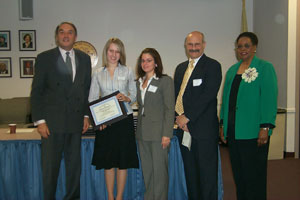 Lisa Gergasko graduated in May 2005 from the five year elementary education Masters program at Rutgers University Graduate School of Education. She is a member of the Phi Beta Kappa Honor Society. She chose to become a teacher so that she could encourage students to begin thinking for themselves and become more independent, motivated learners. As a college student, Lisa explored different aspects of education by teaching Sunday school, working as a research assistant for Dr. Lesley Morrow and working as a consultant for the New Jersey Center for Character Education. She plans to continue in her own education by returning to school to earn her doctorate in an educational leadership program. Lisa's goal is to use her experiences as a classroom teacher to one day help improve K-12 education through research on policy, finance, curriculum reform, standardized testing, and school governance.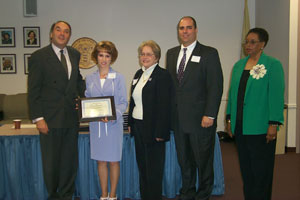 Jennilee Groegler graduated from the College of New Jersey with her degree in early childhood education with a concentration in sociology in three and a half years. She was the recipient of the Deborah P. Wolfe Undergraduate Recognition Award. Jennilee completed her student teaching in first grade at the Barley Sheaf School in Flemington, where she is currently teaching fifth grade. Jennilee views teaching as a career offering many possibilities, challenges and rewards. She feels teaching is about more than having a love for children, but is a passion.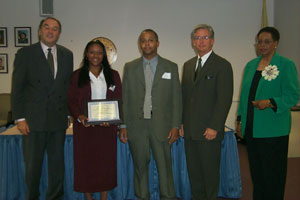 Evangeline Gumbs is a 2004 graduate of the Richard Stockton College of New Jersey. She graduated cum laude with a Bachelor of Arts degree in literature and teacher education. A dedicated and serious student, she was awarded the Presidential Scholarship, an NAACP scholarship, and an excellence award. Evangeline was also an All-American Scholar and on the National Dean's List. She found the most fulfillment when she served as a verbal tutor for the Educational Opportunity Fund. Evangline feels very fortunate to have done her substituting, educational fieldwork and student teaching in various school districts located in very different environments. Her love of education brought her all the way to Australia when she attended the International Mission on Education in 2003. To Evangeline, education is a life-long process that cannot solely take place within the confines of a traditional lecture-style classroom; it is the acquisition of knowledge and the stage for change and personal development.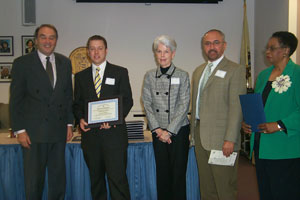 Edward Hilton received his Bachelor of Arts degree in 1998 from Simpson University in Northern California. He then moved with his wife to Philadelphia where he was employed as the director of Children's Education, a faith-based nonprofit organization. Wanting to continue his education, he entered the Masters program at Princeton Theological Seminary and also the Teacher Preparation Program at Princeton University. Edward just completed his Masters degree with an elementary education certification. He firmly believes in creating a collaborative learning community that promotes responsibility and respect.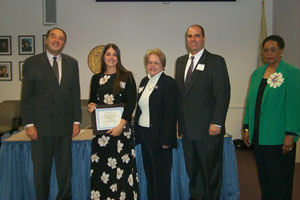 Eliabeth Hults graduated in May 2005 from the College of New Jersey with a Bachelor's degree in English and secondary education. She is a four-year New Jersey Bloustein Scholar and a Dean's List student, maintaining a 3.83 grade point average. Liz is also a member of Sigma Tau Delta, the international honor society. In her spare time, she performs in professional theater productions. Her theater experience aids in her classroom when teaching classical plays. Elizabeth also coaches gymnastics and is the director of choreography at Extreme Gymnastics in Manahawkin. She has accepted an English teaching position at Barnegat High School.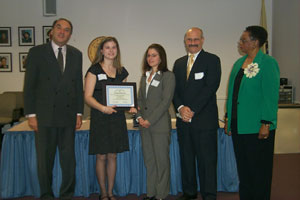 Kara Ingling graduated magna cum laude from the College of New Jersey in the Spring of 2003. She earned a Bachelor of Art's degree in English and a minor in law and justice. While in college, Kara was a member of Sigma Tau Delta English Honor Society and the varsity women's tennis team for two years. During her final year at the College of New Jersey, Kara was not sure if she wanted to go to law school to become a lawyer or to graduate school to become a teacher. She decided that her true passion was teaching and so she enrolled in Rutgers University's Graduate School of Education. She received her Master's degree in English education in May 2005. Currently, Kara teaches eighth grade English at Churchill Jr. High School in East Brunswick. She loves her job and considers teaching to be the most rewarding and fulfilling experience of her life.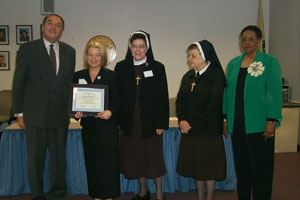 Meghan Kelly graduated cum laude from Providence College in May 2001 with a double major in English and theater arts. She was nominated for the Irene Ryan Award for excellence in musical theater by the New England College Theater Festival. Meghan then enrolled in Felician College's teacher education program and graduated this past December with a 4.0 grade point average and obtained her elementary education certification. She received the Dr. Dennis Connors Memorial Award for excellence in student teaching. Meghan is currently teaching at Corpus Christi School in Hasbrouck Heights. She loves the smiles on the kids faces when she jumps up and down in front of them to show them how incredibly exciting learning new things can be.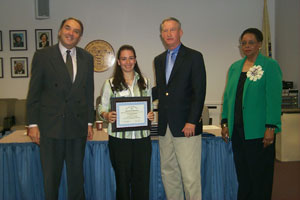 Heather Maselli graduated in May 2005 from Saint Peter's College ranked sixth in her class with a 3.94 grade point average. She will receive her Bachelor of Art's degree in English with a minor in secondary education. She has been inducted into Sigma Tau Delta, the international English honor society and Alpha Sigma Nu, the Jesuit honor society. She has also been awarded Blue Keys, the highest honor from student activities for her contributions to clubs. Heather served as the editor in chief of the Pauw Wow, the student newspaper, the Class President, the Vice President of the Student Education Association, and acted in the comedy, Nuncrackers. One professor of Heather's told her that her job as an educator would be to teach students, not just teach English. Heather has incorporated this mentality into her own philosophy of teaching, ensuring that each of her students are equipped with the tools needed to succeed.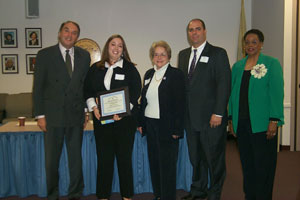 Jillian Newsome is a December 2004 graduate of the College of New Jersey where she studied special education, deaf studies and psychology. She began her college career at George Washington University where she studied anthropology for two years. She then transferred to the College of New Jersey to study special education. While at the College of New Jersey, she became a member of the College Chapter of the Council for Exceptional Children. This club not only confirmed her desire to work with persons with disabilities, but also allowed her to take on a leadership role while serving as Co-President for a year. She was also a member of two honor societies, received Dean's List honors all semesters and received the Kathryn Sage Leadership and Educational Achievement Award as well as the Friendship Day Coordinator Award. Jillian is currently a sixth grade resource room teacher in Medford Lakes.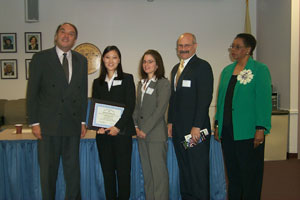 Christine Osborne graduated from Rutgers College as a Henry Rutgers Scholar with a degree in genetics and microbiology in 2002. Her interactions with children in an Abbott school district led her to pursue teaching. She received her Master's degree in May 2005 from Rutgers Graduate School of Education in physical sciences. Christine is the President of a new organization at Rutgers, the Teachers' Initiative for Multi-America (TIMA), whose goals are to promote social justice and equality within our schools. She hopes to instill these values in her future students in addition to having them construct ideas in physics.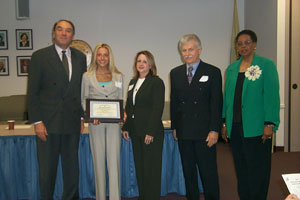 Alicia Perez was born and raised in Newark. She attended Seton Hall University where she majored in secondary education and English. She received her Bachelor of Art's degree in only three and a half years and is the top student with a grade point average of 4.0. She was inducted into the Sigma Tau Delta Honor Society, the National Honor Society of Collegiate Scholars, the Golden Key Honor Society, and Kappa Delta Pi Honor Society. Alicia worked at the University writing center where she tutored students who needed extra help in English and writing. She is also a published writer and editor of Chavez, the University's literary magazine. She is currently teaching English at West Morris Regional High School.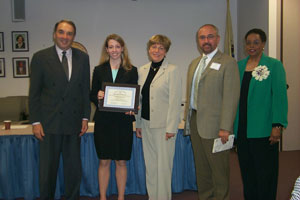 Alanna Phelan graduated summa cum laude with a degree in art and archaeology from Princeton University. She was elected to Phi Beta Kappa and received the Grace May Tilton prize in fine arts for her senior thesis. While a student at Princeton, she conducted a story hour for preschool children, led dance workshops for elementary students and designed arts-related educational workshops for inner-city adolescents. She was also the President of a student-run dance company. These activities allowed Alanna to share her love of the arts while cultivating students' creativity, self-expression, and self-confidence. After graduation, she completed Princeton University's Teacher Preparation Program and earned her teaching certificate in elementary education in December 2004. As a fifth grade teacher at Plainsboro School District, she believes that there are no greater rewards than the individual relationships and the growth in thinking and character that teachers can inspire.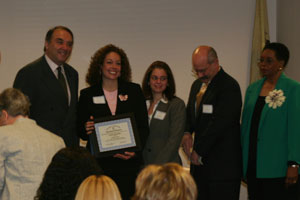 Jenny Roca graduated in May 2005 with a Master's degree in special education at Rutgers University. She has worked with students with learning disabilities, cognitive impairments, autism, general and gifted education students in New Jersey. Jenny has studied education with teacher education students from around the country, through the National Youth Leadership Forum on education in Australia. She was a graduate assistant to Dr. Melanie Kuhn, studying assistive technology for students with reading disabilities. Jenny plans on teaching elementary special education students in New Jersey, and one day wants to run workshops that teach special education strategies to general education teachers.