2006 New Jersey Distinguished Student Teacher Awards
Click on a name to see a short biography and a picture from the awards ceremony.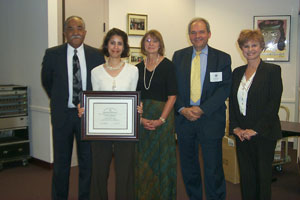 Michelle Barshay took an interesting route to becoming an educator. In 1995, Michelle received her Bachelors of Arts degree in American History and American Studies from Boston University. She spent the next ten years working in the worlds of finance and law. It was during this period that she rediscovered her creative side and earned a certificate in Graphic Design from Parsons School of Design. Eventually, all of her interests and aspirations merged when she realized that her professional experience and creative drive could be channeled effectively into the role of educator. This past December, Michelle completed her teacher certification requirements at Caldwell College's Post-Baccalaureate Teacher Certification Program and is now obtaining a Masters degree. She is currently taking over as a full time maternity replacement at Essex Fells School after completing her student teaching in the same classroom. She hopes to take inspiration from the many enlightening instructors she has had over the years. Education for Michelle is a lifelong journey, and she continues to learn as much from her students as they do from her.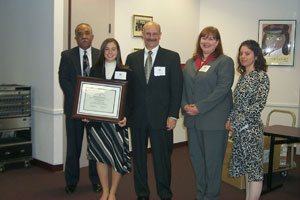 Lisa-Marie Batelli will graduate this month with a Master's Degree in Social Studies Education from The Graduate School of Education at Rutgers University. She graduated Summa Cum Laude from Rutgers University last May, where she received a Bachelor of Arts Degree in History. While at Rutgers Lisa-Marie was inducted into the Phi Alpha Theta international honor society for history, and the Golden Key International Honor Society. She is anxiously awaiting her first year of teaching. As an educator, Lisa-Marie plans on using a progressive pedagogy approach, while helping her students to achieve their highest academic potential and goals.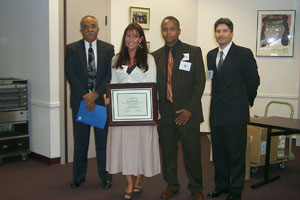 Cassandra Bunje completed both her Literature and Education degrees at Richard Stockton College in December of 2005. She graduated Summa Cum Laude in both, and earned program distinction in education. Additionally, Cassandra was a member of the International English Honor Society, and a reporter for the college newspaper. She student taught at Central Regional High School in Bayville. During that short time, she was publicly recognized by two of her students at the National Honor Society Induction, as an inspirational educator. Her philosophy on teaching is evident in her dealings with students: put kids first and everything else falls into place.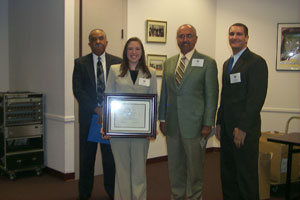 Cynthia Casazzagraduated with honors from Princeton University. She majored in the Woodrow Wilson School of Public and International Affairs, as well as earned certificates in Spanish and Teacher Preparation. While at Princeton, Cynthia received academic honors, the Pace Center Award for Community Service and an award for community-based research; she also completed two terms of service as an AmeriCorps volunteer. Cynthia is currently teaching at at JP Case Middle School in Flemington. Her goal in teaching is to inspire academic and personal growth in her students; in addition, she works to inspire critically-thinking and engaged citizens.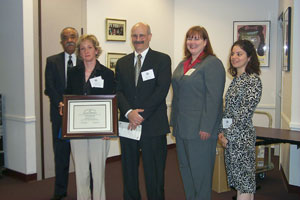 Cathleen Cirrotti graduated in 1990 from Douglass College with a Bachelors degree in biology. After graduating, she worked as a pharmacologist for Hoechst Celanese. This month, she will receive a Masters in science education from Rutgers Graduate School of Education. This past fall, she completed her student teaching at Scotch Plains-Fanwood High School, working with 9th grade biology students. She utilized a constructivist inquiry based approach to biology, within a cooperative learning environment. This summer Cathleen and her family will be celebrating her graduation while camping in the Grand Canyon.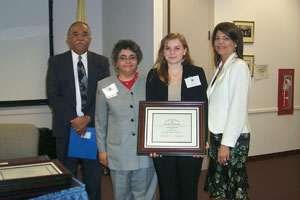 Corey Crouch will graduate from Rowan University this month Summa Cum Laude with a Bachelor of Arts degree. She double majored in English and Elementary Education. Throughout her college career, she has worked as an instructional assistant in Manhattan and Medford Lakes and attributes her passion for teaching to these experiences. She will be joining the Teach for America Corps in Houston, Texas this summer. Corey plans to continue her education and research after this two year commitment. She hopes to commit her career to advocating for student populations that have received an inequitable education in the past. She firmly believes that all students are capable of learning.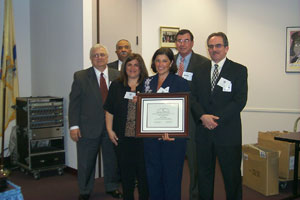 This past December, Jill Ebeling earned a Bachelor of Arts Degree in education, and received dual certification in the areas of Teacher of the Handicapped and Elementary Education. While at Georgian Court University, Jill served on the Council for Exceptional Children and the Presidents Committee, assisted with on-campus activities, presented nationally, and hosted the 2nd annual Council for Exceptional Children State Conference. She received the following recognition: Alpha Sigma Lambda, Who's Who in Colleges and Universities, Dean's Scholar, Educational Testing Service Recognition of Excellence, and was on the National Deans List. Jilll is Currently teaching special education at Lucy n. Holman Elementary School in Jackson. Her own desire for learning inspires her to continue to create experiences and opportunities through teaching to allow all students to realize their unique gifts and talents that will help them shine.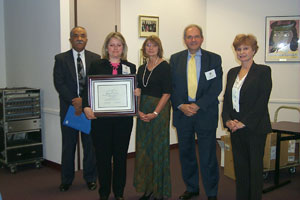 Erin Goldstein graduated with a Bachelor of Arts degree in English from Fairfield University in May 1983, and worked as an editor for seven years before beginning her graduate studies in education at Caldwell College. Erin believes that an effective teacher builds a classroom environment where students are encouraged to question and to open their minds to new ways of thinking. This, along with many opportunities for success, prepares students to become "good citizens of the world." Erin has recently been appointed a member of the Hackensack University Medical Center's New Children's Hospital Consumer Advisory Council. She describes herself as a life-long learner.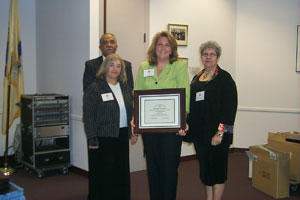 Carol Hark is graduating from Centenary College this month with a degree in English and certification in elementary education. She has been honored with Certificates of Merit in both education and English. She is a member of Kappa Delta Epsilon education fraternity, Alpha Sigma Lambda national honor society, and Phi Theta Kappa honor society. After having a successful career in business, carol realized that teaching was always a career she wanted to pursue. Fulfilling this dream has been one of the most rewarding experiences of her life, second only to having children. Carol wants to behold the "ah-ha" connections from her students and embrace the teachable moments that lend themselves so naturally to the education environment.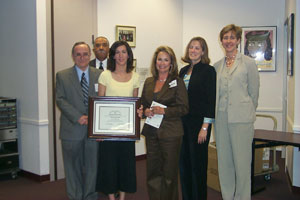 Maria Kruzdlo graduated from Rider University's graduate level teacher certification program in elementary education this past December where she earned a 4.0 grade point average. She completed her student teaching at Bobby's Run School in Lumberton where she used her background as an Emmy nominated television news producer to draw in her students and get them excited about learning and using technology. Maria believes that teaching is not about getting students to memorize facts, but rather about modeling strategies that students can use on their own to make sense of and succeed in our ever-changing world. She currently is teaching fourth grade at Marlton Elementary School.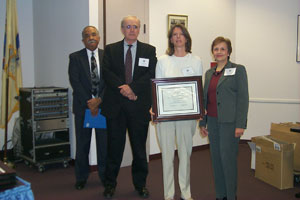 Lorraine McEvoyearned her Master of Arts in Teaching degree this past January from Monmouth University. She also holds both Bachelor and Master of Arts degrees in Psychology. She has received the Educational Testing Service Recognition Award. For the past sixteen years, she and her husband have had the privilege of nurturing and raising their two daughters. She has been an active participant in her children's schools as well as in the community at large. SHE HAS Lorraine believes that children thrive in a warm, loving environment where they have the comfort to take risks as they explore the world and discover their personal gifts. She is committed to providing experiences that promote self-esteem, inspire an awareness of community responsibility, cultivate problem-solving skills, and nurturing a life-long interest in learning.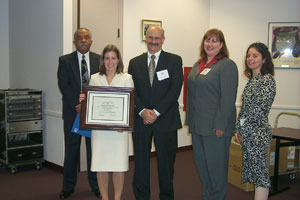 Michelle Mika graduated summa cum laude with a Bachelor's Degree in mathematics last May from Rutgers University. She will graduate this month from the Rutgers Graduate School of Education with her Masters in mathematics education. Michelle is also a member of the Phi Beta Kappa honor society. She completed her student teaching at Ocean City High School and this experience let her know that she made the right decision in becoming a teacher. She believes that exemplary teachers are reflective about their teaching and continuously strive to improve themselves throughout their career.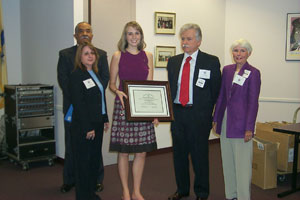 Colleen Shandrey graduated Summa Cum Laude from Seton Hall University this past December, with degrees in early childhood, elementary education, and fine arts. She maintained her place of honor on the Dean's List each semester and was inducted into the Golden Key International Honor Society, Kappa Delta Pi, and the National Society of Collegiate Scholars. Colleen's student teaching experience, in second grade at Wanamassa School, Ocean Township, deepened her passion for guiding today's youth to become self-confident and informed adults. She firmly believes in providing a positive and rewarding classroom environment for all children to reach their potential.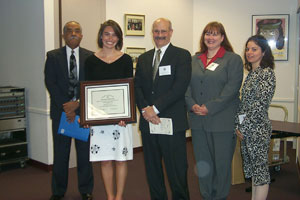 Shannon Smith graduated in May of 2001 with a Bachelor of Ats degree from Dickinson College and English education at Rutgers Graduate School of Education. After Shannon completed her undergraduate work she joined the Peace Corps. In the two years she lived in Mongolia, she taught English not only to middle school and high school students, but to fellow teachers and community members. Due to her volunteer work in Mongolia, the Dominican Republic and also in the United States, Shannon has developed a strong belief that her primary goal as an English teacher is to create learning environments that promote and foster self-reflection, global awareness and a social consciousness within her students.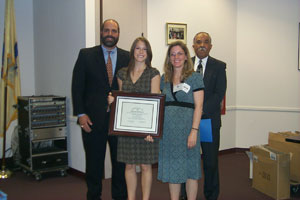 Pamela Wrede will graduate with a Bachelor of Arts in English this month from the College of New Jersey. During her four years, Pamela was a cheerleader, president of her sorority, and Greek Woman of the Year while being a Merit Scholar dedicated to her pursuit of becoming a teacher. Pamela's greatest teaching experience came through an independent study in which she hosted a book club in a women's maximum security prison. Salon Edna, as they called it, taught Pamela that education extends beyond school walls. Through cooperative learning, Pamela encourages students to get involved in their own growth by experiencing life to the fullest as she has so far.