2007 New Jersey Distinguished Student Teacher Awards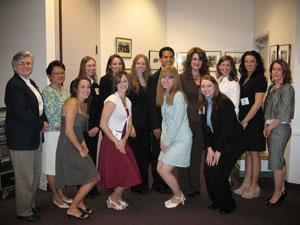 Click on a name to see a short biography and a picture from the awards ceremony.
Karen Cerasiello always wanted to be a teacher but was discouraged from her career choice by well meaning family and guidance counselors. Instead, she pursued a bachelor's degree in business administration followed by an eighteen year career in business. Her yearning to become a teacher never dulled. She went back to school to pursue another bachelor's degree in social studies and also earned her post baccalaureate teaching certificate in elementary education in December 2006. Her determination earned her a 4.0 GPA while holding a full time job and being a single mother. Karen wants to instill the love of learning to her students as her teachers once did. She excitedly begins this journey as a second grade teacher in Bloomfield.
Katherine Clements graduated in May 2007 with a bachelor of arts degree in elementary, special education, and environmental studies from Seton Hall University. She received the Morris K. Udall award for exceptional commitment to the environment and helped found The Ecology Club. For a geology curriculum she designed, Katherine received a New Jersey Science Teachers Award. During her student teaching experience in Cranford, Katherine utilized differentiated instruction techniques, and explored team teaching and technology's role in the classroom. After completing a thesis on forest kindergartens, Katherine believes no educational setting is complete without an outdoor component. She knows learning is a hands-on process which must be student-driven.
Edwin Gonzalez graduated with highest honors in December 2006 from Rutgers University-Camden. He has been the recipient of various awards and scholarships including the Hispanic Scholarship Fund and the Alfredo Santiago Teaching Scholarship. At Rutgers-Camden he served as the Vice President for the I.D.E.A.S. Spanish Club and he was a member of the Rotaract Club. Currently, he is teaching English to speakers of other languages in his home state of Florida. Edwin believes that teaching is an enterprise in which everyone plays a role in the education of society.
Melanie Gross was class valedictorian when she graduated from The Richard Stockton College of New Jersey in December 2006. She received bachelor of arts degrees in both elementary education and visual arts. She is represented in "Who's Who Among Students in American Universities and Colleges" and has received several Stockton Foundation scholarships. Presently, Melanie is teaching third grade in her hometown of Margate City. Melanie is very excited to be entering a profession where she can be a positive role model to numerous students, while teaching both academic and life lessons. Melanie's other interests include dancing, singing, and spending time with family and friends.
Crystal Jahn graduated in June 2007 with her teaching certification in health and exercise science at Rowan University. She has dedicated her time and devotion to the Health and Exercise Science Club, serving first as Vice President and then President. Crystal has received the National Association for Sport and Physical Education Major of the Year Award, at a ceremony in Baltimore last month, as well as the Evelyn M. Reade Health and Exercise Science Medallion Award from Rowan University. Instilling life skills and healthful knowledge to students through health and physical education is fulfilling her lifelong dream.
Tara James graduated summa cum laude in May 2007 with her bachelor's degree from Montclair State University. She has worked with children in various capacities such as a teacher's aide, a camp counselor, a tutor, and a children's party planner. Tara has always had a passion to help children thrive; like the children who took her halfway across the world to serve in an orphanage in Uganda, Africa. While in Africa, she was able to assist in supplying children with clothing, medical supplies, school supplies, and establishing a children's library. She is immensely honored to be entering a profession which allows her to positively impact future generations.
Jenna Marie Lerro graduated in May 2007 from the College of New Jersey with a bachelor of arts degree in English secondary education. She completed her student teaching experience at Thomas O. Hopkins Middle School in Burlington Township. In 2005, she studied abroad in Costa Rica where Jenna spent her afternoons volunteering at a local public school teaching English as a second language. At the College of New Jersey, she remained very involved on campus as a staff writer for her college paper, a media student coordinator at the school library, an active member of the English Honor Society, and was on the executive board of her club volleyball team. Jenna continues to volunteer with various service organizations to promote literacy on an international level.
After over twenty years of service with the United Nations, Marie Magas-Sniffen decided it was time to pursue her lifelong dream of becoming a teacher. She will be well on her way to fulfilling that dream as she graduated from Felician College in May 2007, with a masters of arts in education. While preparing to become an educator, Marie held a full-time position at the United Nations, taught Sunday school, volunteered at a camp for the disabled, and raised a family. She firmly believes that all children can be successful, but their talents need to be discovered and nurtured, and skills need to be learned and honed. This, infused with a love for learning, ensures every child's brightest future.
Jeanine Motta graduated in December 2006 from Rutgers University – Camden's undergraduate program and majored in Spanish. She helped form the I.D.E.A.S Spanish Club, and organized a book drive which raised over 3000 books for four Camden schools while at Rutgers. She recently studied abroad in Valencia, Spain; An invaluable experience in her education. She did her student teaching in the fall semester of 2006, and is currently teaching Spanish at Rancocas Valley Regional High School in Mount Holly. Jeanine is the oldest and only girl of seven children. She credits her younger brothers with preparing her for whatever her students can dish out. Her personal philosophy of teaching is to never say never.
Janet Parziale received her Bachelor of Arts in mathematics in 1980, and in December 2006, she completed the post baccalaureate teacher certification program at Kean University. She did her student teaching at Plainfield High School, and was nominated for Kean's Outstanding Professional Intern Award. At Kean's Supervisors Forum, she had the opportunity to present "How Identifying Contextual Factors Helped to Understand the Community, School, and Student" and most recently shared how she used differentiated instruction in mathematics at Kean's Spring Evening Seminar. Over the past nine years, Janet was a substitute teacher in Long Hill Township. Janet believes teaching is an exciting adventure that involves both students and teachers in exploring new concepts, sharing ideas, and applying knowledge to the world around them.
Ashley Perrini graduated from Felician College in May 2007, where she completed her degree in elementary education with a specialization in mathematics. Ashley has been on the Dean's List for all four years of college and is a member of the Honors Program, Honor Code Council, and Senior Gift Council. While attending College, Ashley volunteered her time at Felician's Breakfast with Santa, the Conversation Club, the Lyndhurst Adult Workshop and also volunteered her time as a religion teacher at Our Lady of Mount Carmel Church. Ashley is currently student teaching in a sixth and seventh grade math classroom at Lincoln School in Lyndhurst. She is able to implement her constructivist teaching philosophy, which includes hands-on activities and cooperative learning groups.
Tania Rodriguez is currently a Spanish teacher at Evergreen Elementary School in Plainfield. She graduated from Montclair State University in January 2007, magna cum laude, with a bachelor of arts degree in Spanish. As an undergraduate, she tutored and mentored all subject areas at Elementary School Number One in Linden, became the treasurer of Sigma Delta Pi, a Spanish Honor Society and was also a member of the Golden Key International Society. Tania's teaching philosophy revolves around the idea that the teacher should provide the student will the skills needed to succeed while providing a creative and caring learning environment that engages both the student and teacher. Consequently, she is currently enrolled as a graduate student working to complete a master of arts in instruction and curriculum.
Prentice Stabler graduated from Princeton University in December 2006 with a degree in history and his social studies teaching certification. At Princeton, he rowed as a member of the men's lightweight crew, which he captained during the 2005-2006 school year. He was also a member of Athletes in Action and the Princeton Evangelical Fellowship. A son of two career educators, Prentice was drawn to teaching at an early age, and through experiences as a camp counselor and resident advisor, decided that it offered the ideal opportunity to help people realize their ability to positively enact change on the world around them.
Anna Tomaszewski graduated magna cum laude from Centenary College in January 2007 with her elementary education certification and a bachelor of arts degree in psychology. A member of Kappa Delta Epsilon, an educational honor society, and co-president of the college's chapter of Council for Exceptional Children, she received merit awards in psychology, the U.P.S. Student Employee of the Year Scholar Award, and the Alice Christmann Education Scholarship. After completing her practicum in a kindergarten class, and her student teaching experience with first graders, her commitment and passion as an educator was enhanced. She currently works in a class for the autistic and hopes to return to Centenary College for a mster's degree in special education.
Jillian Widdows graduated in May 2007 from the College of Saint Elizabeth with a bachelor of arts degree in elementary education and psychology with a concentration in special education. During her four years at college, she was a member of the Elizabethan Education Association, a campus organization that runs an annual education conference. She participated in a short-term study abroad experience in Japan. She is also a member of Kappa Delta Pi and the Honors Program, which led her to complete an independent study about teaching for understanding. Recently, Jillian was the recipient of an Academic Leadership Award given by her college's Alumni Association. Her many field placements, especially student teaching at Harding Elementary School in Kenilworth, have reinforced her passion for making learning fun. Jillian's goal is to increase students' awareness of their individual learning styles and become successful lifelong learners.