2012-13 New Jersey State Teacher of the Year
Lauren Marrocco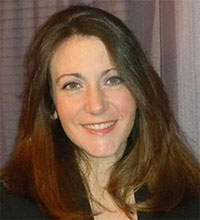 Lauren Marrocco graduated from Kean University with a bachelor's degree in elementary education in 2003 and a master's degree in educational administration and supervision in 2009. In 2009, she also received her National Board Certification in reading and language arts literacy. She began her teaching career in 2003 at the Edward J. Patten Elementary School in Perth Amboy, N.J. She was selected to teach the first grade Sheltered English program and did so for seven years. This experience gave Lauren the opportunity to receive training that enabled her to provide students with the support needed to learn and master the English language. In 2010, she began teaching 4th grade at the same school.
Lauren is dedicated to creating a safe, stable and caring learning community for her students. She sets high expectations for her students and even higher expectations for herself. She works hard to challenge and motivate her students towards success. Her instruction reaches students on multi-sensory intensity to ensure her students are actively engaged in their learning. She shows consideration to the personal and learning differences of her students.

Lauren's devotion to education is not limited to a six-hour work day. Lauren chairs the School Leadership and Staff Development committee for Edward J. Patten Elementary School and is a member of many other programs and initiatives on the school, district and university level. She has participated in the revision of several curriculums, piloted new series, and helped to create a district wide elementary lesson plan format based on standards based planning. She is also an educational leader for her district.
Lauren is always seeking to learn new and innovative teaching methods and practices to bring into her classroom. In January, she was selected by Quantum Learning Network as a SuperCamp facilitator. In July, she received two weeks of intense training on effective teaching and facilitation strategies. These strategies are founded in brain based research and provided Lauren with even more techniques that maximize student engagement and learning.
Throughout her ten year career, Lauren has and continues to personify compassion, dedication and enthusiasm towards Perth Amboy's students and her teaching profession.