2013-14 New Jersey State Teacher of the Year
Kathy Assini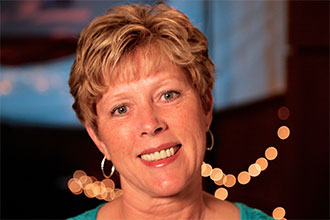 Having taught for 11 years, Kathy Assini has spent the last nine years at Delsea Regional Middle School, Delsea Regional High School District, encouraging 8th graders to investigate Ancient History. For the past two years, she has also taught in Delsea Regional's Alternative High School Program to students whose educational and behavioral problems prohibit their success in a traditional school setting. Her students know that, although she holds high expectations of them, she is willing to support them in every way.
Education is a second career for Kathy and one she entered into with the zeal of those half her age. Kathy began college at the age of 42 after having worked as a hairstylist for over 20 years. She graduated from Kean University in 2003 and continued her education by completing a Masters degree in 21st Century Teaching and Learning through Wilkes University in 2011.
Kathy's willingness to undertake the role of mentor and spearhead educational projects has made her an invaluable asset to her district and an excellent representative of the teaching profession. She has been described as a Master teacher, a dedicated educator, and a teacher leader by her administrators.
Her commitment to her students and to serving as an inspirational leader and role model for her colleagues proves why Kathy is such an exceptional educator. Her energy, enthusiasm, and passion will surely be an inspiration to teachers and students as she carries out her role as the 2013-2014 New Jersey State Teacher of the Year.