2014-15 New Jersey State Teacher of the Year
Mark Mautone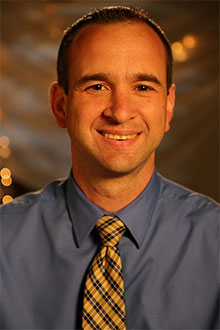 Mark Mautone earned a Bachelor of Arts degree in Teacher of the Handicapped from Kean University and received a Master of Arts in Applied Behavior Analysis (ABA) from Caldwell University. Mark began his journey in the field of special education when working for Bergen County Special Services in 1995 as a one-to-one aide for a child with Angelman Syndrome. This experience provided Mark with the ambition to pursue a life-long career in special education. Throughout his teaching career, he has educated children with mild-to-severe disabilities.
He is currently the lead preschool teacher in the Applied Behavior Analysis (ABA) program for children with autism at Wallace Elementary School in the Hoboken School District. As an autism teacher, Mark works very closely with the parents of his students. He gives hope to families who sometimes feel hopeless and helpless with their child's diagnosis. His goal is to bring education, dignity, and independence to children with autism. He offers workshops and parent trainings within the classroom and in the home as well as to citizens and business owners of Hoboken. Mark is available to the families and community at any given time.
Accountability is paramount to the overall classroom structure and ethical manner in the way he educates his students. All of his students have IEP's that have an average of 25 goals. He goes one step further and creates an individual assessment aligned to the IEP that tests 965 areas of academic and functional skills. Student specific goals are then set based on the outcome where he sets a high benchmark of meeting 90% to 100% of the criteria from the assessment. Mark then continuously collects data, monitors and assesses his students weekly so that if any data indicates a student is not progressing, a new teaching procedure is immediately implemented. The evidence of learning for his students is depicted through data collected weekly on all lesson plans.
When Mark is not teaching he shares his knowledge with organizations, parents, and educators locally, nationally, and globally. He has presented for Apple, Macworld, Autism Speaks, Autism NJ, and the Aruba Autism Foundation, among other groups. Since 2012, he has generously offered his expertise to design a mobile app for the National Catholic Partnership for People with Disabilities in Washington DC. This app will be used globally for individuals with autism and developmental disabilities to participate in religious education. Mark has authored numerous articles and lent his expertise for interviews to media outlets. In 2016, Mark will be a featured teacher in the college textbook, "Exceptional Children: An Introduction to Special Education".
His passion for teaching is demonstrated by the countless acts he engages in to support students, parents, and the community. Mark believes all children, despite the obstacles, deserve the highest quality of education possible so that they can learn to their maximum potential and lead a productive life .