2016-17 New Jersey State Teacher of the Year
Argine Safari
WATCH: Meet Argine Safari, New Jersey's Teacher of the Year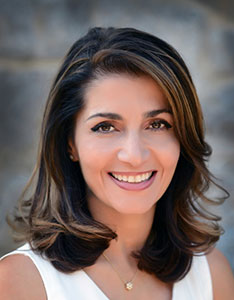 Argine Safari is an award-winning educator who is passionate about transforming the lives of her students through the power of music. Eleven years ago, she came to Pascack Valley High School where she developed a nationally recognized vocal program. She established new vocal groups as well as inter-disciplinary district courses in the Pascack Valley Regional High School District. She also collaborated with several other departments and artistically directed countless benefit concerts and events, to raise money for several charities.
Under her direction, Pascack Valley choirs earned numerous awards and accolades, traveling nationally from Washington, D.C. to Los Angeles, CA and internationally to Dublin, Ireland, where their renditions of Irish songs were played on the national radio. Argine's students consistently win competitions and are accepted to top universities, conservatories and honor ensembles around the country.
In 2013, Argine co-founded a non-profit New Jersey youth theater arts company, Stage Scene and Song Performing Arts, and was instrumental in the success of the program, which for the past two years has recevied generous grants from The Winifred M. & George P. Pitkin Foundation.
She is active as a clinician, collaborative pianist and vocalist, having performed at Carnegie Hall, Madison Square Garden, and Zankel Hall, among others. Prior to Pascack Valley, Argine was the conductor at the Grammy award-winning Brooklyn Youth Chorus.
Argine is the 2010 recipient of the Princeton University Distinguished Secondary School Scholar Award. She holds degrees in business and finance from Brooklyn College, in piano performance and music theory from Yerevan State Musical College in Armenia, in musicology and composition from Moscow State Conservatory in Russia and in Education Supervision from Rutgers University.