2017-18 New Jersey State Teacher of the Year
Amy T. Andersen
2018 National Teacher of the Year Finalist
State Teacher of the Year Showcase Video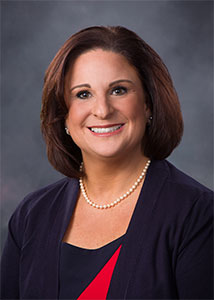 Amy T. Andersen, a high school American Sign Language (ASL) teacher at Ocean City High School in the Ocean City School District, grew up in Cape May County. She earned a bachelor's degree in flute performance from Indiana University and a master's degree in deaf education from McDaniel College. Amy also achieved National Board Certification in Exceptional Needs Specialist: Deaf/Hard of Hearing.
After nine years in Boston, Massachusetts as a teacher of the deaf, Amy returned to New Jersey in 2004 to raise a family. It was then with 42 students that she began the American Sign Language (ASL) program at Ocean City High School. It has since grown to 130 students under her tutelage. Community- oriented activities, such as ASL socials at local coffee shops and evening performances that raise funds for scholarships, immerse students in deaf and hard of hearing culture which helps them build confidence. In the past three years, more than 85 percent of her students have achieved the NJ Seal of Biliteracy. Her popular and respected program has inspired a number of students to pursue ASL-related careers, including interpreting for Michelle Obama and Madonna.
Ocean City's ASL program is unique, especially in the way Amy Andersen connects her students to the deaf community nationwide. Ocean City has become a strong community that is now accessible to hearing and deaf visitors because of her students.
Amy is a nationally recognized educator who began her career teaching deaf children to fall in love with reading. She now teaches hearing children to fall in love with ASL. Among her many recognitions, Amy was named the 2014 ASL Teacher of the Year and was honored by the New Jersey Association for the Deaf and the Atlantic County Society for the Deaf. In 2015, "Classroom Close-Up NJ" highlighted her program after her students' ASL anti-bullying video went viral. As Ocean City High School's Teacher of the Year, Amy T. Andersen was featured in the New Jersey School Board Association's School Leader and was recently honored by the National Liberty Museum with the Teacher as Hero: Exceptional Teacher Award.
Amy has made a difference in the lives of her students, and she serves as a model for teachers throughout the country. She ignites her students' passion for learning, gives them a voice and shows them that their voice is valuable. Amy Andersen's students go out into the world as lifelong learners, building bridges between cultures, embracing differences in those around them, and changing lives as they go.
Photo with Education Commissioner Kimberley Harrington and Amy T. Andersen