2018-19 New Jersey State Teacher of the Year
Jennifer Skomial
https://www.youtube.com/watch?v=LQGCIyaKh5s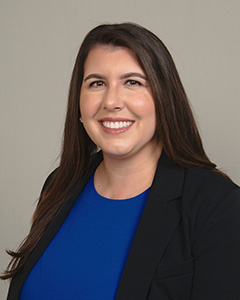 Jennifer Skomial grew up in Morris County and as a young girl always knew she wanted to become a teacher. Throughout her own educational experiences, she encountered many passionate and dedicated teachers who fostered her desire to become an educator.
Jennifer has been a teacher at Morris County School of Technology in Denville for the past ten years. For the last five years, she has taught the Academy for Education and Learning, a four-year program for students interested in future careers in education. This is a full-circle moment for Jennifer, as she attended the same program while in high school.
Jennifer knows first-hand the importance of career and technical education. She spends her days coaching students as they teach in the on-site preschool, planning guest speakers and field trips, and creating lessons that will engage her students in child development, classroom management, and other education-related topics. Jennifer is driven to encourage more students to go into the teaching field that she holds so dear.
She has served in the formal role of Lead Teacher by mentoring new teachers, establishing professional learning communities, providing professional development opportunities to colleagues, and serving on several district and school-wide committees.
She earned a Bachelor's Degree in English-Secondary Education from Montclair State University and a Master's Degree in Special Education from New Jersey City University.