Demonstrating a commitment to continuous quality improvement, the New Jersey Department of Health has received national accreditation from the Public Health Accreditation Board (PHAB) for achieving high standards for public health services, leadership and accountability.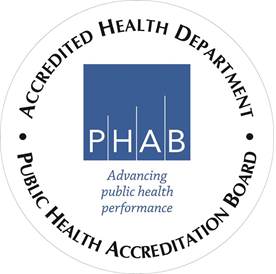 To receive national accreditation through the PHAB, the Department of Health underwent a rigorous, multi-faceted, peer-reviewed assessment process to ensure it met a set of 105 public health quality standards and measures. The Department submitted its application in 2014.
The Department of Health is one of 26 states and 162 local health departments accredited by PHAB, out of 3,000 government public health agencies. The Bloomfield Department of Health & Human Services received its PHAB accreditation in 2015 and is the only other accredited public health agency in New Jersey. Several other local health departments are in the process of applying for accreditation, including those in Camden and Princeton.
"Accreditation has become the national standard for public health," Health Commissioner Cathleen D. Bennett said. "The Department is proud to be nationally recognized for achieving standards in public health quality and performance. Through this three-year process, we evaluated and improved our services to ensure we are effectively meeting the public health needs of residents."
The DOH accreditation team, led by Director of Population Health Colette Lamothe-Galette, collected and reviewed more than 10,000 pages of documents, developed a strategic plan, implemented Healthy NJ 2020 and created a Quality Improvement plan.
"The PHAB Accreditation decision for the New Jersey Department of Health is a testament to the hard work and dedication of its staff who are committed to providing quality programs and services to the residents of New Jersey," Lamothe-Galette said.
Public health departments serve as the front lines for improving and protecting the health and well-being of people and communities. Accreditation provides departments with a framework for setting priorities and gives valuable, measurable feedback about how they are performing.
"Achieving accreditation indicates that the New Jersey Department of Health is dedicated to improving and protecting the health of the community by striving to continuously improve the quality of the services it delivers," said Ray (Bud) Nicola, MD, MHSA, chair of PHAB's Board of Directors and affiliate professor at the University of Washington School of Public Health in Seattle. "With an ever-increasing number of health departments now applying for and becoming accredited, you will be able to expect to receive the same quality of public health services wherever you go in the United States."
About the Public Health Accreditation Board
The Public Health Accreditation Board (PHAB) was created to serve as the national public health accrediting body and is jointly funded by the Centers for Disease Control and Prevention and the Robert Wood Johnson Foundation. The development of national public health accreditation has involved, and is supported by, public health leaders and practitioners from the national, tribal, state, local, and territorial levels. Learn more about PHAB or sign up for the PHAB e-newsletter by visiting www.phaboard.org.
Follow the New Jersey Department of Health on Twitter @njdeptofhealth, Facebook /njdeptofhealth, Instagram@njdeptofhealth and Snapchat @njdoh.
For more information, visit our homepage at nj.gov/health.