Special companions don't have to say a word
Caring, loyalty, acceptance: it's all understood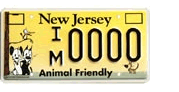 Now two designs to choose from!
This new plate is an animated redo of the Animal Friendly plate that debuted in 1994. The new design uses characters from the Patrick McDonnell's syndicated comic strip "Mutts."
For thousands of years, pets have held a special place in the lives of humans. The friendship between a pet and its owner is exceptional. Just walk into your home after you've been away. When your pet greets you, you can feel the worth, love and friendship.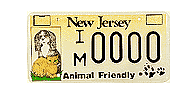 It can make your day. Now you can help other people and pets feel this warmth, love, trust and friendship by purchasing the special reflectorized animal welfare license plate shown above.
Motor Vehicle Services is making this beautifully designed plate available to New Jersey motorists. Funds from the sale of the plate will benefit the animal population control fund.
Show you care about New Jersey's COMPANION ANIMALS
From the very young to the very old, pets bring joy to people's lives. They offer unconditional love, warmth, trust and friendship to those who love them.
They bring joy to our lives. In return, we take care of their needs to ensure they are happy and healthy. Unfortunately, there are many dogs, cats, puppies and kittens that have no one to care for them and never will.
By purchasing this special animal welfare plate for your vehicle, you can help prevent the birth of unwanted puppies and kittens.
Be ANIMAL FRIENDLY
Monies generated from these special plate sales will help fund the animal population control program run by the Department of Health. The program provides low cost spaying and neutering for thousands of pets and encourages the adoption of thousands more each year in New Jersey.
Animal owners and animal lovers can purchase animal welfare license plates and help stop pet overpopulation today! Here's how:
Walk into any Motor Vehicle Services agency with your current plates and registration, pay a one-time fee of $50 (with a $10 yearly renewal fee) and walk out with your animal welfare plates; or

call 1-888-486-3339 (609-292-6500 from out of state) from 8:30 a.m. to 4:30 p.m. Monday through Friday for an application to send in and receive your new plates through the mail.
For an initial one-time fee of $100 (with a $10 yearly renewal fee), you can obtain personalized animal welfare plates with a maximum combination of five characters by mail. Pick up your application at any agency or call 1-888-486-3339 (609-292-6500 from out of state). Remember...$50 from the initial sale of each set of these plates is placed in an animal population control fund.