Health screening keeps Guard ready
Photos and story by Staff Sgt. Joseph Donnelly, 444MPAD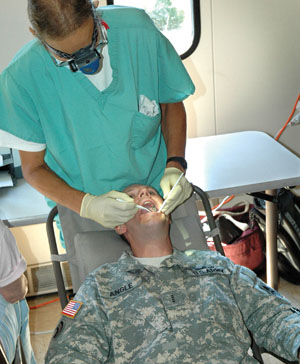 Chief Warrant Officer 4 Jeffrey Angle, 1-150th Aviation is evaluated by Dr. Lester Sawicki, part of the traveling team supporting the Post Deployment Health Re-assessment program.
As Soldiers or Airmen enter their final days of active duty from a mobilization, they are thinking about two things, getting back home to their loved ones and resuming a normal life.

Guard members are sometimes reluctant to report a medical condition during out-processing fearing that it will delay their release from active duty.

Other times troops "minimize symptoms...when they demobilize," said Todd Botcher, a part time employee of Federal Strategic Health Alliance (FED HEAL). Botcher, who is a full time nurse at Fort McCoy, travels at least two weekends a month with a Post Deployment Health Re-Assessment (PDHRA) team. As time passes some Soldiers and Airmen may begin to experience problems.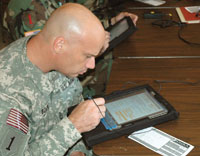 | | |
| --- | --- |
| | During a post demobilization medical screening, Sgt. 1st Class William Bovik, of the 150th, electronically files information that will potentially qualify him for medical assistance. |
This dilemma has not gone unnoticed. In 2005, the Department of Defense created the PDHRA, which utilizes clinicians to re-evaluate service members to ensure that all post deployment issues are evaluated and treated properly.
More than 180 post-deployed troops from the 1st Battalion, 150th Aviation (Air Assault) were screened and evaluated at a recent drill at home station in West Trenton.

Spc. Phillip Fitzpatrick, of the 150th who recently came off deployment saw the benefit of PDHRA. "No one knows the effect on the human mind of being in a combat zone."

The PDHRA enables Guard members to take control of their health by identifying health and readjustment concerns early. If left untreated, these issues could have a negative affect on Guard members.
With the help of the PDHRA the proper channels can address physical or behavioral issues.
Demobilized troops are screened about three to six months after they return from combat by a team made up of physician assistants, nurses and therapists. "We are not here to diagnose or treat, but listen and come up with a plan for service members that have concerns not previously recognized," stated Karen Moran, an employee of FED HEAL.
After being evaluated in person, Soldiers receive vouchers that permit them to obtain additional medical services.

Deployed Guard members can use the six-months of TRICARE benefits or Veteran's Administration benefits for up to two-years after returning from deployment. If it is Post Traumatic Stress Disorder concern, the New Jersey Department of Military and Veterans Affairs has a counseling hotline available at 1-866-838-7654.

The Post Deployment Health Re-Assessment is a program that developed because of the numerous National Guard and Reserve members being deployed in the military today. Its effect will be long term and appreciated by the many troops that may have overlooked serious conditions that developed while serving their country.