Kiosk Highlights Veterans' Benefits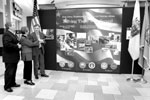 Deputy Commissioner for Veterans Affairs Stephen G. Abel (right), and Susan Howlett (center), Marketing Director, Ocean County Mall, discuss the location of the New Jersey Department of Military and Veterans Affairs (NJDMAVA) Kiosk while William J. Devereaux (left), Director of Veterans Programs looks on.
Beginning in January, the Department's veterans' kiosk will be traveling to a different mall each month around the state. The kiosk highlights the various programs and points of contact for applying for benefits.
This is in direct response to the recent Inspector General Report documenting the inequity in VA service-connected compensation to N.J. veterans versus other states' veterans populations.
NJDMAVA has embarked on an ambitious outreach program that is designed to inform veterans of their benefits and entitlements.
It is estimated that approximately 12,000 N.J. Veterans are entitled to VA service-connected compensation, but have failed to make application for their benefits.
Veterans and their dependents wishing to learn more about their benefits can call 1-888-8 NJ VETS. This number can also be found on a bumper stickers. Counseling for Post Traumatic Stress Disorder can be reached at the new 24/7 Hotline number 1-866-VETS - NJ – 4U.
Finally, a new series of public service announcements detailing the services available to veterans and their dependents and contact information can be seen on television.
For more information, call the numbers above or see your local county veteran services officer (see back cover for location listing). Photo by Tech. Sgt. Mark Olsen, NJDMAVA/PA.
-
Veterans Day Events Schedule
Nov. 7, 8:30 a.m., Kittatinny, Regional High School, Newton
Nov. 11, 11 a.m., Brigadier General William C. Doyle Cemetery, Arneytown
Nov. 11, 10:45 a.m., Pavilions at Forrestal, Princeton
Nov. 12, noon, Luncheon, Trenton Daughters of the American Revolution, Trenton
Nov. 13, 7 p.m., 1st Presbyterian Church, Woodbridge