Be Powerful, Be Heard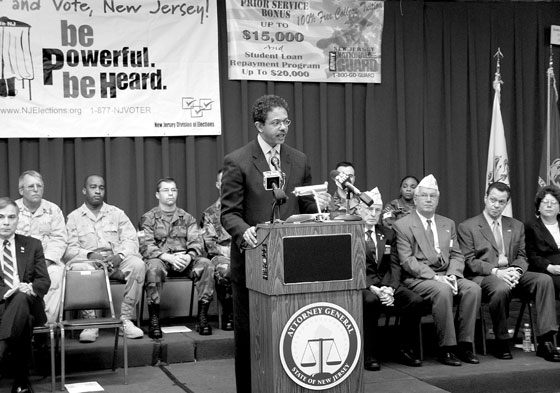 A special program to salute present and past members of America's armed forces was held at the National Guard Armory in Lawrenceville May 18, 2005.
The program was part of Attorney General Peter C. Harvey's "Be Powerful, Be Heard" initiative to encourage all eligible New Jersey citizens to register and vote. On hand for the ceremony were members of the New Jersey National Guard, veterans community leaders and other guests and dignitaries. Also taking part in this tribute were members of National Guard units and members of various chapters of the American Legion, the Disabled American Veterans, the Jewish War Veterans and the Veterans of Foreign Wars.
Military personnel participated in the television public service announcements encouraging veterans and military personnel around the world to register and vote. The spots will run on New Jersey television and be made available to military installations worldwide via the Internet at http://www.NJElections.org. Photo by Sina Adl, Office of The Attorney General.
-
General Information
The New Jersey Veteran Journal is an official publication of the New Jersey Department of Military and Veterans Affairs, and is intended to serve New Jersey's veterans, their families, friends, and concerned individuals and groups.
All correspondence should be sent to the editor at: NJDMAVA, PAO-V, PO Box 340, Trenton, NJ 08625-0340.
Richard J. Codey
Acting Governor

Major General Glenn K. Rieth
The Adjutant General

Brigadier General Maria Falca-Dodson
Deputy Adjutant General

Colonel (Ret.) Stephen G. Abel
Deputy Commissioner for Veterans Affairs

Lt. Col. Roberta Niedt
Public Affairs Officer

Staff Sgt. Barbara J. Harbison
Staff Writer

Tech. Sgt. Mark Olsen
Layout/Photographer

Table of Contents
Be Powerful, Be Heard
DCVA Message
Governor's Letter
WWII Memorial
Kiosk Highlights Benefits
Veterans Homes Criteria
Reconstitution Process
NJ Vets Benefits
Stand Down 2005
One Shots
Grave Blankets
VSO Listing
Download Veteran Journal (1.47MB PDF)
Return to Publications
Return to DMAVA