Christmas reunion: Brothers reunite at Battle of Bastogne
By Ed Leheny
Christmas Eve, 1944, Germany, had dawned dark and cold.
We were digging in for the second time that day.
I was a 23-year-old cannoneer manning a 105mm Howitzer with Charlie Battery, 358th Field Artillery Battalion, part of the 95th Infantry Division and General George Patton's Third Army fighting on the Saar Valley front, some 60 miles south of the Ardennes Sector.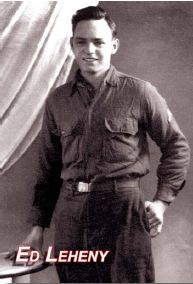 The past several months had been grueling. Since October, the Third Army had driven the Germans from Alsace- Lorraine back across the Siegfried Line toward the German border. We were supporting the 378th Infantry with constant fire missions and now they were fighting day and night to clear the enemy's heavily fortified bank on the Saar River.
Beginning on Dec.16, we had awakened to a tremendous bombardment marking the start of the Battle of the Bulge. Within a week, Patton was ordered to move north to break the German siege of Bastogne. Our division was assigned to stay in the Saar Valley and defend the Third Army. We were spread across 30 miles and were the target of constant enemy attacks.
There were six of us manning the gun and with the constant pressure, our crew worked as a close-knit team. We looked out for each other and, like a family, we were a real mix of personalities.
Take Eugene "Rosie" Rosinski. He had been a professional acrobat with the Ringling Brothers Circus. Once, while trudging back to camp from a 25-mile hike in 100-degree heat in Texas, Rosie finished the last 50 yards walking on his hands before a group of amazed officers.
Larry Moran was the Frog – he got that nickname because he was part French. While Allan Strange, a Tar Heel from North Carolina, was the epitome of Southern chivalry.
I got along with all of them. Ten years at St. Paul's Orphanage in Pittsburgh had tempered me. During the Depression, my mother single-handedly managed to keep my older brother and two sisters at home with her. But my kid brother, Leo, wasn't so lucky; he also joined me at St. Paul's.
After high school, Leo and I enlisted in the Civilian Conservation Corps. Later, I was drafted into the Army and Leo enlisted two days later. That was the last I saw of him. He went on to serve in the African, Sicilian, and Italian campaigns.
During that December, the routine never varied: we'd take our position; complete our fire missions and move, criss-crossing the frozen terrain eastward.
Christmas Eve brought constant artillery duels and enemy aircraft overhead into the early evening. There were no presents, no tree, and no family. It was your typical wartime Christmas.
I didn't know then, but the next 24 hours would bring one of the most lifeaffirming experiences I've ever had.
That night, the temperature plunged, bringing more raw weather. Combat became sporadic. Then there was a lull. But unlike the stories from World War I, there wasn't a temporary truce with carol singing or playing football in no-man's land.
We were tired, cold, and feeling homesick. To add to that, we were out of ammunition. Longing to escape the cold, Rosie, the Frog and I ran for an abandoned barn some 300 yards away. It was stacked with hay bales, but to us, it was the Ritz.
Sleep came quickly. But within seconds, we were wide awake, scratching frantically. Fleas - the hay was filthy with them.
We ran back to the gun, bitterly disappointed.
Within minutes, the sky exploded in light and we were rocked by a tremendous explosion. To our amazement, an enemy shell had hit the barn knocking it flat. Had we stayed just a few minutes more, we would've been killed.
The firing resumed Christmas morning. Amid the din of mortar and artillery bursts, we spied First Lieutenant Stephens escorting four GIs, all reinforcements loaded with gear. He assigned each man to a howitzer. As the fourth man approached our gun, we took in his shabby appearance and wondered who we were getting stuck with.
The GI approached, and my head jerked in response to a familiar voice, "Merry Christmas, Ed."
It was my brother Leo. I couldn't believe it. Leo shouldn't have been here. I was dumbfounded but blurted, "What the hell are you doing here?" We hugged. The last I had heard about him, he had been fighting at Monte Cassino, Italy.
He told us he had been transferred to the south of France and then to the Third Army. He was then assigned to a corps, division, regiment, battalion, company, and finally, to a battery. At that critical juncture along the road, Lieutenant Stephens had unknowingly assigned my brother to my gun.
Leo was with our crew for about a month. Then he suffered a relapse of malaria and was shipped to a hospital near Epinal, France. And just like that, he was out of my life again.
Some 65 years later, I still marvel at that chain of events that sent us running from the barn minutes before it was hit to the unlikely reunion with my brother. Somehow the universe had contrived for us to meet, circumventing the laws of nature, the military and everything else to bring us together.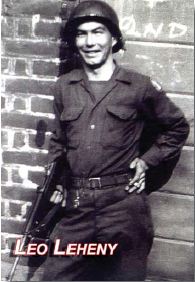 I'd like to say that our 1944 meeting helped build a bond that grew over time, but it didn't.
Leo and I were opposites. Leo was a fighter; I wasn't. Over the years, he gambled, drank, and raised hell. He joined the Air Force and was stationed overseas. We built separate lives at opposite ends of the country.
Leo and I never got together or reminisced about that Christmas. But I'm sure that nothing about that special day was ever forgotten. We just didn't talk about it. That was just our way.
Leo died years ago, a lonely man crippled with arthritis caring for a wife with Alzheimer's.
A reunion, Leo might say, just wasn't in the cards. But what were his feelings about Christmas 1944?
A born gambler, Leo did admit on one rare occasion, "Twelve-million-to-one odds. Pretty steep. But we beat 'em, Ed. We beat 'em."