If you are interested in taking a motorcycle safety education course and have questions, please feel free to contact any of our NJ training providers directly by phone or email. You'll find that Rider Coaches are eager to speak with you and help.
Can I take one of these courses if I've never ridden a motorcycle?
Yes. Previous motorcycle riding experience is not required to enroll in the Basic Rider Course (BRC). The only requirement is that you must be physically able to balance and ride a bicycle.
Do I need to get a learner's permit before taking the course?
No. Contact any of our NJ training providers directly by phone or email to get started. More information is also available at https://www.state.nj.us/mvc/Licenses/Motorcycle.htm
Can I receive a waiver in NJ if I take a Motorcycle Safety Foundation (MSF) course in another state or country?
NJMVC does not accept out-of-state completion cards. Qualification of New Jersey training instructors goes beyond MSF certification. There is no way to verify equivalent qualifications outside of New Jersey. A road test waiver is only issued for successful completion of a NJMVC approved course.
What kind of motorcycles are the courses taught on?
This varies by training provider. Generally speaking, training bikes range from 125cc to 499cc. According to MSF regulations, it is not permissible to conduct training on bikes larger than 499cc.
Is it expensive?
The cost of training varies from course to course, and from provider to provider. But overall it's very affordable and probably much less than you think! One of the RiderCoaches likes to say, "It costs less than good helmet!" Call one of our NJ trainer providers or visit their websites to learn more.
Do I need special riding gear?
All course participants must wear the following gear:
Federal DOT approved helmet (helmets will be provided for BRC courses). For information on DOT-compliant helmets, visit HelmetCheck.org
Eye protection
Long-sleeved shirt and long pants (torn or ripped clothing not permitted)
Full-fingered gloves without holes
Shoes that cover the ankle without heels
Rain gear (if necessary)
If you would like to suggest additional questions for this page, please send us an email.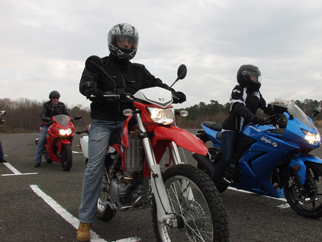 During the riding exercises, you will learn clutch/throttle control, straight line riding, stopping, turning and shifting, and then move on to more advanced skills.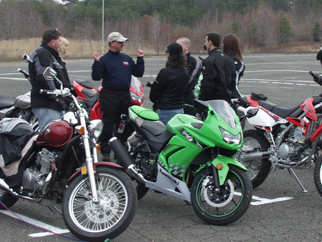 Discussion is an important component of rider courses. Students are encouraged to join in with questions and comments about their own riding experiences