Evacuation
What does it mean to Evacuate?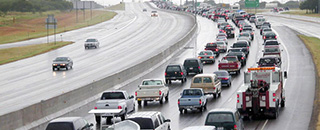 To Evacuate means to leave your home or workplace during an emergency, and follow an Evacuation Route to a safe shelter.
Before and while Evacuating you should listen to your local radio or TV stations for the latest updates.
Emergency management officials will use radio and TV broadcasts, including Emergency Alert System messages, to give you further instructions.
This may include information on your nearest Evacuation Route , and your nearest public shelter. If you do not have access to a car, broadcast information should let you know about the bus or other transit routes that will be made available to you.
---