The return of ancestors and artifacts can become a form of restorative justice.
By Chip Colwell
Dr. Colwell is an anthropologist and museum curator in Denver.
April 4, 2019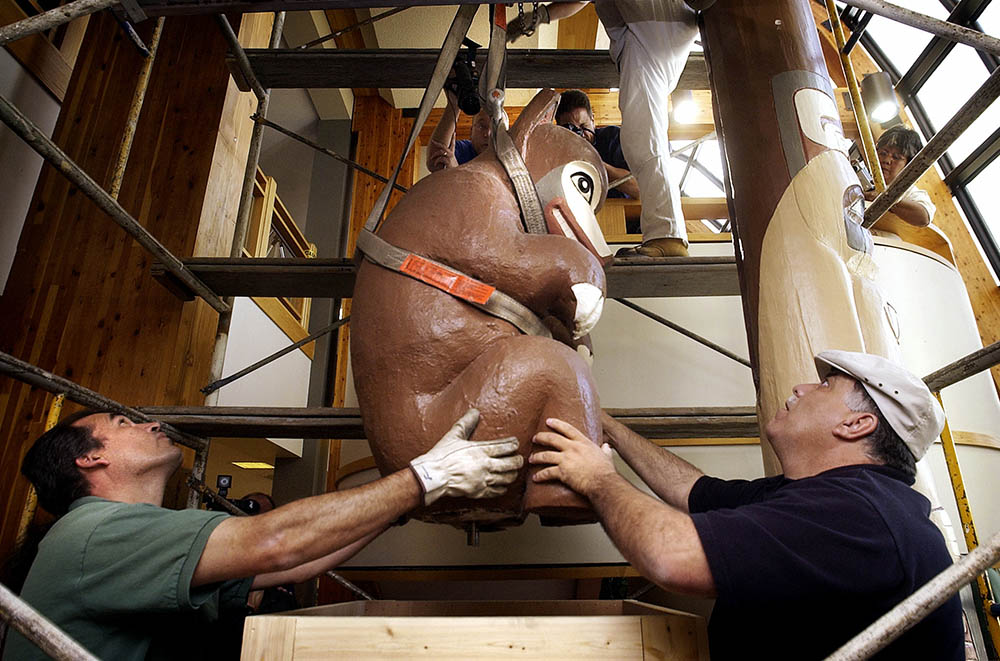 University of Northern Colorado maintenance crew workers guide a 600-pound bear totem pole top into a crate to be shipped back to the Tlingit Nation in Angoon, Alaska, where the totem originally stood and disappeared in 1908. - CreditCreditGlenn Asakawa/The Denver Post, via Getty Images
In the early 1920s, the director of the Bristol Museum in Britain received a package containing two human skulls. The donation came from Alfred Hutchins. He had left England seeking brighter horizons and by the late 1800s was living in Southern California. There he became an amateur archaeologist, excavating Native American graves on the Channel Islands. He offered the museum this collection, apparently in honor of his son, who perished during the First World War.
Last week in a ceremony, Bristol Museum officials returned the remains to representatives of the Ti'at Society, a maritime organization of the Tongva, whose forebears lived on the four southern Channel Islands and across the Los Angeles basin for thousands of years. In recent years, the Tongva and their allies, including the Fowler Museum at U.C.L.A., have been working to track down the fate of looted Tongva bodies so that they may be reburied. This effort led the tribe across the Atlantic and to its first international repatriation.
"As Native Americans, we are in a constant state of mourning," Desiree Martinez, a Tongva member and professional archaeologist, said in an article in The Bristol News, "knowing that our ancestors' graves have been disturbed and their remains and burial goods removed to sit on museum shelves, all over the world."
The return of these two Tongva ancestors could easily pass almost unnoticed. However, the repatriation is emblematic of a much larger movement of historical reckoning sweeping across the globe. Museums are reconsidering who is the rightful owner of the objects that fill displays and storerooms. For example, the Netherlands' national museums have established guidelines for returning objects obtained without consent. In Germany, 16 states agreed in a joint resolution to repatriate items taken during the country's colonial era. Scotland said it will soon deliver to Canada the stolen skulls of two Beothuk Indians. England's Natural History Museum recently sent home 37 Aboriginal and Torres Strait Islander ancestral remains to Australia. And that's just in the first few months of 2019.
As a museum curator and scholar of the repatriation movement, I am stunned by the pace of these unfolding events, which seemed unlikely not long ago. I now understand that the repatriation battles are not isolated to a few museums wrestling with their colonial legacies. These clashes are fueling a war over the rights of former colonial subjects and the future of museums.
Some art dealers and curators have recently warned that this rapidly shifting landscape may, as the German broadcaster Deutsche Welle, put it, "eventually empty museums and galleries in Western countries." But such dire predictions portray repatriation as a zero sum game. Museums should not see repatriation only for what is lost. They should also see what is gained.
In the wake of European colonial explorations from the 1500s onward, museums were filled with curious, beautiful, mundane and wondrous objects. Many of these things were purchased or traded, obtained with the permission of the individual maker or community. Yet, many were also procured with the threat of violence, without consent and in ways that violated cultural traditions. Many were simply stolen. When archaeological science took off in the late 1800s, unknown thousands of graves were excavated. When the Western art world fell in love with "primitive" art, collectors and dealers often resorted to extremes to obtain ancient treasures.
Indigenous peoples often tried their best to preserve their sacred objects and to protect the graves of their ancestors. But most communities were unable to stop the plunder.
On the heels of the civil rights movement, Native Americans began to more publicly renounce museums for stealing their heritage. As a result, in 1990 Congress passed the Native American Graves Protection and Repatriation Act, which provides a process for lineal descendants and tribes to reclaim ancestral remains and certain kinds of cultural items from American museums and federal agencies. This law, although imperfect, has facilitated the return of some 1.7 million grave goods, 57,000 skeletons and 15,000 sacred and communally owned objects.
As that law approached passage, we heard many of the same arguments we hear now, especially that repatriation will put museums out of business. Instead, in the years since, museums in the United States have thrived. Repatriation forced museum administrators and tribal leaders to sit down and talk, and the two sides realized how much they have in common. As a result, museums and tribes have worked to build new relationships based on mutual respect. Thirty years ago, few museums in the United States produced exhibitions in collaboration with Indigenous communities; today, few would design an exhibition without it. Repatriation will not end museums.
Such gains are extended even further when the return of ancestors and artifacts becomes a form of restorative justice. Like the Truth and Reconciliation Commission following the abolishment of South Africa's apartheid system, repatriation involves, as Desmond Tutu wrote, "the healing of breaches, the redressing of imbalances, the restoration of broken relationships."
Repatriation can turn museums from places of colonialism into mediating spaces that confront and then move beyond their own pasts. If my grandfather took something from your poor and powerless grandfather — and your community continues to suffer because of it — then I am presented with the chance to make things right.
By my estimate, in the United States alone, it will take more than 200 years to consult with descendants on all of the Native American human remains in museums. Addressing the centuries of colonialism will take centuries of work. The recent months have illustrated that the repatriation wars are not ending anytime soon. We should welcome the fact that they are here.
Chip Colwell (@drchipcolwell) is the author of "Plundered Skulls and Stolen Spirits: Inside the Battle to Reclaim Native America's Culture."
The Times is committed to publishing a diversity of letters to the editor. We'd like to hear what you think about this or any of our articles. Here are some tips. And here's our email: letters@nytimes.com.
Follow The New York Times Opinion section on Facebook, Twitter (@NYTopinion) and Instagram.