Supervised Agricultural Experience
Supervised Agricultural Experience (SAE) is a student-led, instructor supervised, work-based learning experience that results in measurable outcomes within a predefined, agreed upon set of Agriculture, Food and Natural Resources (AFNR) Technical Standards and Career Ready Practices aligned to a career plan of study.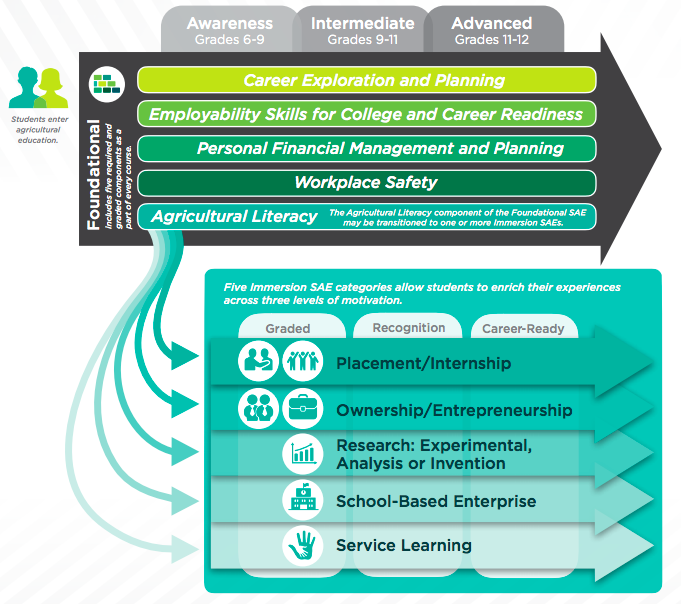 SAE For All Guides
SAE Career Kits
Auction Industry
Drone
International Agricultural Development
Supporting Resources
The Agricultural Experience Tracker (AET)
The AET (
https://www.theaet.com/
) is designed to help students track their educational experiences (classroom, SAE, and FFA) and document them to help them learn life skills and improve their decision-making.
A core value of AET is students learn to track their experiences, which develops their digital portfolio and allows them to leverage their data to complete state and national award applications. Some critical aspects of why to use AET are:

AET is a personal, educational experience management system that addresses the standard state curriculum code of each student with an SAE program. AET also aligns with the nationally recognized three-circle model of ag education (Classroom, SAE, and FFA).

AET provides grading and management reports to showcase student engagement for CTE admin or program stakeholders to represent all areas of ag-education, economic value reports and more.

AET is a management system to help minotor students' records of SAE (WBL) experiences. AET includes a written SAE Plan/Agreement, tracking skills and time invested, and helps students reflect on their learning outcomes aligned to AFNR or state content standards.

AET also provides online SAE assessments that teachers and or employers can use to help students improve their SAE program. AET also provides an employer/supervisor management system to help programs track employers or other professionals that assist their students.

AET also offers online program management tools such as an online program calendar to track career development events, an FFA meeting manager to assist in those events, and a public-view website for parents and others to keep up with event plans.

AET also aligns with all FFA awards and offers custom state award applications to recognize student success using the data they have entered as they track their experiences.

AET offers an online educational curriculum to teach students about SAE opportunities, agribusiness classroom videos/guides, a summary of AFNR for educational use, an online tractor/ATV safety curriculum with alingned assessment, and more!