Hunterdon County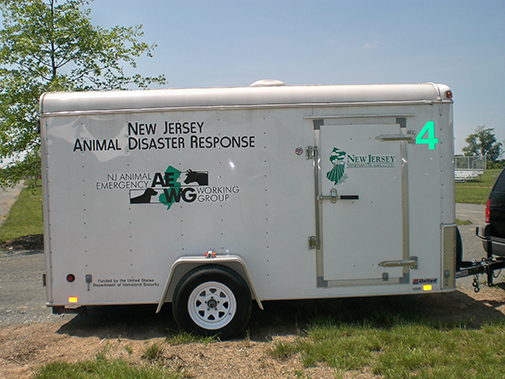 Mission Statement:
The goal of the Hunterdon County Community Animal Response team is to safely evacuate, house and medically treat animals that are displaced by any disaster requiring such measures.
CART Contacts:
Dolores Reich
Director of Administration
908-735-7978
Kristy Matarazzo
Director of Operations
908-268-5237
Facebook Page:
Hunterdon County Animal Response Team (CART)
***Meeting dates, times and locations will be posted on Facebook***
To join the Hunterdon County CART team, please visit the County OEM site and fill out an application: http://www.co.hunterdon.nj.us/911/oem/cart.html
In September of 2007 the Hunterdon County Division of Emergency Management received an animal disaster response trailer containing necessary resources to quickly establish a temporary animal shelter in times of emergency. The trailer released from the New Jersey Department of Agriculture and purchased through Homeland Security Grant Funding was the sixth of its kind at the time of deployment.
This trailer will enable Hunterdon County's Animal Response Team (CART) to train and exercise and be ready to respond in times of disaster. The events of Hurricane Katrina indicated that sheltering for animals was essential to protecting the lives of residents with pets. When those in the path of the Hurricane were unable to bring their pets to a shelter with them, they refused to abandon their animals and subsequently remained in their homes during the hurricane. The Hunterdon County Community Animal Response Team has performed in various presidentially declared disasters, including numerous flooding of the Delaware River, Hurricane Irene, the remnants of Tropical Storm Lee and most recently, "Halloween Nor' Easter" of October 2011.