Customer Assistance
Utility Assistance Programs
If you are in danger of utility shut off or if you are currently disconnected, apply for one of the free utility grant programs below and inform your utility company immediately.
Don't delay, apply for energy assistance today!
If you are having trouble affording your utility bills, there is good news! Due to the economic situation caused by the pandemic, New Jersey temporarily expanded its low-income energy assistance programs and its energy debt forgiveness program to middle class households (see new income limits below).
Program Income Limits

Household Size

PAGE*

Lifeline**

1

$69,282

$54,360

$41,569

$42,142

2

$90,600

$73,240

$54,360

$49,209

3

$111,918

$92,120

$67,151

4

$133,237

$111,000

$79,942

5

$154,553

$129,880

$92,732

6

$175,872

$148,760

$105,523

7

$179,870

$167,640

$107,922

8

$183,867

$186,520

$110,320
*If you are income eligible for USF, apply for USF first and then if still in need seek additional assistance from the PAGE program.
**Lifeline determines income in terms of married or single only and is for seniors and the disabled.
DCAid Screening Tool
The New Jersey Department of Community Affairs (DCA) has a variety of programs that can help you with utility bills, rent and removal of lead hazards from your home.

Use the anonymous "DCAid" screening tool to determine if you are eligible for assistance, and for more information on how to apply.
New Jersey's Low Income Household Water Assistance Program (LIHWAP) is a temporary grant that provides forgiveness of overdue water and sewer balances. Learn more at www.nj.gov/dca/dcaid. Call 800-510-3102 if you have any questions or experience difficulty applying.
Universal Service Fund
The Universal Service Fund (USF) provides monthly credits on electric and gas bills to help make bills more affordable. The income limits for USF have been temporarily raised due to the pandemic, so if you were denied in the past, reapply today!

USF-Fresh Start: Starting October 1, 2021 and continuing through September 30, 2023, any USF enrollee with overdue balances of $60 or more will be automatically enrolled by their utility company into the Fresh Start program. Fresh Start provides forgiveness on the overdue balance amount that existed at the time of USF enrollment.

How do I receive Fresh Start forgiveness for my overdue balance? Each month a USF-Fresh Start customer pays only their current monthly charges in full, 1/12 of their Fresh Start overdue balance will be forgiven by the utility company. (Some utility companies forgive ¼ of the customer's overdue balance once every three months). At the end of 12 months, the entire overdue balance is forgiven. The utility company will send information to Fresh Start customers when they are enrolled explaining how the program works and updates regarding their status in the program. The customer should call their utility company with any Fresh Start questions but can reach out to the Board of Public Utilities at 800-624-0241 or www.nj.gov/bpu/assistance/complaints if they have any complaints their utility company cannot resolve.

How do I apply for USF and USF-Fresh Start?

You can apply for USF in any of the following ways:*

Click here to print the application. Complete, sign, and mail or email to your local application agency with all required documents (see application for list of required documents).
Apply online at www.nj.gov/dca/dcaid and upload all required documents (online application available 10/1-6/30)
For further information go to: www.energyassistance.nj.gov.
Call the USF hotline at 800-510-3102 to:

Have an application mailed to you
Find your local application agency
Follow up on the status of your application
If you are disabled/homebound, request a home visit for assistance in completing your application

*USF shares its application with the Home Energy Assistance Program (HEAP). You can apply for both programs at the same time during the HEAP season (10/1-6/30), or apply for USF only during the summer months.

Note: You cannot apply for Fresh Start, but if you are eligible you will be enrolled by your utility company and receive information about Fresh Start in the mail.

USF is administered by the Department of Community Affairs. Fresh Start is administered by the utility companies with oversight by the Board of Public Utilities.
Home Energy Assistance Program (HEAP)
The Home Energy Assistance Program (HEAP) helps New Jersey households pay for heating costs and certain medically-necessary cooling expenses. Renters who have their heating costs included in their rent may also qualify. Applications for HEAP are accepted from October 1st through June 30th. The HEAP program shares its application with the USF program. For application options please see above "How do I apply for USF and USF-Fresh Start?"

HEAP is administered by the New Jersey Department of Community Affairs.
PAGE Program
The Payment Assistance for Gas and Electric (PAGE) Program provides relief on gas and electric bills for low- to moderate-income New Jersey households (see income limits above). Eligible applicants must have an overdue balance of at least $100 and not have $15,000 or more in liquid assets. Those who are income eligible for USF should apply for USF first before seeking supplemental assistance from PAGE. To self-screen for program eligibility, apply online, or print an application, please visit www.njpoweron.org. If you have questions, or would like an application mailed to you, call (732) 982-8710.

PAGE is administered by the Affordable Housing Alliance.
Winter Termination Program
| | |
| --- | --- |
| The Winter Termination Program protects specific categories of customers from having their water, wastewater, gas or electric shut off between November 15 and March 15 of each year. Those enrolled in certain programs (including Supplemental Security Income, Temporary Assistance to Needy Families, USF, HEAP and Lifeline) are protected by the Winter Termination Program, but customers must call their utility company and request WTP protection. An additional "catch-all" category is also included for those who are unable to pay their utility bills because of circumstances beyond their control, such as unemployment or illness. For more information about the Winter Termination Program, call 1-800-624-0241. The Winter Termination Program is administered by NJBPU. | |
Utility Customer Bill of Rights
Be a smart consumer, know your rights. Read the
Utility Customer Bill of Rights.
Lifeline Program (Energy Assistance)
Lifeline provides an annual energy benefit to qualified seniors and the disabled. The benefit can help eligible homeowners and renters with electric and/or natural gas costs. You can apply for Lifeline by using the NJSAVE application, available at www.aging.nj.gov. For more information about Lifeline, call 1-800-792-9745, or click here.

Lifeline is administered by the New Jersey Department of Human Services (DHS).
NJ SHARES
| | |
| --- | --- |
| NJ SHARES is a non-profit organization that provides assistance to income-eligible New Jersey households for paying their energy, telephone, broadband (internet), water, tax, rent and mortgage bills. Applications for NJ SHARES grants can be made at any of the more than 270 participating social service agencies throughout the state or online. For more information, call 1-866-657-4273 or visit www.njshares.org. | |
Affordable Connectivity Program ("ACP")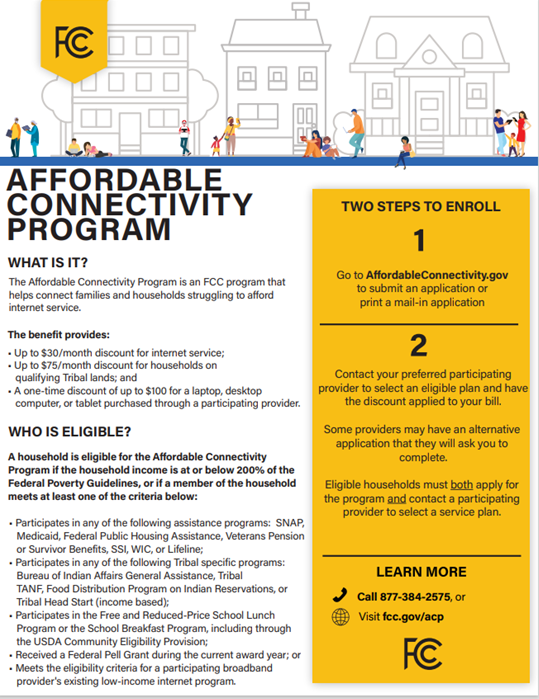 Overseen by the Federal Communications Commission (FCC), the Affordable Connectivity Program is a program administered by the Universal Service Administrative Co. that helps connect families and households struggling to afford internet service by supplying them with a credit towards their internet service. To print or submit an application online, please visit https://affordableconnectivity.gov/ or Eligibility Widget or call 877-384-2575 for more information on how to apply and eligibility requirements.
Lifeline (Federal Telephone Assistance Program)
The federal Lifeline telephone assistance program offers a monthly benefit of up to $9.25 towards phone or internet services for eligible subscribers (up to $34.25 for those living on Tribal lands). Eligibility is determined based on your income (135% or less than the federal poverty guidelines) or participation in other assistance programs. In general, if you participate in any of the following programs you also may qualify for telephone assistance: Supplemental Security Income (SSI), Supplemental Nutrition Assistance Program (SNAP), formerly known as Food Stamps, Federal Public Housing Assistance (FPHA), Veterans Pension and Survivors Benefit, Tribal programs and Medicaid.
Telephone assistance is available to you if you are a qualified residential telephone customer. When you are seeking telephone assistance, please keep in mind that each telephone company and/or each program has different eligibility requirements, different benefits available and different restrictions. Some programs have restrictions on the optional services available to participants.
The following list of telephone service providers participate in Lifeline Assistance in New Jersey:
Please contact your local telephone company to participate in any of these programs. Also to find out more information, you may also call the Universal Service Administration Company (USAC), which administer Lifeline for the Federal Communications Commission by calling 888-641-8722of by visiting their website www.lifelinesupport.org.
NJ Energy Assistance Brochure and USF/LIHEAP Application
NJ Energy Assistance Brochure

NJ Energy Assistance Brochure (Spanish)

Universal Service Fund (USF)/ Home Energy Assistance Application
Comfort Partners
Comfort Partners is an energy saving and education program that directly installs energy savings measures FREE of charge for qualified income eligible customers.

Call 1-800-915-8309 or visit www.njcleanenergy.com/CP (electric or gas heat only) to learn more.

Comfort Partners is sponsored by NJBPU's New Jersey Clean Energy Program™.
Federal Clean Energy Incentives from the Inflation Reduction Act (IRA)
In 2022, President Biden signed the
Inflation Reduction Act (IRA),
the most significant legislation in U.S. history to tackle the climate crisis. The IRA features over two dozen provisions in rebates, loans, and tax incentives that help save New Jersey families money while moving our state closer toward a clean energy future. Find more information from here:
Clean Energy for All - The White House
.
To maximize the savings afforded by the IRA, you can stack federal programs with state programs, like New Jersey's Charge-Up Program. The list of state programs for homeowners and businesses is available at www.njcleanenergy.com, where you can also find a directory to your electric and gas utility website to explore more cost-saving opportunities.
Visit www.cleanenergy.gov to learn more about the new federal incentive programs. We encourage you to take advantage of state and federal cost savings while they're available.