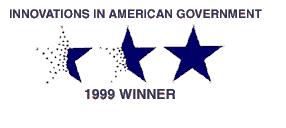 New Jersey Wins National Award for Rehabilitation Subcode
$100,000 Prize Recognizes Innovation and Leadership


For Immediate Release
For More Information Contact: Office of Communications and Policy, (609) 292-6055
A New Jersey construction code that makes it easier to restore and reuse older buildings won the national Innovations in American Government Awards today. The Rehabilitation Subcode or "rehab code" also earned its creator, the New Jersey Department of Community Affairs, a $100,000 prize.
"New Jersey's rehab code is the nation's first set of rules written just for older buildings, and it's bringing developers back to cities by providing sensible standards and predictable costs for renovations," said Governor Christie Whitman. "It's part of a whole tool kit of resources we're using to revitalize New Jersey's urban areas."
The Innovations Awards recognize government initiatives that are original and effective. New Jersey's rehabilitation subcode was named one of 10 winning programs from a pool of 1,600 applicants.
Proof of the code's effectiveness was illustrated by statistics showing that rehabilitation work in New Jersey's five largest cities increased by 60 percent in 1998, the first year the code was in effect. In 1997, the year before the code's implementation, rehabilitation work in those cities increased a mere 1.6 percent.
"The subcode reflects some of Governor Whitman's top priorities: economic development, urban revitalization and common-sense regulatory reform," said DCA Commissioner Jane M. Kenny. "It was designed to get developers back into cities by making it easier for them to rehabilitate existing buildings, and that's exactly what it's doing."
"Previously, existing buildings had to meet code requirements for new buildings when renovations were extensive enough. That meant elements such as windows, doorways and stairways often had to be ripped out and replaced to conform with modern codes, even though they were perfectly safe. The result was prohibitively expensive alterations that carried little if any safety advantage," Kenny said.
Kenny said that since the rehabilitation subcode went into effect, New Jersey is seeing its impact in the form of lower project costs and a growing interest in cities on the part of developers.
Among its many applications, the code recently saved about $400,000 in the rehabilitation of an abandoned building in Jersey City into a day care center and senior citizen apartments, Kenny noted. It also made possible the conversion of a vacant office building in Trenton into a charter school by saving 20 percent in construction costs. And the code cut 20 percent off the cost of rehabilitating and preserving an 18th century stone house in Chester, Morris County, she said.
New Jersey's rehab code has already gained attention in other states. The city of Wilmington, Delaware, adopted New Jersey's rehab code as their own earlier this year, while a number of other states and jurisdictions have requested copies.
The Innovations in American Government Award is recognized as one of the most prestigious public-service awards programs in the country. It is sponsored by the Ford Foundation and administered by Harvard University's John F. Kennedy School of Government in partnership with the Council for Excellence in Government. Award money will be used by the department for program-related activities.