State Parks, Forests and Recreation Areas with Camping Facilities

Payment

Payment in full must be made when reserving camping or overnight facilities.

Cancellations

The cancellation fee for campsites is $40 - $50, or two nights stay, whichever is less plus applicable fees. All other overnight facility cancellation fees are equivalent to one night stay if cancelled less than seven days prior to the first night of the reservation, plus applicable fees. Cancellation fees for Group Cabins are $175 - $185. If a cancellation is not made in advance, a refund will not be granted.
Campsites (Family, Wilderness or Group)
Group Cabins
Lean-Tos
Shelters
Yurts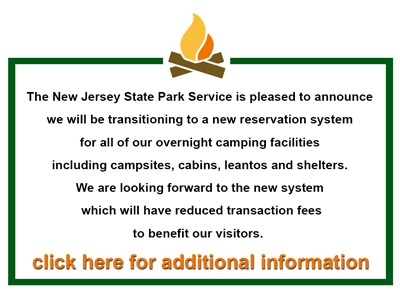 We anticipate our visitors will be pleased with our new streamlined reservation system as it provides greater flexibility in searching and reserving available overnight facilities.
All campsites (excluding group campsites), group cabins, lean-tos, shelters and yurts may be reserved for a minimum of two consecutive nights to a maximum of fourteen nights.

Group campsites may be reserved for a maximum of fourteen nights with no minimum number of nights.

No more than two non-consecutive reservations shall be in effect in a calendar year.

The total maximum stay for all camping facilities shall not exceed 40 nights in a calendar year.

Visitors can make multiple reservations for the same campground and same arrival date but must have a unique primary occupant for each site. You must know the name and contact information of each site's primary occupant.

Visitors can make reservations for multiple facilities on a single call.
---
Reservations for the 4, 6 & 8 bunk cabins (including cabins accessible for persons with disabilities) may be made up to 11 months in advance of the reservation date online at: camping.nj.gov
From the Saturday before Memorial Day through and including Labor Day, cabins (4, 6 & 8) may be reserved for seven or fourteen consecutive nights only. From April 1st to the Friday before Memorial Day and from the day after Labor Day through October 31st, cabins may be reserved for a minimum of two consecutive nights to a maximum of fourteen consecutive nights.

All other camping reservation procedures apply.
We hope you enjoy your stay!