Delaware River Basin Commission
---
Delaware • New Jersey • Pennsylvania
---
New York • United States of America
---
Home
>
News Bytes
>
DRBC Executive Director Talks DRB Water Resource Management at 6th Annual Delaware River Watershed Forum
DRBC Executive Director Talks DRB Water Resource Management at 6th Annual Delaware River Watershed Forum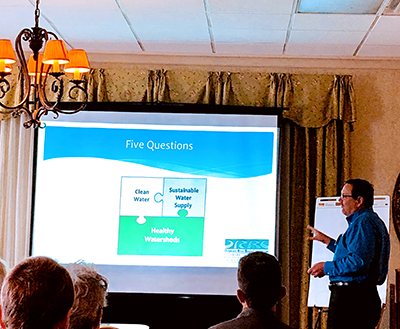 DRBC Executive Director Steve Tambini presents at the
6th Annual Coalition for the Delaware River Watershed Forum.
Photo by DRBC.
The 6th Annual Delaware River Watershed Forum was held on September 25-26, 2018. DRBC's Executive Director Steve Tambini was a presenter on September 25 as part of the panel Water Users and Water Use Trends in Our Watershed.
View Presentation: Overview of Basin Water Resource Management and Water Use (pdf 1.9 MB)
The forum was held on September 25 and 26 at The Grand Hotel in Cape May, N.J. Hosted by the Coalition for the Delaware River Watershed, a collective of not-for-profit organizations whose focus is to help protect and restore the Delaware River, its tributaries, and surrounding landscapes, this event included a mix of panel discussions, site visits, and networking opportunities that educated attendees about the current health of the watershed and effective approaches being used to protect and restore its resources.
Commission Member Links:
Delaware
|
New Jersey
|
Pennsylvania
|
New York
|
United States
Copyright © Delaware River Basin Commission,
P.O. Box 7360, West Trenton, NJ 08628-0360
Phone (609)883-9500; Fax (609)883-9522
Thanks to NJ for hosting the DRBC website
Last Modified: 09/28/2018