Delaware River Basin Commission
---
Delaware • New Jersey • Pennsylvania
---
New York • United States of America
---
Home
>
News Bytes
>
DRBC Staff Discusses Microplastics at Delaware County Environmental Summit
DRBC Staff Discusses Microplastics at Delaware County Environmental Summit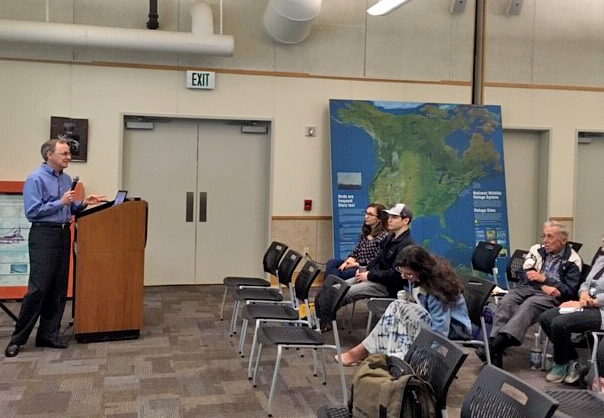 DRBC Sr. Environmental Toxicologist Dr. Ron
MacGillivray presents at the annnual Delaware
County Environmental Summit.
Photo courtesy of DRBC.
The annual Delaware County Environmental Summit took place earlier this month at the John Heinz National Wildlife Refuge at Tinicum in Philadelphia, Pa. This year's summit focused on addressing plastics in waterways and was sponsored by the Darby Creek Valley Association and the Friends of the Heinz Refuge.
DRBC Senior Environmental Toxicologist Dr. Ron MacGillivray discussed a recent grant that DRBC received to study microplastics in the Delaware Estuary. Microplastics are tiny particles of plastic that measure less than five millimeters in length (or about the size of a sesame seed); they easily pass through water filtration systems and end up in our waterways. While microplastics can be man-made, such as microbeads found in personal care products, resin pellets, or microfibers, they also can be from the degradation of larger plastic materials over time.
The grant that DRBC received will allow us to sample the Delaware River Estuary and several tidal tributaries for microplastics and model loadings. The model will allow us to identify high plastic-loading areas, which will be targeted for cleanup efforts. The study area is from Trenton, N.J. to the C&D Canal.
View presentation: Delaware Estuary Microplastics Monitoring and Cleanup (pdf 689 KB)
View 1-pager on DRBC's Microplastics Study (pdf 359 KB)
Commission Member Links:
Delaware
|
New Jersey
|
Pennsylvania
|
New York
|
United States
Copyright © Delaware River Basin Commission,
P.O. Box 7360, West Trenton, NJ 08628-0360
Phone (609)883-9500; Fax (609)883-9522
Thanks to NJ for hosting the DRBC website
Last Modified: 05/17/2019