Delaware River Basin Commission
---
Delaware • New Jersey • Pennsylvania
---
New York • United States of America
---
Home
>
News Bytes
>
DRBC & Our Shared Waters Publish New Illustrated Map of the Delaware River Basin
DRBC & Our Shared Waters Publish New Illustrated Map of the Delaware River Basin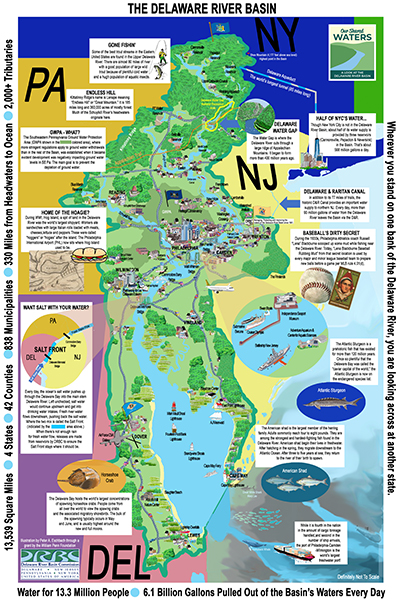 Illustrated Map of the Delaware River Basin.
The Delaware River extends 330 miles through New York, New Jersey, Pennsylvania and Delaware and is the largest water source in our area. It is fed by thousands of smaller rivers, creeks and streams that we know of as our local waterways. These waterways and the surrounding lands, totaling 13,539 square miles, make up the Delaware River Basin.
Our Shared Waters: A Look at the Delaware River Basin is an effort of the Delaware River Basin Commission and multiple stakeholders to teach the public and decisionmakers about the current state of the Basin and the opportunities available to support its continued sustainability now and for future generations. Funded by a grant from the William Penn Foundation, this effort, through social media and public outreach, has united public agencies, private businesses and non-profit organizations to work together towards the common goals of education and stewardship.
As part of the Our Shared Waters effort, DRBC staff developed this illustrated poster as a fun way to show how interconnected, diverse and interesting the Delaware River Basin is. When you stand on the bank of the Delaware River, you always look across at another state. While most people identify with their local watershed, we hope this poster helps highlight how we are all part of the Basin.
Download Full-Size Image of the Poster (jpg 15 MB; best for viewing online)
Download Full-Size PDF of Poster (38 MB; best for printing)
Commission Member Links:
Delaware
|
New Jersey
|
Pennsylvania
|
New York
|
United States
Copyright © Delaware River Basin Commission,
P.O. Box 7360, West Trenton, NJ 08628-0360
Phone (609)883-9500; Fax (609)883-9522
Thanks to NJ for hosting the DRBC website
Last Modified: 10/07/2020