Delaware River Basin Commission
---
Delaware • New Jersey • Pennsylvania
---
New York • United States of America
---
Home
>
News Bytes
>
Let's Go Sailing: DRBC's Our Shared Waters Program Hosts Experiential Learning Aboard the Kalmar Nyckel
Let's Go Sailing: DRBC's Our Shared Waters Program Hosts Experiential Learning Aboard the Kalmar Nyckel
Delaware's official Tall Ship, the Kalmar Nyckel, was featured this summer in two experiential learning events hosted by DRBC's Our Shared Waters (OSW) Program.
Local legislators and community members were invited to get aboard the Kalmar, meet the crew and learn from DRBC staff and local businesses about why a sustainable, clean water supply is vital for people, businesses and wildlife.
As someone exclaimed on one of the sails, who's a better advocate for the Delaware than the Delaware?
We couldn't have said it better ourselves; read on to learn more!
August 2021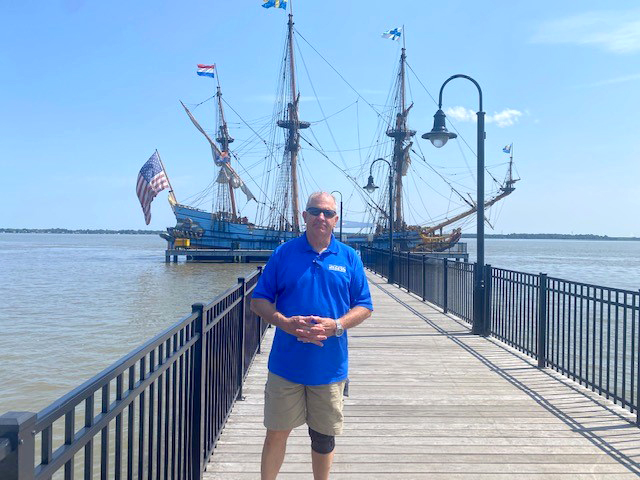 DRBC's Peter Eschbach poses in front of the
Kalmar Nyckel docked in Newcastle, Del.
Photo by DRBC.
In August, Delaware and Pennsylvania officials met in Newcastle, Delaware. Unfortunately, extreme heat and humidity prevented a sail on the Delaware Bay, but attendees were able to tour the ship and meet the crew and then headed to a local restaurant for a lunch and learn.
On the ship, a press conference was held featuring Senator Tom Carper (DE), Congresswoman Lisa Blunt Rochester (DE), Congresswoman Chrissy Houlahan (PA), State Senator Stephanie Hansen (DE-10), State Senator Marie Pinkney (DE-13), DNREC Secretary Shawn M. Garvin and DRBC Executive Director Steve Tambini. Each gave remarks about why the Delaware River Basin needs proper management and protection, highlighting climate change, increased water demand and water quality as issues all vital to address. Senator Carper presented Kalmar Nyckel Captain Lauren Morgens with a flag flown over the U.S. Capitol.
At the local Boothhouse Tavern, folks heard from W. Ryan Anthes, owner of Hammergod Brewing, and Chris Anderson, Watershed Partnerships Legislative Lead for the Philadelphia Water Department, about the importance of clean water to the brewing and drinking water industries, respectively. DRBC Manager of Water Quality Assessment John Yagecic, P.E., and Senior Toxicologist Dr. Ron MacGillivray discussed several water quality issues affecting the Delaware River and Bay, for example, contaminants of emerging concern and improving oxygen levels for endangered fish species. DRBC Senior Water Resource Engineer Dr. Fanghui Chen talk about sea level rise and how it is impacting the Delaware Bay.
Despite the extreme heat, all in attendance appreciated the experience and left with a better understanding of the Delaware River, the DRBC and the importance of clean, sustainable water resources.
Three articles about the event:
September 2021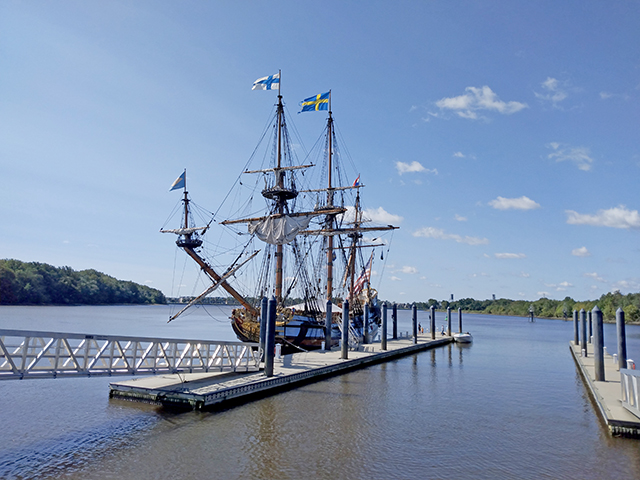 The Kalmar Nyckel docked in Bristol, Pa.
Photo by DRBC.
In September, Pennsylvania legislators and community members joined DRBC staff and local business leaders aboard the Kalmar Nyckel for a sail out of Bristol, Pa. Prior, a press conference was held at the Bristol Wharf pavilion featuring Bristol Borough Councilman Michael Gorman and PA Senator Robert "Tommy" Tomlinson (PA-6). Councilman Gorman welcomed everyone to Historic Bristol Borough and discussed how important their Delaware waterfront is to the people of Bristol Borough. Sen. Tomlinson presented Kalmar Nyckel Captain Lauren Morgens with a flag flown over the Pa. State Capitol.
In addition to Sen. Tomlinson, the legislators in attendance included PA Sen. Art Haywood (PA-4), PA Rep. KC Tomlinson (PA-18), PA Rep. Mary Isaacson (PA-175), PA Rep. Greg Vitali (PA-166), PA Rep. Joe Webster (PA-150), PA Rep. Perry Warren (PA-31) and PA Rep. Meghan Schroeder (PA-29). Staff representing other elected officials were also present.
Once on board the Kalmar, folks heard from the crew about the boat's history, from DRBC Executive Director Steve Tambini about the DRBC and got to experience hauling the sails. Afterwards, folks rotated around four stations to hear about why clean water is so important. Hannah Gohde, lead brewer at Naked Brewing, talked about the beer making process and how water is a vital ingredient. Matt Csik of N.J. American Water discussed how water from the Delaware is treated before it comes of out your taps as drinking water; the cleaner the source water is, the better it is for us to drink. Elizabeth Brown of Audubon Mid-Atlantic partnered with DRBC Water Resource Scientist Elaine Panuccio to talk about the ecological connection between clean water, bugs and birds. And, DRBC Deputy Executive Director Kristen Bowman Kavanagh discussed flow management in the Delaware River Basin.
Thanks to beautiful weather, gorgeous river views and good company, the sail was an experiential learning experience not to be forgotten anytime soon. We thank the captain and crew of the Kalmar Nyckel, Hannah, Matt and Beth and everyone in attendance for a great day on the river!
Two articles about the event:
OSW Blog: Personal Perspectives on Our Shared Waters
The OSW website includes a regular blog feature. Recently-retired DRBC Director of External Affairs and Communications Peter Eschbach penned the following about the sails.
While onboard, participants had an opportunity to raise one of the ship's sails. The most important thing to remember is the need for teamwork!
The Kalmar Nyckel is owned and operated by the Kalmar Nyckel Foundation, which is a non-profit education organization based in Wilmington, Del. The Foundation uses the ship as a floating classroom to celebrate the cultural and maritime history of Delaware.
DRBC's Our Shared Waters Program is a DRBC-managed public outreach effort of multiple stakeholder groups. Its main goals are to (1) educate the public and decisionmakers about the Delaware River Basin and the opportunities available to play a role in its continued sustainability and (2) connect people to their local waterways, connect with one another and connect with the bigger picture – we're all a part of the Delaware River Basin.
Commission Member Links:
Delaware
|
New Jersey
|
Pennsylvania
|
New York
|
United States
Copyright © Delaware River Basin Commission,
P.O. Box 7360, West Trenton, NJ 08628-0360
Phone (609)883-9500; Fax (609)883-9522
Thanks to NJ for hosting the DRBC website
Last Modified: 11/15/2021