Delaware River Basin Commission
---
Delaware • New Jersey • Pennsylvania
---
New York • United States of America
---
Our Shared Waters: A Look at the Delaware River Basin
Our Shared Waters: A Look at the Delaware River Basin is a DRBC-managed public outreach effort of multiple Delaware River Basin stakeholder groups to educate the public and decisionmakers about the current state of the Basin and the opportunities available to play a role in its continued sustainability now and for future generations.
As DRBC was putting the finishing touches on its State of the Basin Report, we realized that, in addition to sharing the Commission's view of the state of the Basin, we also wanted to create a comprehensive overview of the Basin's waters by including inputs from a wide range of stakeholders, including public and private water purveyors, NGOs, non-profits and residents.
Further, we wanted to create a broad outreach campaign to share information about the Basin, as well as help our partners spread the word about their organizations, upcoming events and activities to a Basin-wide audience.
DRBC submitted an application to the William Penn Foundation (WPF) to support this effort, which was granted in early 2019.
The WPF supports this project's goal of collectively bringing together multiple interested parties to look at the State of Our Basin and its critical role in supporting clean, healthy water for drinking and other everyday needs, as well as for business, industry, recreation and fish and wildlife.
The Our Shared Waters (OSW) campaign is multi-faceted, encompassing an online/digital presence, community event participation, and experiential opportunities for Basin residents to get out on the Delaware River.
While DRBC got the funding from WPF, and we facilitate Our Shared Waters' different components, this isn't a DRBC program. It belongs to all of us who work, play and depend on the waters of the Delaware River Basin.
More Information:
OSW Activities in 2019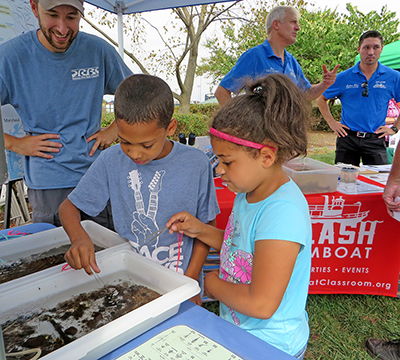 Kids learn about aquatic insects at the 2019 Trenton River
Days Fair. DRBC teamed up with the Steamboat SPLASH,
an OSW partner, to exhibit at this event. Photo by DRBC.
Once the grant was awarded, the first steps were to develop a webpage and a Facebook page (see links above).
DRBC and its partners participated in a variety of community events in 2019. These efforts helped us connect face-to-face with the public, share information about the Delaware River and the many organizations that are working to protect it and encourage stewardship of our shared water resources.
Visit our Newsbytes Archive to learn more about the various outreach-related activities we participated in throughout the year.
The campaign also supports experiential opportunities to get people on or along the Basin's waterways.
In 2019, working with the Delaware River Sojourn, several "Sojourn Scholarships" were offered to individuals for a day of safe paddling and learning on the river. We welcomed Emily Pugliese and Jordan Brunette of Pa. State Senator Art Haywood's staff (4th District), Erica Rosetti of the Partnership for the Delaware Estuary, Chancey Colon, a constituent of N.J. State Senator Shirley Turner (15th District), and Mike James and Brian Lestini, constituents of N.J. Assemblywoman Carol Murphy (7th District). All left with a greater appreciation for the river and the role it plays in our daily lives. Check out the above link for photos and a short video about the Sojourn that shares feedback from several of these scholars.
More information:
Our Shared Waters: A Look at the Delaware River Basin - blog post for the Coalition for the Delaware River Watershed (Sept. 2019)
Our Shared Waters Campaign - presentation given at the DRBC Water Management Advisory Committee Meeting (Oct. 2019; pdf)
The State of the Basin 2019: Our Shared Waters - presentation given at the Water Resources Association of the Delaware River Basin's Fall Technical Symposium (Nov. 2019; pdf)
OSW Activities in 2020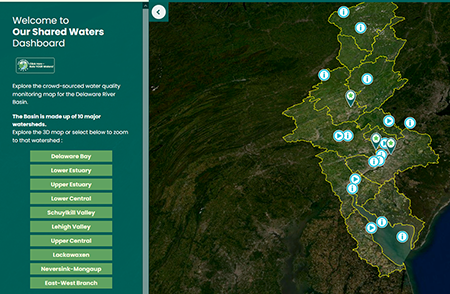 The Rate Your Waters webpage.
In 2020, the COVID-19 pandemic put a stop to our robust plan for outreach activities and experiential events before we could even start.
While in-person events were not possible, we did roll out several components of the OSW campaign.
An illustrated map of the Delaware River Basin (jpg) was created. Hard copies were printed and shared with OSW partners.
Several educational videos were created. One, entitled Good Bugs Mean Healthy Rivers, was developed for the virtual Delaware River Festival. Two craft activity videos were developed for kids: Do It Yourself Horseshoe Crab Hat and Do It Yourself (Freshwater) Mussel Hat. And, a video about baseball rubbing mud featuring former Phillies Pitcher Cole Irvin was also created.
The campaign's Rate Your Waters initiative was launched. Rate Your Waters is a crowd-sourced water quality data site. Members of the public can enter info and photos on the map about their favorite DRB waterway, and watershed groups, teachers, students, etc. can enter more specific water quality data and reports to share.
Think of it like Yelp for the Basin.
We hope to be able to get back to some semblance of normal activity in 2021. Please stay tuned for more information as it becomes available.
Potential Plans include:
Commission Member Links:
Delaware
|
New Jersey
|
Pennsylvania
|
New York
|
United States
Copyright © Delaware River Basin Commission,
P.O. Box 7360, West Trenton, NJ 08628-0360
Phone (609)883-9500; Fax (609)883-9522
Thanks to NJ for hosting the DRBC website
Last Modified: 06/11/2021