Delaware River Basin Commission
---
Delaware • New Jersey • Pennsylvania
---
New York • United States of America
---
Home
>
News Bytes
>
DRBC Our Shared Waters' Sojourn Scholarships Connect People & Rivers through Paddling
DRBC Our Shared Waters' Sojourn Scholarships Connect People & Rivers through Paddling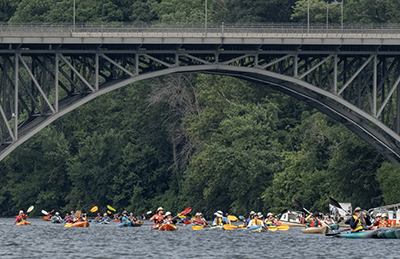 Paddlers on the Schuylkill River Sojourn.
Photo courtesy of John Brady.
One of the best ways to learn about a river is to get on it.
This belief is shared by DRBC's Our Shared Waters (OSW) Program & local river sojourn organizers.
Events like river sojourns, where people get real-life exposure to our region's waterways, are great ways to learn and connect with others and with our rivers. Sojourns combine on-water experiences and educational learning opportunities through guided group paddles on area rivers. The goal is that these experiences will create new stewards of our waters, helping protect these resources we all depend on.
This summer, through OSW, DRBC provided sojourn scholarships for people to paddle the Lehigh, Schuylkill and Delaware river sojourns. DRBC staff also participated in the sojourns, providing educational presentations on water resource management topics.
•The Lehigh River Sojourn took place from June 26-28, 2021. Fourteen individuals were given the opportunity to raft the Lehigh River on June 26 as part of the OSW scholarship program. DRBC Deputy Executive Director Kristen Bowman Kavanagh, P.E., participated in this sojourn, presenting on how DRBC manages water from the Lehigh River Watershed to help maintain river flow during dry conditions.
•The Schuylkill River Sojourn took place July 31-August 4, 2021. Five individuals were given the opportunity to paddle the Schuylkill River on August 4 as part of the OSW scholarship program. DRBC Deputy Executive Director Kristen Bowman Kavanagh, P.E., also participated in this sojourn and presented on how DRBC manages water from the Schuylkill River Watershed to help protect drinking water intakes in Philadelphia.
•The Delaware River Sojourn took place August 6-13, 2021. Five individuals were given the opportunity to paddle the Delaware River on August 13 as part of the OSW scholarship program. DRBC Manager of Water Resource Planning Chad Pindar, P.E., provided an educational presentation on the status of several dam removal projects on the Bushkill Creek, which enters the Delaware River at Easton, Pa. Chad was also awarded with the Delaware River Sojourn's High Admiral honor. This is bestowed on people working to manage, improve and protect the Delaware River.
Sojourn Scholar Feedback
We asked for feedback from the sojourn scholars about their experiences. Here are some of the testimonials:
Hana E., Schuylkill River Sojourn:
Participating in the Schuylkill River Sojourn Day 5 was an interesting experience, although physically challenging. I learned that:
Many organizations and companies collaborated to pull it off.
The participants seemed to be a community.
The Schuylkill River between Conshohocken and Philadelphia is safe to kayak, after taking precautions.
My favorite part was interactions with other participants, views from the river, and DRBC's presentation during lunch break. I plan to participate in another sojourn, maybe in another river section and try overnight camp, hopefully next year. Thanks again for the opportunity.
Alice P., Delaware River Sojourn:
It was an amazing experience, my first river paddle, and I felt safe and welcomed by all. It was also very informative, so many things I did not know about the Delaware. Thank you so much for the scholarship.
Janine S., Delaware River Sojourn:
I have been thinking long and hard and trying to come up with an appropriate way to formulate how transformative the Sojourn paddle was for me. It did away with a lot of my fears - especially with regards to the physical strenuousness of paddling. The instructors were so wonderful that I really did learn to paddle in such a way that it felt very easy. I was not even sore the next day!
I had amazing conversations with other paddlers who were more experienced and I learned a lot about being on the water and the possibilities of paddling, where it can take you that other activities cannot. I was even recruited to the National Canoe Safety Patrol, which changed my perception of how far I would have to go in developing skills that would be meaningful on the river. It turns out that, as a lifeguard, I already have a lot of skills that would be helpful in promoting safe connection and stewardship for communities wanting to use the river.
I will definitely be developing my kayaking skills further, with a lot more confidence in my abilities this time. I would not hesitate to volunteer to lifeguard from a kayak or do support for an open water swimmer. This was my goal and I appreciate the Delaware River Sojourn and its sponsors for awarding me a scholarship and giving me an opportunity to learn what I might be capable of!
Fran N., Schuylkill River Sojourn:
I was privileged to be offered the opportunity to take part in one day of kayaking during the Schuylkill River Sojourn trip this August. I was nervous and apprehensive when the day was upon me.
Once I showed up at the site my fears disappeared. I saw immediately there were people of all ages. When I started conversing with people, I learned they were eager to share the vast amount of knowledge and variety of experience they have with kayaking.
Along the river's edge, I saw experienced kayakers helping others, sharing tips and strategies for a smooth trip. I can say once I climbed into my kayak I felt empowered and excited to begin the journey. Along the river run, I saw such teamwork and encouragement and learned safety and patience. I soon became a part of the swift current and felt a deep sense of peace when coasting along with the calm parts of the river.
The beautiful scenery along the way was captivating. I followed the blue herons across the river into the marsh, the towering stone bridges above us were incredible, the people fishing, or taking a stroll on the walkways above were so inspiring with their waves and shouts of encouragement.
By midday, I felt like I was on this journey for more than a few hours. I began to feel like I knew everyone for more than a day as if they were old friends. I bonded with another scholarship recipient for the day and became friends. I learned very quickly it is not so easy taking a picture when in a kayak, a skill that I will need to work on.
I learned so much about our waterways from the Delaware River Basin Commission and the Schuylkill River Greenways on the importance of keeping them clean and how even current and rainfall affects them. I was enlightened with facts that I just never thought about until this journey and it has impacted my personal goal to reduce my own carbon footprint and educate others around me.
By the end of the journey, I was exhausted and yet filled with such a sense of accomplishment. I was encouraged by those who did more than one day and marveled at the ones who participated in the full trip. I would do it again in a heartbeat.
OSW Blog: Personal Perspectives on Our Shared Waters
The OSW website includes a regular blog feature. DRBC Government Affairs Lead Stacey Mulholland participated on the Schuylkill and Delaware sojourns with the scholars and penned the following about her experiences, which includes some of the above scholar feedback.
Perspectives on Paddling: Experiences from the 2021 River Sojourns
Commission Member Links:
Delaware
|
New Jersey
|
Pennsylvania
|
New York
|
United States
Copyright © Delaware River Basin Commission,
P.O. Box 7360, West Trenton, NJ 08628-0360
Phone (609)883-9500; Fax (609)883-9522
Thanks to NJ for hosting the DRBC website
Last Modified: 10/11/2021