Delaware River Basin Commission
---
Delaware • New Jersey • Pennsylvania
---
New York • United States of America
---
Home
>
News Bytes
>
DRBC Staff Discusses PFAS at SETAC's Regional Spring Meeting
DRBC Staff Discusses PFAS at SETAC's Regional Spring Meeting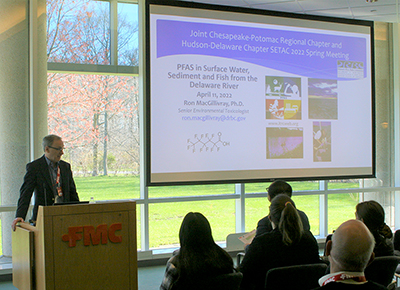 DRBC Sr. Environmental Toxicologist Dr. Ron
MacGillivray presents on PFAS.
Photo courtesy of the DRBC.
The Hudson-Delaware and Chesapeake-Potomac chapters of the Society of Environmental Toxicology and Chemistry (SETAC) held their regional spring meeting recently. DRBC Sr. Environmental Toxicologist Dr. Ron MacGillivray participated, presenting on PFAS in Surface Water, Sediment & Fish from the Delaware River.
• View Presentation (pdf)
What are PFAS?

Perfluoroalkyl and polyfluoroalkyl substances (PFAS) are a diverse group of compounds that have varying degrees of persistence, toxicity and bioaccumulation in the environment.
PFAS have been investigated in fish fillet, surface water and sediment from the Delaware River over a seventeen-year period (2004 to 2021). The DRBC is working with the USEPA, Basin states and others to better understand these contaminants of emerging concern. Additional studies are planned to evaluate the efficacy of regulatory and management strategies in reducing exposure and risks from PFAS to human health and aquatic life.
Commission Member Links:
Delaware
|
New Jersey
|
Pennsylvania
|
New York
|
United States
Copyright © Delaware River Basin Commission,
P.O. Box 7360, West Trenton, NJ 08628-0360
Phone (609)883-9500; Fax (609)883-9522
Thanks to NJ for hosting the DRBC website
Last Modified: 04/18/2022