Delaware River Basin Commission
---
Delaware • New Jersey • Pennsylvania
---
New York • United States of America
---
DRBC Helps Celebrate World Environment Day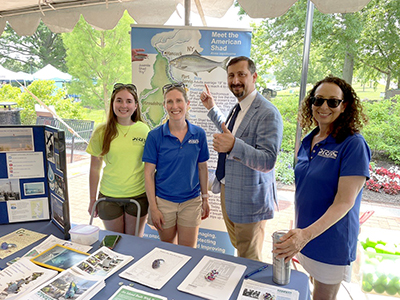 The DRBC's Bailey Adams (far L), Elizabeth Brown (2nd
from L) and Stacey Mulholland (R) pose with EPA Region
3 Administrator Adam Ortiz at the DRBC's information
table at World Environment Day. Photo by the DRBC.
The DRBC recently participated in the Delaware River and Bay Authority's (DRBA) World Environment Day celebration, held at Veterans Memorial Park in New Castle, Del.
• Learn more about DRBA World Environment Day Celebration
Since 1973, World Environment Day has been held on June 5. This year's theme was #OnlyOneEarth, highlighting the need to protect and restore our planet, as it is the only one we have.
• Learn more about World Environment Day
At the DRBA event, over 50 entities representing government, environmental groups and companies exhibited, teaching about watersheds, green energy, recycling, air quality, climate change and so much more.
The DRBC table offered plenty of information on Commission programs, from water quality protection to water supply & conservation, as well as fun things like educational bookmarks and puzzles.
EPA Region 3 officials were also on hand to help celebrate, as well as honor the DRBA with EPA's WasteWise award. This award was given to recognize DRBA's recycling initiatives, not just for aluminum, glass and paper, but for their large-scale efforts to recycle metal signs and reuse millings, keeping these items out of local landfills.
Staff who attended had a great time meeting people from the local community and talking about our work to manage, protect and improve the water resources of the Delaware River Basin. Located at the basin's southern edge, Delaware knows all too well that what happens upstream affects those downstream.
The DRBC's Our Shared Waters program makes participating in education and outreach events like this and others possible. Connecting with basin residents is so important, not just to inform about what we do, but to talk about what they too can do to help keep our waters healthy and sustainable.
The DRBC's Stacey Mulholland talks with an event participant. Photo by the DRBC.


Representatives from EPA Region 3, DRBA & the Del. Dept. of Natural Resouces and Environmental Control (DNREC, far R) pose for a photo after DRBA received the WasteWise Award. Photo by the DRBC.


DRBC Exec. Dir. Steve Tambini is all smiles with Partnership for the Delaware Estuary (PDE) Ex. Dir. Kathy Klein. Klein is promoting PDE's freshwater mussel initiatives with this unique take on a sandwich board. Photo by the DRBC.


(From L to R) DRBC Exec. Dir. Steve
Tambini, DRBC Water Quality Intern
Bailey Adams, DRBC Government
Affairs Lead Stacey Mulholland and
DNREC Secretary Shawn Garvin pause
for a picture. Photo by the DRBC.

This family enjoyed their stop at the
DRBC's information table. Photo by the DRBC.

(From L to R) EPA Region 3 Admin. Adam Ortiz, DRBC Exec. Dir. Steve Tambini & DNREC Secretary Shawn Garvin grab a photo in front of the Veterans' Memorial. Photo by the DRBC.
Commission Member Links:
Delaware
|
New Jersey
|
Pennsylvania
|
New York
|
United States
Copyright © Delaware River Basin Commission,
P.O. Box 7360, West Trenton, NJ 08628-0360
Phone (609)883-9500; Fax (609)883-9522
Thanks to NJ for hosting the DRBC website
Last Modified: 06/09/2022