Delaware River Basin Commission
---
Delaware • New Jersey • Pennsylvania
---
New York • United States of America
---
Home
>
News Bytes
>
DRBC Helps Celebrate Juneteenth at Trenton Festival
DRBC Helps Celebrate Juneteenth at Trenton Festival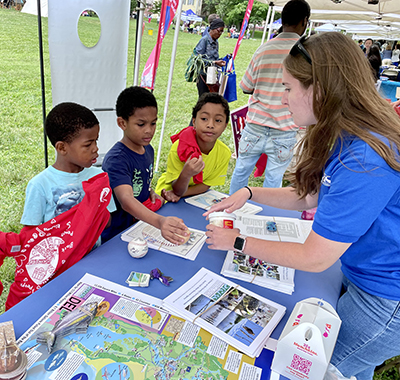 DRBC staff talk with local youth about baseball's
connection to the Delaware River Basin.
Photo by the DRBC.
The DRBC recently participated in the Trenton Juneteenth Celebration, held at Mill Hill Park in Trenton, N.J.
Hosted by the African American Cultural Collaborative of Mercer County (AACCofMC) in partnership with the NJ Legislative District 15 (Senator Shirley Turner, Assemblywoman Verlina Reynolds Jackson and Assemblyman Anthony Verrelli) and Outdoor Equity Alliance, this event featured live music, food, kid-friendly activities, a literacy corner, health and wellness info and more.

The DRBC table offered plenty of information on Commission programs, from water quality protection to water supply & conservation, as well as fun things like educational bookmarks, puzzles, and baseball rubbing mud. We also had reusable water bottles and small DRB posters to hand out, and both were popular take-aways!

Our table was located near the Assunpink Creek, and attendees were interested to learn of its connection to the Delaware River. We also had some great discussions about fish and fishing; many were intrigued to learn that American shad swim right by Trenton every spring! N.J. Assemblyman Anthony Verrelli (NJ-15) and Trenton Mayor Reed Gusciora visited our table, and we appreciate them taking the time to stop and chat with our staff.
Staff who attended had a great time meeting people from the local community and talking about the river and our work to manage, protect and improve the water resources of the Delaware River Basin.
The DRBC's Our Shared Waters program makes participating in education and outreach events like this and others possible. Connecting with basin residents is so important, not just to inform about what we do, but to talk about what they too can do to help keep our waters healthy and sustainable.
Our Shared Waters was a sponsor and received the "Shirley Chisholm" award in recognition of our support of the event.
Thank you to our hosts and all attendees for a great day!
DRBC staff accepts the "Shirley
Chisholm" award in recognition of
our sponsorship of the event.
Photo by the DRBC.
Our Delaware River Basin (DRB)
posters that illustrate the watershed
with lots of fun facts were very
popular. Photo by the DRBC.
Attendees had the opportunity to get
their photo taken as Major Macro, our
Biology Superhero. Photo by the
DRBC.
DRBC staff talks with local youth
about the different fish you can find
in the Delaware River. Photo by the
DRBC.
Trenton Mayor Reed Gusciora (gray
shirt) stopped by the DRBC table for
a chat. Photo by the DRBC.
DRBC staff enjoyed interacting with
festival attendees, answering
questions & sharing info about the
Delaware River. Photo by the DRBC.
Commission Member Links:
Delaware
|
New Jersey
|
Pennsylvania
|
New York
|
United States
Copyright © Delaware River Basin Commission,
P.O. Box 7360, West Trenton, NJ 08628-0360
Phone (609)883-9500; Fax (609)883-9522
Thanks to NJ for hosting the DRBC website
Last Modified: 06/29/2022