Delaware River Basin Commission
---
Delaware • New Jersey • Pennsylvania
---
New York • United States of America
---
DRBC's 2022 Summer Monitoring Season Underway
You Can't Manage What You Don't Measure
Staff are keeping busy this summer with several monitoring efforts to support various DRBC water quality monitoring programs.
Bacteria Monitoring in the Delaware Estuary
DRBC's shore-based bacteria monitoring program will continue in 2022. From May - September, samples will be collected once weekly at nine locations in the Delaware River Estuary around Philadelphia and Camden.
This bacteria monitoring will be in addition to samples collected as part of the Delaware Estuary Water Quality Monitoring Program (aka the boat run), which runs once monthly.
The DRBC will also be performing Microbial Source Tracking at the same nine shore-based bacteria monitoring locations; three wet weather and three dry weather events are planned. The goal is to differentiate bacteria derived from humans, cows, horses, Canada geese, deer and dogs.
Samples will be analyzed for E. Coli, Fecal Coliform and Enterococcus.
The DRBC is also collaborating with the USGS on the deployment of a Fluidion Alert System - one of the first in the nation - to monitor near real-time Delaware River bacteria concentrations in Camden's Pyne Poynt Park.
| | | |
| --- | --- | --- |
| | | |
| DRBC staff monitor bacteria concentrations. Photo by the DRBC. | DRBC staff perform Microbial Source Tracking (MST). Photo by the DRBC. | The fluidion monitor being prepped for re-deployment. Photo by the DRBC. |
Biological Monitoring in the Non-Tidal Delaware River
In 2022, the DRBC will complete its biological monitoring of the non-tidal Delaware River, which is protected by DRBC's Special Protection Waters regulations. This monitoring was supposed to occur in 2021; due to weather and high flows, only eight sites in the Lower Delaware River were sampled.
The remaining 17 sites in the Delaware Water Gap and Upper Delaware River will be sampled during August or September 2022.
In addition to water chemistry data collected at each site, sampling will include macroinvertebrates, periphyton and habitat analyses.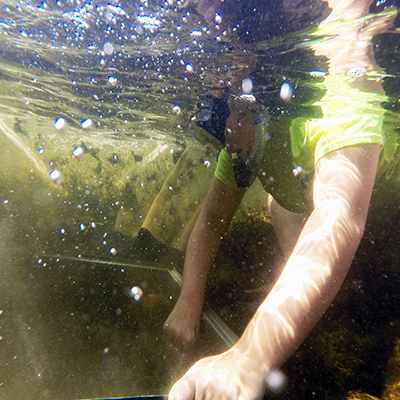 DRBC staff head underwater to collect a sample of
macroinvertebrates. Photo by the DRBC.
Chlorides Monitoring in the Non-Tidal Watershed
This monitoring effort will continue a study that was started in 2021 (2-yr study). The project is collecting continuous data on chloride concentrations at 27 mainstem & tributary sites in the non-tidal Delaware River Basin, which is known as DRBC's Special Protection Waters.
In 2022, the ions list was expanded to include: nitrate, calcium, magnesium, sodium, potassium, sulfate, total silica, total alkalinity, total suspended solids and total phosphorus at all 27 locations.
In addition to continuous data monitoring, grab samples are collected at each site once monthly throughout the study.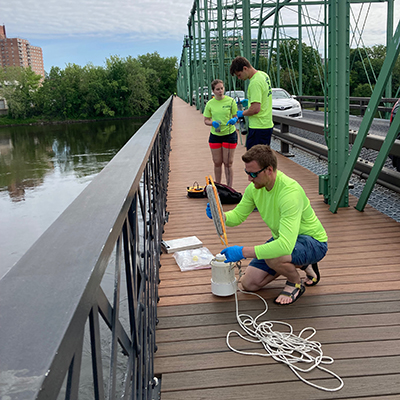 DRBC staff collect chlorides data. Photo by the DRBC.
Cyanotoxins Pilot Study
In 2022, this pilot study will examine harmful algal blooms (HABs) toxins (anatoxin, microcystins and cylindrospermopsin) at 15 sites in the mainstem Delaware River.
During August and September, DRBC staff will deploy SPATT bags, collecting them after eight days; a total of three rounds of this is planned.
The Del. Dept. of Natural Resources and Environmental Control (DNREC) lab will handle analysis.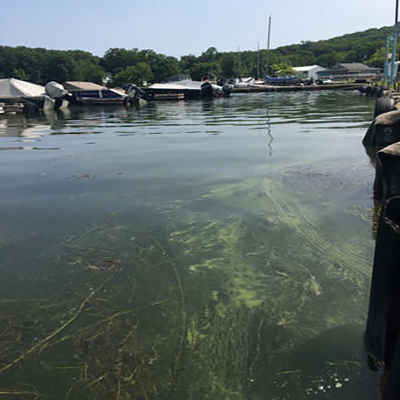 An image of a harmful algal bloom in Lake Hopatcong,
N.J. Photo by the USGS.
Sturgeon Dissolved Oxygen Monitoring
In July - September 2022, the DRBC will initiate a study of dissolved oxygen (DO) trends in areas considered nursery grounds for juvenile endangered Atlantic sturgeon. Low flows are targeted.
Four to six DO loggers will be deployed near Marcus Hook and Fox Point Park. DO levels at the top and bottom will be sampled; loggers will be removed in the fall.
This data will complement the DO data currently being collected at the Ben Franklin Bridge.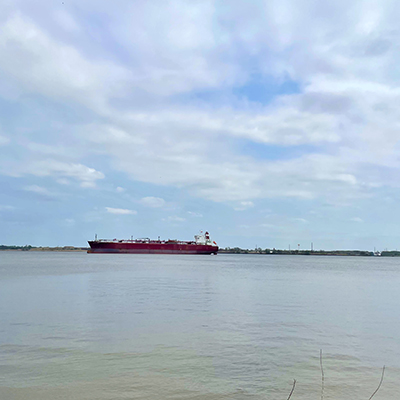 The Delaware River near Marcus Hook, Pa. This is close
to one of the sites for the sturgeon nursery monitoring.
Photo by the DRBC.
Thermal Exceedance Shading Study
Using a hemispherical camera and special software, DRBC staff will identify reaches in the Upper Delaware River, its East and West branches and the Beaverkill River with insufficient tree canopy to provide shading.
Once identified, these reaches could be targeted for tree-planting using other funding sources, for example, grants.
Fifty miles of stream reaches in the upper Delaware River Basin are planned for assessment during a one-time, multi-day event in the summer.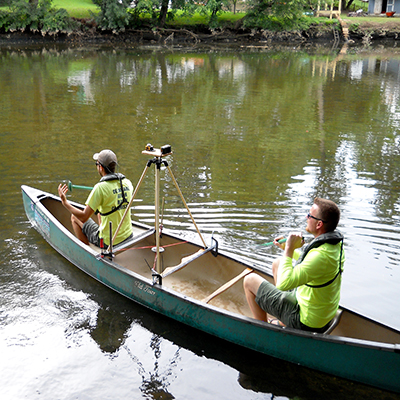 DRBC staff practice canoeing with the hemispherical
camera setup. Photo by the DRBC.
PFAS Monitoring
In the spring 2022, DRBC staff collected samples of surface water, sediment, fish and blue crabs to monitor for 40 different analytes of PFAS, a contaminant of emerging concern.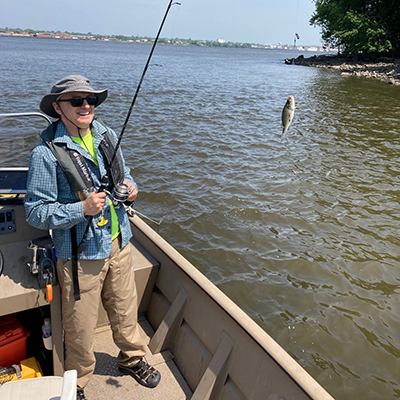 DRBC staff collect fish tissue to monitor for PFAS.
Photo by the DRBC.
1,4-Dioxane Monitoring
The DRBC is monitoring for 1,4-Dioxane, a contaminant of emerging concern, as part of its Delaware Estuary Water Quality Monitoring Program. If this contaminant is detected, additional sampling events are planned.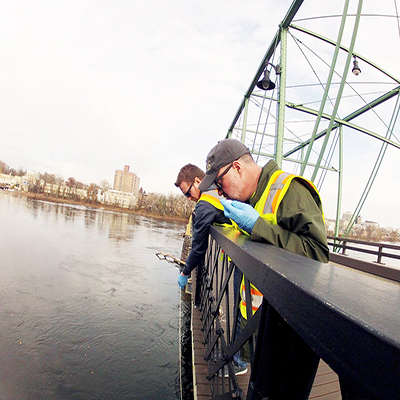 DRBC staff collect a water sample to monitor for
1,4-Dioxane. Photo by the DRBC.
Commission Member Links:
Delaware
|
New Jersey
|
Pennsylvania
|
New York
|
United States
Copyright © Delaware River Basin Commission,
P.O. Box 7360, West Trenton, NJ 08628-0360
Phone (609)883-9500; Fax (609)883-9522
Thanks to NJ for hosting the DRBC website
Last Modified: 07/06/2022