Delaware River Basin Commission
---
Delaware • New Jersey • Pennsylvania
---
New York • United States of America
---
A Water Quality Concern
Elevated concentrations of bacteria in the water can make humans sick if they come into contact with it.
Scientists monitor levels of fecal coliform, enterococcus and total coliform (the unit of measurement is cfu/100mL) in surface water to see if harmful bacteria are present.
To maintain water quality in the Delaware River, the DRBC has adopted criteria for bacteria that is protective of recreation, which is one of the river's designated uses. There are two levels:
(a) primary contact recreation, such as swimming, jet skiing and kayaking; and
(b) secondary contact recreation, such as fishing and boating
Primary contact activities allow for closer contact with the water than secondary; therefore, primary contact recreation waters have stricter bacteria criteria.
Study Initiated in 2019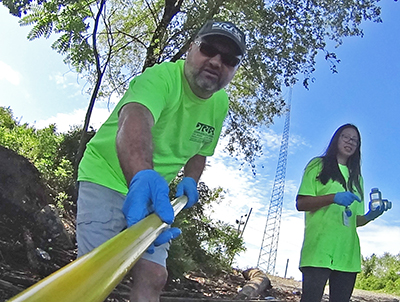 DRBC Mgr. of Water Quality Assessment John Yagecic and
Water Quality Intern Daisy DePaz collect a surface water
sample to monitor for bacteria levels in 2019. Photo by DRBC.
In the portion of the Delaware River around Philadelphia and Camden, known as DRBC Water Quality Zone 3 and upper Zone 4, the river's designated use is for secondary contact recreation.
However, primary contact recreation - such as tubing and jet skiing - has been observed.
To see if bacteria levels meet the criteria for this type of close-contact recreation, DRBC initiated a focused bacterial monitoring effort in 2019 in this urban stretch of the tidal Delaware River.
DRBC sampled five times a month during May - September 2019 from five access points in New Jersey and three in Pennsylvania.
View Map of Sampling Locations (jpg 439 KB)
For this study, data were collected near-shore (where recreation is occurring). This complements our existing Delaware Estuary Water Quality Monitoring Program, which collects bacterial data from the river's center channel.
Samples were collected after heavy rains and during drier periods.
One cause of elevated bacteria levels in Philadelphia and Camden's waterways is stormwater runoff and/or combined sewer overflows during and after heavy rains. When a sewer system is combined, raw sewage, in addition to basic runoff, can enter the river. The Philadelphia Water Department created a Public Notification System for Combined Sewer Overflows to keep the public informed of when these occur.
DRBC Manager of Water Quality Assessment John Yagecic, P.E., discussed this effort at the 2019 Annual Forum of the Coalition for the Delaware River Watershed: Recreational Uses and Criteria in the Delaware River (pdf 3 MB)
2020 Data Collection
Sampling in 2020 got a delayed start due to COVID-19 mitigation measures. Samples started being collected in July at the same locations as in 2019 (see map linked above), with the addition of Penn Treaty Park in Pa., which was closed for construction in 2019.
Samples were collected in July, August and September.
Bacterial Sampling by DRBC Staff: Penn's Landing Lagoon, August 2020
DRBC staff discussed this effort:
2021 Data Collection
In 2021, DRBC will be collecting data on bacteria levels in the Delaware River Estuary:
Boat-Based, Center-Channel: via the Delaware Estuary Water Quality Monitoring Program


Shore-Based: collected weekly May - September, same nine locations sampled in 2020:



In New Jersey: Pyne Point Park, National Park, Pennsauken Access, Palmyra Cove and Riverton Yacht Club


In Pennsylvania: Penn Treaty Park, Washington Ave. Green, Penn's Landing and Frankford Arsenal Access



Boat-Based, Transect: Five transects, five samples each: Chester, Red Bank, Penn's Landing, Pyne Poynt Park and Frankford Arsenal
Samples will be analyzed for E. coli, fecal coliform and enterococcus.
DRBC is coordinating with its Water Quality Advisory Committee regarding data assessment and next steps.
Commission Member Links:
Delaware
|
New Jersey
|
Pennsylvania
|
New York
|
United States
Copyright © Delaware River Basin Commission,
P.O. Box 7360, West Trenton, NJ 08628-0360
Phone (609)883-9500; Fax (609)883-9522
Thanks to NJ for hosting the DRBC website
Last Modified: 05/24/2021