Delaware River Basin Commission
---
Delaware • New Jersey • Pennsylvania
---
New York • United States of America
---
Contaminants of Emerging Concern
What are Contaminants of Emerging Concern?
Contaminants of emerging concern (CECs) are chemicals present in substances or products used by humans that have been detected in surface waters and groundwater, potentially impacting water quality, aquatic species and drinking water sources.
CECs have been found to persist in the environment and have been detected in people and other living organisms. Many of these compounds are currently unregulated and not routinely monitored.
A growing body of information on the adverse effects of CECs, as well as improved analytical detection methods, have caused increased interest and concern about how these substances impact our water resources.
Learn More about CECs
Other Examples of CECs
• PBDEs: brominated flame retardants
• Nanoparticles
• Pharmaceuticals and Personal Care Products (PPCPs)
• 6-PPDQ: A recently discovered CEC, 6-PPDq is toxic to salmonid fish, including rainbow and brook trout. Exposure occurs when tiny bits of tire rubber accumulated on driving surface interacts with water. The water causes a chemical that is added to tires during manufacturing, 6‑PPD, to transform to 6-PPDq. This could be a ubiqitous microplastic entering surface water systems in developed areas. The DRBC received grant funding in August 2023 to quantify baseline concentrations of 6-PPDq in the Delaware River and its tributaries and will coordinate with state trout biologists regarding studying this new CEC.
DRBC Monitoring Efforts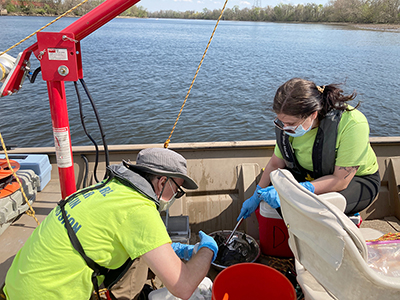 DRBC staff collects a sediment sample from the
Delaware River to monitor for PFAS. Photo by DRBC.
A number of efforts have been undertaken within the Delaware River Basin by the DRBC, the basin states and the U.S. EPA to identify CECs and understand their presence, sources, pathways, persistence and how they degrade in surface water.
DRBC Monitoring
From 2007-2009, DRBC conducted a Pilot Monitoring Survey to investigate the presence and concentration of PPCPs, PFAS and PBDEs in the ambient waters of the tidal Delaware River.
• Pilot Monitoring Survey (pdf)
In 2013, DRBC and the Water and Environmental Technology (WET) Center at Temple University partnered on a grant-funded survey to study CECs in several southeastern Pennsylvania tributaries to the tidal Delaware River. Tributaries surveyed included the Neshaminy, Perkiomen and Wissahickon creeks and the Schuylkill River, all of which have numerous municipal and industrial discharges to surface water. Ten sampling sites were surveyed, the chosen locations above and below potential source discharges for CECs. The survey was completed in March 2014.
Today, the DRBC performs periodic monitoring for CECs in surface water, sediment and fish tissue.
Commission staff continues to cooperate with the basin states, U.S. EPA and academics on a prioritized list of PPCPs, PFAS and polybrominated diphenyl ethers in order to further evaluate sources, fate and effects in surface water, sediment and fish tissue.
Commission staff are also developing a DRBC Contaminants of Emerging Concern Strategy in consultation with its Toxics Advisory Committee (TAC).
Presentations and Reports
The below presentations and reports are by DRBC staff or given at DRBC advisory committee meetings.
Contaminants of Emerging Concern (CECs)
PFAS Water Quality and Fish Tissue Assessment Study: Year 1 (pdf; July 2023)


PFAS in Surface Water, Sediment and Fish in the Pennsylvania Coastal Zone (Technical report authored by DRBC staff and financed, in part, through a Federal Coastal Zone Management Grant, administered by the Pennsylvania Department of Environmental Protection; pdf; July 2023)


Temporal Trends of Per‐ and Polyfluoroalkyl Substances in Delaware River Fish, USA (September 2020 paper authored by DRBC staff published in Integrated Environmental Assessment and Management, 2021;17:411–421. Full citation: MacGillivray, A.R. (2021) Temporal trends of PFAS in Delaware River Fish, USA. Integrated Environmental Assessment and Management. 17(2) 411-421)


Lessons Learned from other Watersheds: Delaware River Basin Contaminants of Emerging Concern Surveys & PCB TMDL (pdf 2.2 MB; presentation given at a Chesapeake Bay STAC workshop, May 2019)


Contaminants of Emerging Concern in the Tidal Delaware River: Pilot Monitoring Survey 2007-2009 (pdf 1.5 MB; revised August 2013) Data in this report are available in alternate formats (analytical laboratory package or electronic data summaries) upon request.


Contaminants of Emerging Concern Strategy (pdf 642 KB; presentation given to the Toxics Advisory Committee, July 2018)


Emerging Contaminants in the Delaware River Basin (pdf 2 MB; presentation given to the Schuylkill Action Network, January 2018)


Contaminants of Emerging Concern in the Delaware River Basin (pdf 1.8 MB; presentation given at the Chemistry Council of New Jersey's Spring Conference, May 2016)


Pharmaceuticals and Personal Care Products (PPCP)
Informational Links
Drug Take-Back/Disposal Information
Commission Member Links:
Delaware
|
New Jersey
|
Pennsylvania
|
New York
|
United States
Copyright © Delaware River Basin Commission,
P.O. Box 7360, West Trenton, NJ 08628-0360
Phone (609)883-9500; Fax (609)883-9522
Thanks to NJ for hosting the DRBC website
Last Modified: 09/01/2023