Delaware River Basin Commission
---
Delaware • New Jersey • Pennsylvania
---
New York • United States of America
---
Other Monitoring Programs & Studies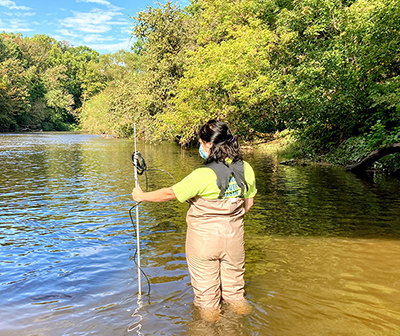 DRBC staff take a flow measurement.
Photo by DRBC.
Ambient Toxicity Monitoring: As part of ongoing programs to control toxic substances in the Delaware Estuary, the DRBC conducts periodic monitoring of ambient water toxicity in the estuary and has requested monitoring of acute and chronic effluent toxicity by dischargers.
Fish Tissue Monitoring: Since 1990, DRBC has periodically sampled tissues of resident fish species in the non-tidal and tidal portions of the main stem Delaware River. Data collected by DRBC help inform Fish Consumption Advisories issued by certain Basin states.
Microplastics: DRBC received a grant to study microplastics in the Delaware River Estuary in 2018. Samples were collected in 2019, 2020 and 2021, with cleanups planned for modeled hot spots in the fall of 2021.
Monitoring for Metals: DRBC monitors metals, such as copper, zinc, nickel, and mercury, in ambient water, sediment, and tissues of aquatic life of the Delaware Estuary to ensure compliance with water quality criteria.
Sediment Sampling: DRBC samples sediment to monitor for PCBs, as well as for chlorinated pesticides, PFAS, metals and dioxin/furans.
Commission Member Links:
Delaware
|
New Jersey
|
Pennsylvania
|
New York
|
United States
Copyright © Delaware River Basin Commission,
P.O. Box 7360, West Trenton, NJ 08628-0360
Phone (609)883-9500; Fax (609)883-9522
Thanks to NJ for hosting the DRBC website
Last Modified: 05/24/2021