Delaware River Basin Commission
---
Delaware • New Jersey • Pennsylvania
---
New York • United States of America
---
Special Protection Waters (SPW)
Program Overview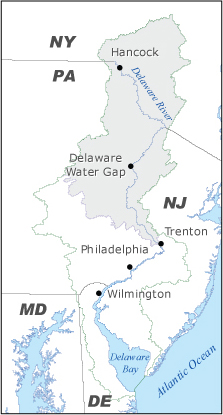 The drainage area to SPW is
shaded in gray.
While intensive efforts were underway to clean up the tidal river to meet standards, monitoring demonstrated that the water quality in the non-tidal Delaware was already better than standards.
DRBC's Special Protection Waters (SPW) Program was initially adopted by the DRBC in 1992 and expanded in 1994 and 2008 (see below for program history).
Designed to prevent degradation in streams and rivers where existing water quality is better than the established water quality standards, the program states that there will be no measurable change in existing water quality of SPW except towards natural conditions.
Components of SPW Program:
--Defining existing water quality at multiple control points within SPW, both on the Delaware River and at tributary confluences;
--Establishing stricter regulations for wastewater discharges;
--Permitting new or expanded pollutant loadings only if they do not measurably change the defined existing water quality;
--Considering cumulative impacts of pollutant loadings, rather than just looking at them individually;
--Taking a watershed approach, looking at the designated waters as well as their drainage area; and
--Regulating both point and non-point source discharges.
What Part of the DRB is SPW?
Currently, the entire 197-mile non-tidal Delaware River from Hancock, N.Y. to Trenton, N.J. is considered Special Protection Waters, three-quarters of which is also included in the National Wild and Scenic Rivers System.
Map of SPW Drainage Area (pdf 2.2 MB)
DRBC believes that its SPW regulations establish an anti-degradation policy on the longest stretch of any river in the nation.
Program Goal
To ensure that the level of water quality in SPW is not degrading over time. Simply, the goal is to keep the clean water clean.
Brief Description of SPW Regulations
Within the drainage area to Special Protection Waters (see map above), DRBC approval is required for new and expanding industrial and municipal wastewater treatment plants when the proposed facility is designed to discharge a daily average rate of 10,000 gallons a day or more during any consecutive 30-day period.
This is a stricter threshold for review; in the rest of the DRB, the review threshold for discharges remains 50,000 gallons a day or more during any consecutive 30-day period.
The regulations discourage new and/or increased wastewater discharges to SPW by:
Allowing new or expanding discharges only if it's demonstrated that they would cause no measurable change to existing water quality at established water quality control points; and


Requiring the evaluation of non-discharge, natural or load reduction alternatives, as well as their rejection due to technical and/or finanical infeasibility.
The regulations further require that the treatment for wastewater discharges to SPW be Best Demonstrable Technology. Best Demonstrable Technology is defined for municipal facilities by 30-day average effluent criteria for seven parameters plus ultraviolet light disinfection. Equivalent criteria for industrial facilities are identified on a case-by-case basis.
Projects located in the drainage area of Special Protection Waters that are subject to DRBC review must also have a Non-Point Source Pollution Control Plan (NPSPCP) that has been approved by the Commission. The NPSPCP describes the Best Management Practices that will be used at the project site and service area to control the increases in non-point source pollutant loadings resulting from the project.
SPW regulations are unique in that they require monitoring to determine if measurable change is occurring at designated interstate and boundary control points where existing water quality has been defined. This monitoring program is conducted through an informal partnership between the National Park Service and the DRBC called the Scenic Rivers Monitoring Program (see next section).
Data collected are also used in computer models developed for priority tributaries, i.e. those that have a high number of existing discharges or are expected to have new growth and associated wastewater discharge needs.
The models are used during DRBC project review to predict possible changes to water quality from a proposed project or project expansion and to establish discharge limits to prevent a measurable change to SPW.
SPW Monitoring: Scenic Rivers Monitoring Program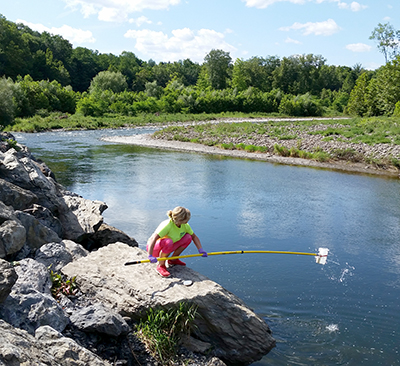 DRBC staff collect a sample from the Brodhead Creek,
a tributary to DRBC's SPW. Photo by DRBC.
The Scenic Rivers Monitoring Program brings together the DRBC and the National Park Service (NPS) as partners to monitor and manage the water quality in SPW and in the Wild and Scenic river segments of the Upper Delaware Scenic and Recreational River (UPDE), Delaware Water Gap National Recreation Area (DEWA) and the Lower Delaware Scenic and Recreational River (LDEL).
NPS staff lead the monitoring programs in UPDE and DEWA, while DRBC staff are in charge of the LDEL program.
All of these river segments are considered to have exceptionally high scenic, recreational, ecological and/or water supply values.
Monitoring Goals:
--Determine that existing water quality is currently being maintained in SPW; and
--Allow for revised definitions of existing water quality (if needed)
Throughout SPW, close to 60 sites are sampled and analyzed for nutrients, dissolved oxygen and other conventional pollutants, solids, bacteria, macroinvertebrates, periphyton (alga) and flow.
Samples are taken from the main stem river and also at tributary confluences, for example from the Brodhead Creek (pictured), and are analyzed by academic institutions or state laboratories.
Learn More:
Program History
In 1992, DRBC adopted SPW regulations for point source (or "end-of-pipe") discharges, which were amended in 1994 to also include non-point source pollutant loadings carried by runoff. The regulations were enacted to protect existing high water quality in areas of the Delaware River Basin deemed "to have exceptionally high scenic, recreational, ecological and/or water supply values." They initially applied to a 121-mile stretch of the Delaware River from Hancock, N.Y. downstream to the Delaware Water Gap, and its drainage area. This includes the upper and middle sections of the non-tidal river federally designated as "Wild and Scenic" in 1978, as well as an eight-mile reach between Millrift and Milford, Pa., which is not federally designated.
In 2000, federal legislation was enacted adding key segments of the Lower Delaware and selected tributaries to the National Wild and Scenic Rivers System. This designation was followed in April 2001 with a petition from the Delaware Riverkeeper Network to classify the Lower Delaware, the 76-mile stretch of the non-tidal river between the Delaware Water Gap National Recreation Area and the head of tide at Trenton, N.J., as SPW. Extensive data were collected from 2000 through 2004 which confirmed that existing water quality in this stretch of river exceeded most state and federal standards.
In 2005, based in part upon these findings, the DRBC temporarily classified the Lower Delaware as SPW. This temporary designation made the Lower Delaware subject to all SPW regulations except those that required the use of numeric values for existing water quality. Temporary designation provided a measure of protection while allowing time for the public rulemaking process to take place and for implementation details to be thoroughly considered.
The commission extended the temporary designation on four different occasions:
On July 16, 2008, by unanimous vote, the DRBC permanently designated the Lower Delaware as Significant Resource Waters, one of the two available SPW classifications.
Commission Member Links:
Delaware
|
New Jersey
|
Pennsylvania
|
New York
|
United States
Copyright © Delaware River Basin Commission,
P.O. Box 7360, West Trenton, NJ 08628-0360
Phone (609)883-9500; Fax (609)883-9522
Thanks to NJ for hosting the DRBC website
Last Modified: 02/15/2023