Delaware River Basin Commission
---
Delaware • New Jersey • Pennsylvania
---
New York • United States of America
---
Lower Delaware River Special Protection Waters
Assessment of Measurable Changes to Existing Water Quality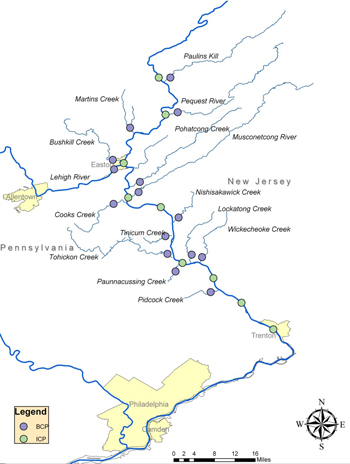 In August 2016, the DRBC released its report entitled Lower Delaware River Special Protection Waters Assessment of Measurable Changes to Existing Water Quality, Round 1: Baseline EWQ (2000-2004) vs. Post-EWQ (2009-2011).
The report, which compares water quality data initially collected from 2000-2004 to the assessment period of 2009-2011, evaluated data collected at nine interstate control points (ICP) located on the main stem Lower Delaware River and at 15 boundary control points (BCP) located on tributaries in a 76-mile stretch of river from Portland, Pa. to Trenton, N.J. The map to the left shows ICP and BCP locations.
The purpose of the report was to determine whether changes to existing water quality in this section of river have occurred. For most water quality parameters at most locations, there were no measurable changes to existing water quality. These results demonstrate that DRBC's Special Protection Waters (SPW) program is working and plays an important role in managing water quality in the Delaware River Basin.
The SPW program covers the entire 197-mile non-tidal Delaware River from Hancock, N.Y. to Trenton, N.J. The regulations state that there will be no measurable change in existing water quality of SPW waters except towards natural conditions. This is accomplished by taking a watershed approach, looking at the drainage area of the designated waters and considering cumulative impacts of discharges. Monitoring is required to determine if measurable change is occurring at designated interstate and boundary control points where existing water quality has been defined. Learn more about SPW via the link on the right.
Interactive Map
This interactive map will allow you to view the 24 sites included in the assessment report. The nine tabs along the top of the page are labeled by control point designation and descriptive name (the tab on the far right-hand side allows you to access the additional 15 sites). Each tab will direct you to a localized map, where you can click on orange or purple dot corresponding to the specific control point location on the map to view the assessment report for that particular site or click on a shaded watershed on the map for population and land use summary information.
Download the Report
Lower Delaware River Special Protection Waters Assessment of Measurable Changes to Existing Water Quality, Round 1: Baseline EWQ (2000-2004) vs. Post-EWQ (2009-2011) (Full report, includes bookmarks; pdf 72 MB)
Report Chapters:
Commission Member Links:
Delaware
|
New Jersey
|
Pennsylvania
|
New York
|
United States
Copyright © Delaware River Basin Commission,
P.O. Box 7360, West Trenton, NJ 08628-0360
Phone (609)883-9500; Fax (609)883-9522
Thanks to NJ for hosting the DRBC website
Last Modified: 02/01/2023